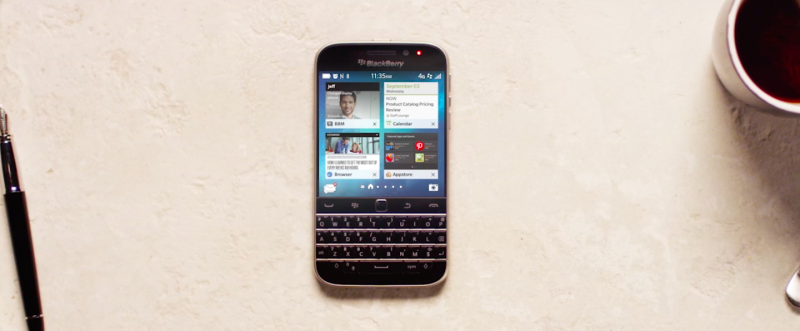 The Wall Street Journal, TechCrunch, Laptop Magazine and The Street are among the publications praising the BlackBerry Classic in the latest installment of my review roundup.
Several weeks in since the BlackBerry Classic launch, I've been seeing a strong theme from reviewers: the productivity features are top-notch, the keyboard is peerless, and the toolbelt brings it back home for Bold veterans.
But you don't have to take my word for it – read on, as well as check out our three earlier roundups HERE, HERE and HERE).
Then take a look at the Classic, available now online through Amazon.com and ShopBlackBerry for $449 in the U.S. and $499 in Canada, as well as various carriers.
"The Best BlackBerry Ever Made"
For former BlackBerry users, the Classic will feel like "reuniting with a long-lost friend," writes The Wall Street Journal's Joanna Stern. "The Classic is perfect for one-hand use . . . I have been searching for just the right words to profess my love to BlackBerry's perfected physical keyboard for a decade . . . It's the BlackBerry Classic—not my iPhone 6 or Moto X—that I reached for when I had to make an important phone call. Not only did the calls sound extremely clear, but people on the other end said I sounded like I was calling from a landline. The Classic trumps the competition in software with its Hub feature, too. A quick gesture takes you to BlackBerry 10's universal inbox from any screen, putting communications more readily front and center than other mobile operating systems . . . I believe the Classic is the best BlackBerry ever made. It lives up to every bit of the BlackBerry's original purpose."
Classic is "Ultimate Secure Email-centric Device/Smartphone"
"The new BlackBerry Classic is the ultimate secure email-centric device/smartphone," writes Gary Krakow of U.S. investor publication, The Street. "It's a terrific handset in many ways . . . Long-time BlackBerry fans won't be disappointed . . . As you might expect Classic does email very, very well . . . The keyboard, as always is terrific . . . [I]f you're a die-hard fan and your Bold (or even older BlackBerry) is finally starting to crumble in your hands then seeking out a new Classic is a no-brainer."
"Verdict: The Classic hits All the Right Notes for BlackBerry Diehards"
"…A great keyboard, excellent security and all-day battery life," writes Laptop Magazine's Mark Prospero, who gives the Classic 3.5 out of 5 stars. "This Classic is guaranteed to bring a smile to any executive or road warrior who has an affinity for all things BlackBerry…Crucially, the Classic's email app worked spectacularly. I often received emails on the phone a few seconds before they showed up in either my Gmail or Outlook inboxes on my computer…While the Classic has an excellent keyboard, the voice-command BlackBerry Assistant is so useful, you may not need to use your fingers at all…The BlackBerry Classic is like going to a Rolling Stones concert: you'll hear some good new stuff, but you're really there for the greatest hits. For BlackBerry diehards whose old 9900s are falling apart, the Classic will be a welcome upgrade."
"It's Good to See an Old Friend"
"For the BlackBerry faithful, the Classic is a sight for sore eyes," writes TechnoBuffalo's Brandon Russell. "[It] offers that familiar (and terrific) typing experience with excellent enterprise security. If you want to relive the glory days of physical keyboards, the Classic is the perfect device for you."
Russell also has an excellent, thoughtful video touching on many of the features of the phone, which you can watch HERE.
"BlackBerry Classic is an Important Phone"
Folks who have spent years away from BlackBerry OS "will be amazed how well the system has matured and improved," writes TechCrunch's John Biggs. "Anyone conversant in iOS or Android will have little trouble moving through the Classic and fans of precise control will love the little optical touchpad button below the screen for picking out browser items and scrolling through emails…This thing is a productivity machine. All of the security enhancements and tools that Blackberry put in place to support the enterprise over the years are here and setting up email is a two-step process. Everything important to your day appears in the Blackberry Hub, a combined social media and email listing, and most of the apps work just fine including the maps and clever video editing and photo apps."
Biggs concludes: "The Blackberry Classic is an important phone. It is one of the few true QWERTY phones on the market – there are a few minor players but nothing with the BB cachet – and it's a true Blackberry in every sense. It's usable, fun, and efficient. It has excellent battery life and an acceptable screen. It doesn't have a high-powered processor because it doesn't need one. This isn't a phone for Angry Birds and video editing. It's a phone for Sudoku and email. What do I think of the Classic? I really like it."
"A Real, Proper, 'Don't-Mess-With-Me' Keyboard"
"This is what the BlackBerry Classic was made for: jamming on email with one hand, pounding out replies like a boss, confidently walking off the plane," writes The Verge's Dieter Bohn. "It's about having a real, proper, don't-mess-with-me keyboard. It's great, like really great . . . There simply isn't a more satisfying typing experience to be had with two thumbs [and] having a keyboard always there makes all sorts of everyday tasks faster."
"Has What it Takes to Win the Hearts of Many"
"The BlackBerry we knew and many loved is firmly back with the BlackBerry Classic and indeed it has what it takes to win the hearts of many," writes Jon of Clove.co. "[T]he Classic is appealing with the physical keyboard, great battery life and increased consumer focus that it offers, in part helped by the Amazon app store.  It performs well and offers a sound solution . . . The Classic is still at the core about getting things done, but in a form factor and at a price point that works for many . . . One thing for sure is that 2015 will be the year that BlackBerry reaffirm their commitment to mobile and remind people of just what they are capable of."
"The Wait is Over for BlackBerry Fans"
"The wait is over for Blackberry fans," writes YOLO Gadget's Fahad Saleem. "BlackBerry Classic has arrived with the performance and speed of BlackBerry 10 and classic navigation keys that you are accustomed with. It is a complete package designed to meet the requirements of basic and advanced users who love to use full-fledge physical QWERTY keyboard on their phones. BlackBerry Classic specs will really urge you to buy it."
"Really a Beauty"
"The Blackberry Classic is really a beauty in terms of its body and metal strip around the edges," writes MobileArena's Bilal Saeed. "Its attractive front panel with amazingly comfortable full QWERTY keyboard, functions keys and track pad and grippy dotted backside make this device awesome. [BlackBerry] has made a sensible decision to bring the traditional hardware controls back and this time [it's paired with] Blackberry OS 10.3 [and] a capacitive touch screen. Its display quality, camera results and an ample battery [are plusses, and the] support for Android apps makes this smartphone much more [appealing]."
Pricing and Availability
Ready to get your hands on the Classic? Customers with a North American shipping address can purchase the BlackBerry Classic online today through Amazon.com and ShopBlackBerry for $449 in the U.S. and $499 in Canada. It is or will also be offered by AT&T, Verizon, Bell Mobility, Rogers Wireless and TELUS. (Note that pricing differs per market.)