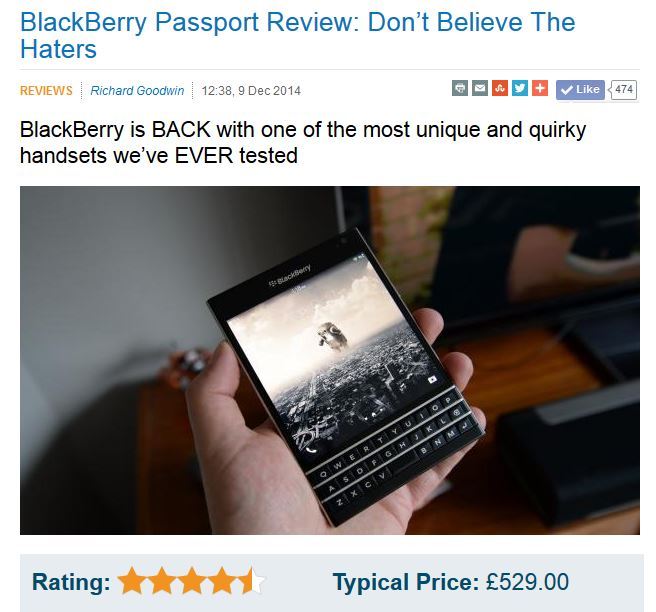 Know Your Mobile has an updated, in-depth review praising the BlackBerry Passport, with the site's Richard Goodwin awarding the device 4.5 out of 5 stars, scoring it higher than the iPhone 6 Plus and Nexus 9 (each at 4 stars).
Meanwhile, other press outlets have joined the ranks of the early positive reviewers over the past few weeks, and the BlackBerry Passport keeps gaining momentum.
Since this post first went up the other day, I saw one more article I wanted to mention: Forbes contributor Marc Weber Tobias's thoughtful piece, "Why I Prefer the BlackBerry Passport Over my iPhone 6." Tobias received his iPhone 6 on the day of release. "When I first got the iPhone I assumed that I would choose it as my primary phone," he says. "I was wrong. After more than a month with the Blackberry, it has become my primary smartphone  . . . It runs both Blackberry and Android apps, [and] I matched app-for-app [everything that I run on my iPhone and except for Apple-unique programs . . . After extensive use, I am back to Blackberry for use as my primary phone."
(Also check out our profiles of professionals boosting their productivity with the BlackBerry Passport, including celebrity chef Tyler Florence, this tech journalist, university professor, pharmaceutical CEO, software manager, and insurance salesman. Or skip ahead to the bottom to find links to our ShopBlackBerry or Amazon where you can buy our new device.)
We gave Know Your Mobile's original review a mention in October, but we felt the update version, which covers everything from BlackBerry Blend to the new colors available, was fair game and an excellent overview for fence-sitters.
In Their Own Words
Design:
"[It is] more premium than anything BlackBerry has turned out in living memory, with a gorgeous metal frame, high-grade polycarbonate backing, pitch-perfect keyboard, and an ultra-high-resolution 4.5in display . . . [It] feels like a proper, full-on 2014 flagship – something that can and will (in some instances) replace an iPhone or Android handset."
Display:
"[T]he best display I've ever seen inside a BlackBerry handset – bar none . . . showing you more of what you're looking at . . . [T]he HD-grade panel delivers the goods."
Hardware & Specs:
"A pretty ferocious setup even by Android standards . . . The Passport delivers solid performance across the board, and nothing you can throw it at will phase it . . . BlackBerry has released a handset that could give any iPhone or Android handset a run for its money."
BB10.3 Software:
"BlackBerry 10 is perhaps one of the most under-rated mobile platforms on the planet . . . [The OS has] improved iconography, better multitasking, and new features like BlackBerry Assistant . . . BlackBerry Hub [means] quick, easy access to stuff like emails and notifications as soon as they happen . . . Universal Search is now A LOT better . . . BlackBerry Blend is a HUGE feature . . . [W]hile testing Assistant I found it to be just as good as Siri . . . Amazon Apps is a HUGE boon for BlackBerry users – it represents progress towards a goal and that is what BB10.3 is all about."
Camera:
"[I]maging capabilities, across the board, have improved in almost every regard . . . TimeShift remains intact and BlackBerry has included a bunch of other useful features (native panorama and a Slow Motion feature) that make capturing images a vastly superior experience."
Battery:
"When it comes to battery, the Passport is one of the best handsets currently on market, surpassing nearly everything we've tested in the Android space."
Verdict:
"If you want a powerful piece of kit that is excellent at multitasking, has a gorgeous keyboard, brilliant battery, and an excellent notifications hub, as well as a growing selection of applications and market-leading security, then you could do A LOT worse than the BlackBerry Passport."
Ars Technica and Others Still Joining the Praise Parade
Know Your Mobile isn't the only publication singing the BlackBerry Passport's praises in the long game. Ars Technica's Sean Gallagher recently said this:
"After finishing up my two-week test run on the Passport, there was a brief pang of regret over having to send it back . . . The strong business and security features of the Passport make it appealing. Blend and Link feel like genuinely winning ideas . . . I'm personally now willing to consider what was once unthinkable—a jump back to a BlackBerry for my next phone upgrade."
Meanwhile, TheGadgetMasters' Andy W. said this: "[I] have almost nothing bad to say about the phone. The BlackBerry passport has certainly been very well thought through and designed." He highlights the display ("stunning"), the OS ("simply fast"), the keyboard ("after less than a week, I was able to punch out 30~40 words a minute") and the battery life ("astonishing").
And Gearburn's Steven Norris gives it a 9/10 rating: "[T]here's no other way to describe BlackBerry's Passport other than: a square-screened device that is the best phone ever for business. It really is a brilliant phone . . . No phone before the Passport has allowed me to work with such speed and precision as this wide beauty in my hands . . . I desperately want to give the Passport a perfect score, because in my heart I know it deserves one. Why can't I give the BlackBerry Passport the golden score? It's because it's not a phone for everyone. I loved it all and as such, those who want a phone that actually works with them and not against them, the BlackBerry Passport is for you."
Join the Revolution: Get Your BlackBerry Passport Today
You can get your factory-unlocked BlackBerry Passport from ShopBlackBerry.com at these links:
Black (currently $599, regular $699)
White (currently $599, regular $699)
…and at Amazon HERE, with AT&T offering it for $649.99 unsubsidized or $199.99 with a 2-year contract. The BlackBerry Passport is also available in Canada via Rogers for $249 and Telus (for as low as $150 up front) and other carriers.
For those outside the North American market, you can get your BlackBerry Passport directly from us at our global shopping portal HERE.
(Check with your local carrier for device compatibility)
Remember – the BlackBerry Passport has a battery capacity that exceeds all rivals in milliamp hours:*
| | |
| --- | --- |
| | Runtime |
| BlackBerry Passport | 30 hours |
| Samsung Galaxy S5 | 23 hours |
| iPhone 6 | 21 hours |
| iPhone 6 Plus | 25 hours |
(*Based on third-party lab testing sponsored by BlackBerry, under 4G and 3G wireless conditions, using a mixed-usage profile. Results will vary by carrier and network conditions.)