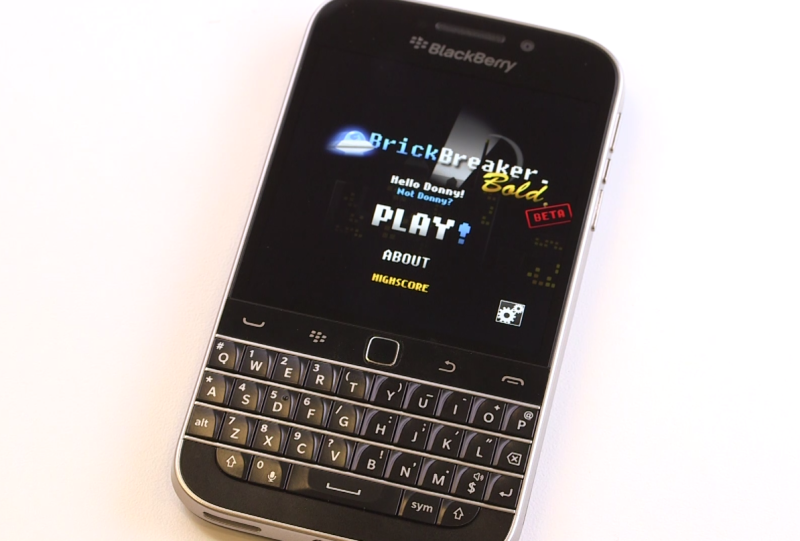 Always one to draw on that nostalgic BlackBerry feeling, the BlackBerry Classic brings Classic Navigation Keys to BlackBerry 10 for the first time. These, along with the trackpad and physical QWERTY keyboard allow you to stay productive, get work done and make the most out of your day. They also allow for something that I personally love to take a little downtime to do – classic gaming.
As you'll see in the video below, using the trackpad to scroll through messages, lists and as a cursor in the browser isn't the only thing that's familiar with the BlackBerry Classic. Brick Breaker, the addictive game that BlackBerry fans will surely remember, is back. And rather than wearing out your keyboard, now you can smash bricks with what has personally become my favorite method – the trackpad.
Classic games have resurged over the past half decade, with indie developers creating modern games with that retro 8-bit feel. Minecraft is but one example, but a quick web search will yield results ranging from the 80s-inspired pixel art subgenre to the viral so-addictive-it-was-removed-by-the-publisher Flappy Bird game. Even the makers of Angry Birds have slung themselves onboard with the recent release of Retry — I'm insanely hooked on this game. Clearly, classic games such as BrickBreaker are 100% on-trend.
The BlackBerry Classic itself is born of a tried and true platform for customers who care about business: doers. It brings that familiar package, iterates on the trusted BlackBerry Bold 9900 and brings new technology to the table making it among the most productive BlackBerry devices to date, in my experience.  The BlackBerry Classic will be preloaded with both BlackBerry World and the Amazon Appstore allowing you to get the best apps for work and play.
I've already shown you that top-ranked browsing is up to 3x faster than the BlackBerry Bold 9900 and that the Classic Navigation Keys make getting around simple and intuitive. Celebs and fans have weighed in on what they believe makes a classic and Team BlackBerry is taking part in a social mosaic explaining #INeedMyBB. All of these elements together are what make the BlackBerry Classic simple yet powerful. You can pre-order the device today and tune in next week, on December 17th for the launch event where all will be revealed.