BlackBerry Classic and the Changing Conversation Around the Company
The BlackBerry Classic launch earlier today featured a number of partners, business luminaries and BlackBerry executives – as well as the unveiling of this long-awaited productivity tool. 
Watch the 2-minute video above from the event itself, which featured testimonials from customers eager for the return of a Classic, albeit, upgraded.

You can watch a video recording of our 70-minute launch or you can read on for my summary of the New York City event, which I attended.
Because you missed plenty: the US$449 (unlocked) device is officially on sale with:
The theme: Your power. Upgraded.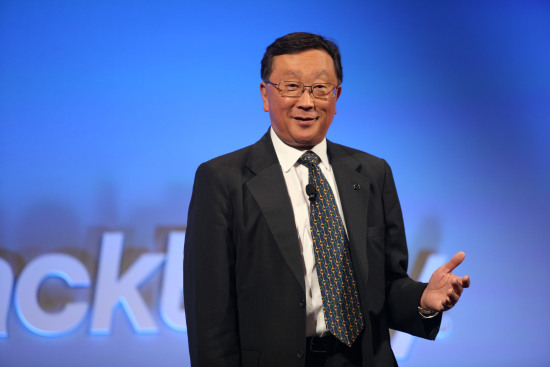 BlackBerry Executive Chairman and CEO John Chen (right) kicked off the proceedings by reaffirming our popularity with enterprises, especially those in regulated industries such as banking, healthcare, government and more, and his absolute focus on listening to those customers.
"CEOs of top banks would pull out their (Bold) 9900s (to me) and say 'Don't mess around with this thing'."
Keeping this in mind, he set out to have the BlackBerry Classic built with the elements that our core audience rely on every day: A responsive keyboard, proven security, simple navigation, and fantastic battery life.
"A lot of our competitors are trying to chase us for our battery life."
BlackBerry Classic Specs and Demo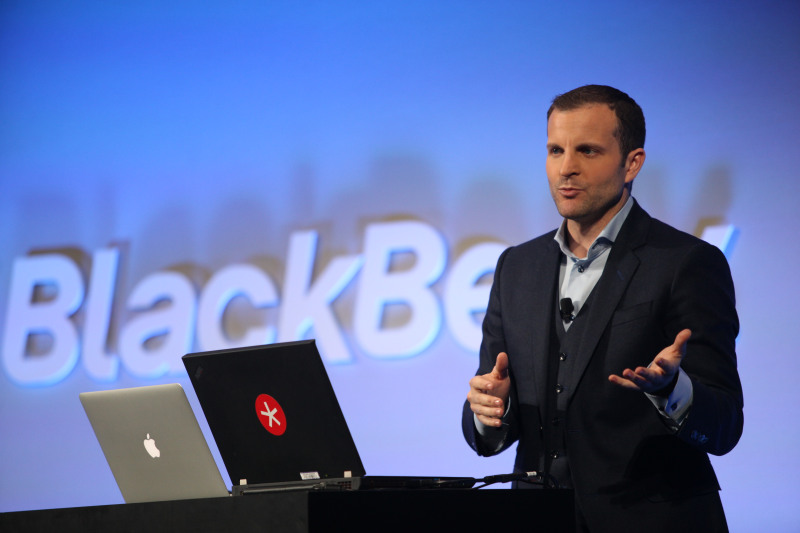 Product Marketing Director Jeff Gadway took the stage to show off just how the familiar, yet upgraded BlackBerry Classic continues to be the go-to design for high achievers with high productivity needs.
Faster Browsing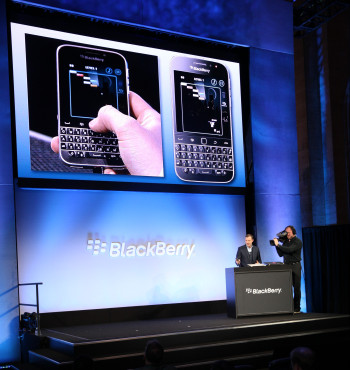 With browsing that is up to 3x faster than BlackBerry Bold 9900, and top-ranked rendering of modern web sites, the BlackBerry Classic helps you navigate the web. Upgraded.
Improved Battery
For people on the go, battery life is paramount. The 2515 mAh battery in the BlackBerry Classic provides up to 22 hours of mixed use – 50 percent longer than BlackBerry Bold 9900.
Larger Screen
The BlackBerry Classic has a screen that is 60 percent larger than the BlackBerry Bold 9900, allowing you to read more emails, see more apps and take advantage of faster browsing.
Carrier Support & Availability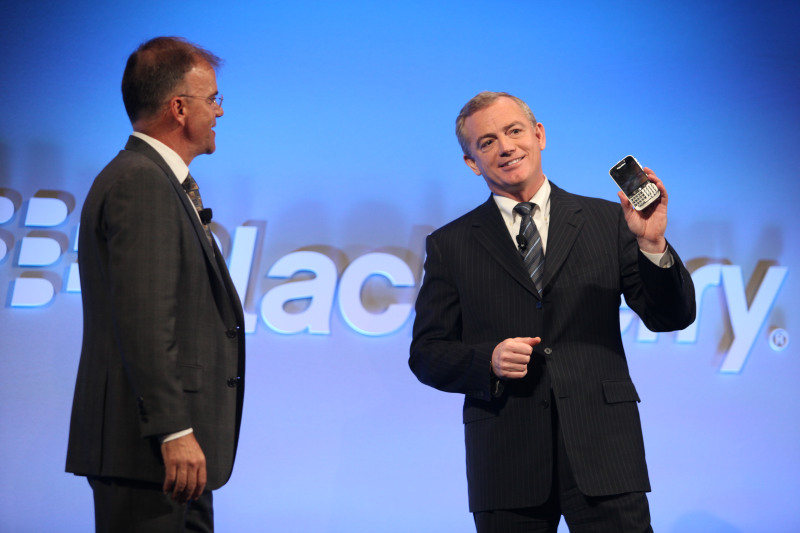 AT&T's Northeast Regional President, Steven J. Hodges (above right), joined Beard onstage to announce their intent to carry the new BlackBerry Classic. It will be available in their stores and online.
"We know our customers see a lot of value in BlackBerry, and really love your products," Hodges said. "I've been a long-term BlackBerry fan. [The Classic] really met what I was looking for…keyboard, big screen, and the application pool is deep."
In Canada, Bell, Rogers and Telus all announced their pricing and availability, as did Verizon in the U.S.
The BlackBerry Classic is also available via BlackBerry.com and Amazon.com. Full pricing and availability information is available here.
Enterprise Customer Panel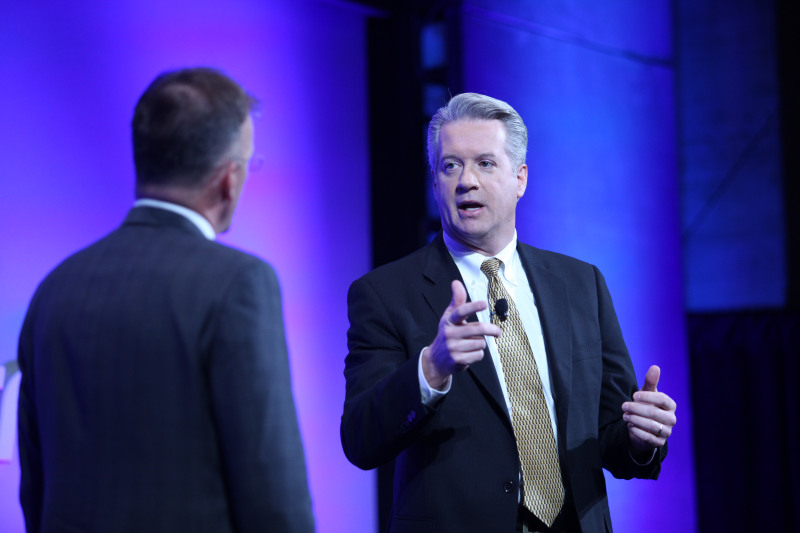 Citco Fund Services is a financial services company that administers a majority of hedge funds around the globe. Joe Maxwell is managing director of information technology for Citco.
"I started at Citco nine years ago and they gave me a BlackBerry," he told Chief Operating Officer Marty Beard on stage. "Nine years from now, I bet it will be the same thing."
Maxwell, who has been testing the BlackBerry Classic, said he's "really digging it." He pleaded for BlackBerry to "please keep" the keyboard because, he joked, of his "big fat fingers."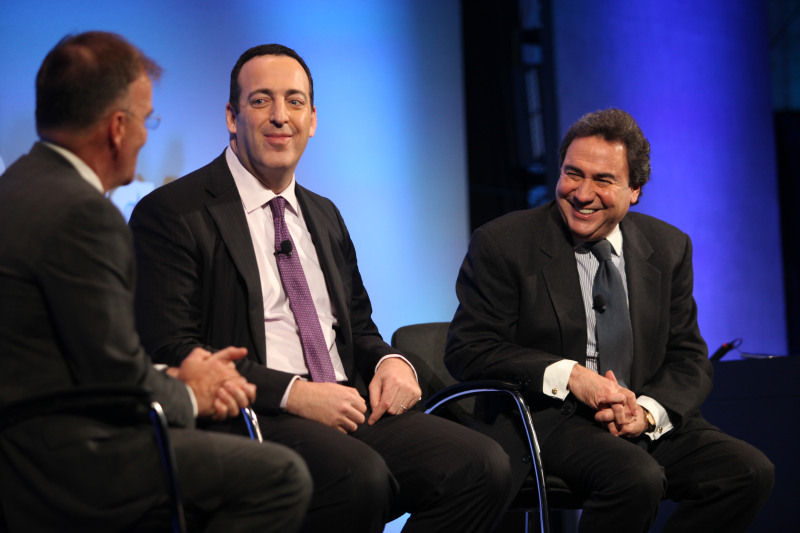 Beard also spoke with Roy Niederhoffer, founder of the R.G. Niederhoffer Capital Management hedge fund, and Michael Capasso, leader of the group reviving the New York City Opera.
Niederhoffer said he's "very excited" about the BlackBerry Classic. "You got a new customer," he said. Capasso also affirmed his loyalty, saying that he's been in meetings where "people have brought me very expensive new devices, I just threw it back at them…because you would truly have to pry this (BlackBerry phone) out of my cold dead hands."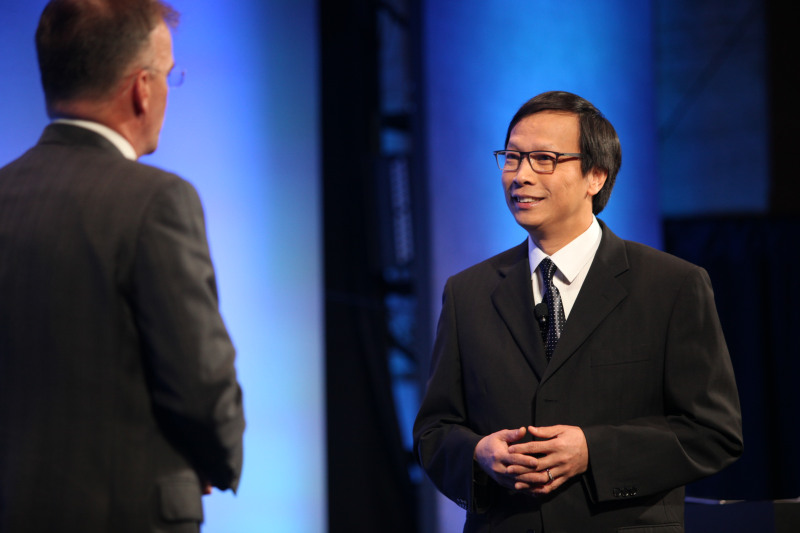 Richard Tam (above) is Executive Vice-President and Chief Operating Officer of Mackenzie Health, a regional Canadian hospital.
"We need the highest level of security in the business of healthcare," he said. And "great battery life is very important for our staff for our physicians, who can work very long days."
Mackenzie is deploying 500 BlackBerry 10 devices, including the Passport and the Classic, and managing several thousand other devices, including iOS and Android phones, using BES12.
(Other customers are deploying the just-launched BES12, too – watch this video).
There was plenty more said, so if you're a BlackBerry fan or someone in the mobile and wireless industry, I'd suggest watching or scrolling through the entire 70-minute video. Or read more on the Inside BlackBerry blogs and check it out on BlackBerry.com.