The wait is finally over: the Classic experience that fans of productivity, keyboards and BlackBerry itself have been looking forward to finally arrives after launch events today in New York, Frankfurt and Singapore.
The BlackBerry Classic can be purchased online today through Amazon.com and www.BlackBerry.com for $449 in the U.S. and $499 in Canada.
(Also check out our unboxing video and a quick comparison chart vs. the Bold 9900.)
People are genuinely excited about the device, which gives you the best productivity and communications tool possible in a package many of you've already mastered.
After you've read down through these reviews, check out our second review roundup, "More than a Feeling: Great Classic Reviews Keep on Coming," as well as our third roundup, "The Classic will make BlackBerry Diehards Swoon." 
"BlackBerry Classic Hits the Right Keys"
The New York Times' Molly Wood hails the effortless productivity achievable on the Classic: "For getting work done, especially if that work involves typing long emails or even documents, the BlackBerry Classic is the right tool for the job. The keyboard is simply wonderful . . . the BlackBerry projects a sense of productivity and even status . . . BlackBerry's security has always been top-notch and it includes useful features that tech managers will like . . . [T]he BlackBerry Classic is a perfect work phone."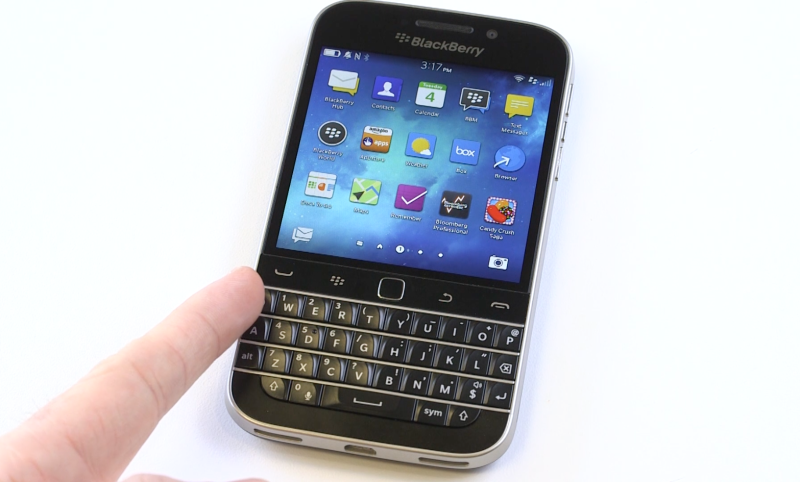 Over at USA Today, reviewer Edward C. Baig writes, "The BlackBerry Classic . . . represents a definite upgrade over the Bold . . . [It features an] excellent keyboard [with a] sturdy feel, [and] robust security, [and has an] appealing and familiar design for BlackBerry diehards. Good phone and speakerphone quality . . . The solid and sturdy new 6.3-ounce Classic is just what the more traditional BlackBerry diehard has been waiting for."
"Feels Absolutely Solid in the Hand"
"This is a phone that feels fabulously solid in the hand," hails The Telegraph's Matt Warman, "that offers the day-plus battery life beloved of BlackBerry's devotees, and [upgrades] the experience . . . with new apps and a touchscreen . . . There's a huge amount to like in the BlackBerry Classic. It will make you more productive. It feels serious. And it doesn't look too bad either . . . If you [want] a BlackBerry, the Classic is brilliant."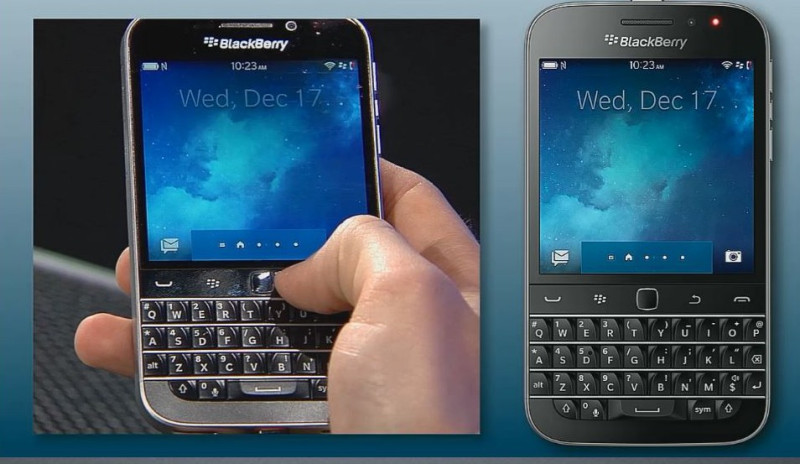 PC Magazine's Sascha Segan writes, "Nobody does keyboards like BlackBerry . . . The Classic fits beautifully in a businessperson's hand . . . [and] feels solid and premium, with a textured back and attractive, matte bezel . . . The touchpad lets you move around the touch screen [and is] genuinely useful for cursor control when editing text . . . BlackBerry is currently the leader in call quality . . . Calls on the Classic sounded excellent, clear and full . . . It's easy to set up with almost any e-mail system, delivering e-mail, Facebook, Twitter, and text alerts with alacrity . . . Battery life is excellent."
The Financial Post's Lynn Greiner says "the Classic looks and feels like a traditional BlackBerry, with a few modern twists [and is] quite comfortable to use, even when browsing the web."
A self-avowed fan of the Bold, Greiner says, "I found myself quickly reverting to the trackpad [for] editing, copying, and pasting text. However, I also found myself bouncing between old and new methods of closing apps and calling up menus. Both work nicely . . . I suspect that anyone who loved their old BlackBerry Bold (or anyone who wants a phone with a good keyboard) will love the Classic. And that, I'm told, was the plan. It worked."
"A Killer Smartphone for Keyboard Lovers"
As CIO's Al Sacco declares in the title to his review, the Classic is "A Killer Smartphone for Keyboard Lovers."
"If you're still using a BlackBerry smartphone with a 'physical' QWERTY keyboard, or if you've switched platforms but still harbor fantasies about a return to the good old days when you didn't spend as much time cursing your on-screen keypad as you do typing on it, the BlackBerry Classic is the smartphone you've been waiting for . . . The BlackBerry Classic is designed to look, feel and function like one of the most popular BlackBerry devices ever made, and it achieves all three of these goals . . . I like the BlackBerry Classic. It's my new 'work phone,' and it has secured a home in my pocket for the foreseeable future."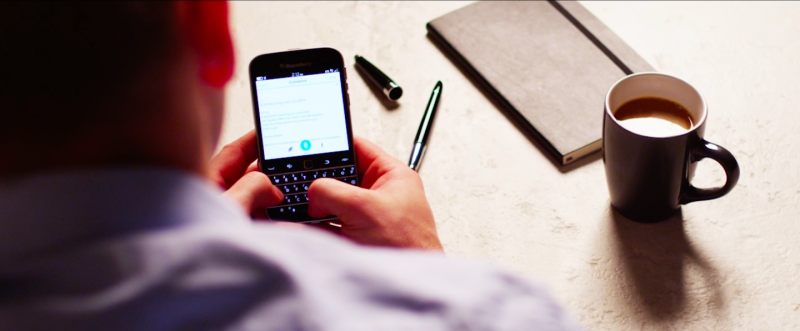 MobileSyrup's Daniel Bader writes: "I admit to being immediately attracted to the Classic's comfortable, fretted hardware keyboard . . . It is a serious hunk of machine . . . There is no question of BlackBerry 10's excellence in communications consolidation. The Hub brings all your emails, texts, Facebook [and social messaging] conversations into a single place, and after reintroducing my thumbs to the spritely genius of a hardware keyboard I was click-clicking out emails in no time . . . [A]s someone who got his start in this field pushing out BBMs on a tiny BlackBerry Pearl, the Classic brings home the feels."
"For the Right User, it Could be Perfect"
"The Classic will tug at the heart strings of every BlackBerry fan, and business users who swear by a keyboard will love it," writes TechRadar's John McCann. [F]or the right user it could be perfect . . . The BlackBerry Classic will appeal to a particular audience, and anyone currently using another handset from the Canadian firm will want to seriously consider upgrading."
USwitch.com's Rob Kerr says, "BlackBerry customers old and new will find something familiar, in this solidly build, QWERTY keyboard phone . . . The keyboard makes for fast and accurate typing, with physical keys resulting in a much more precise method of text entry . . . This set-up works well. And as a testament to its efficacy in action, this entire review was written on the BlackBerry Classic, with no mistakes."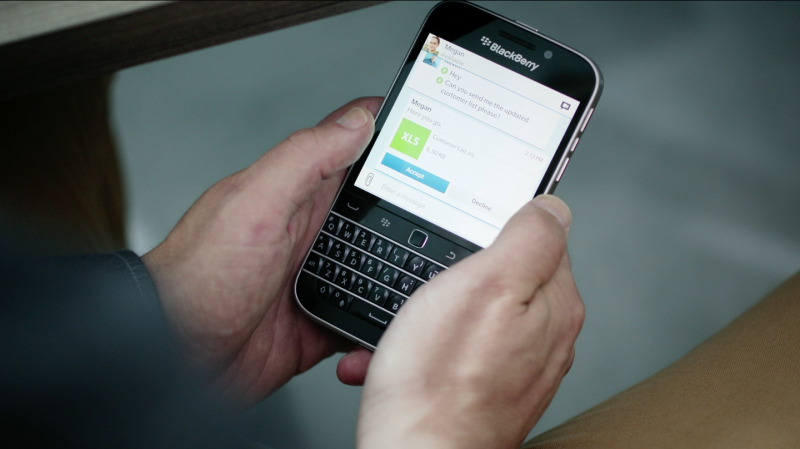 "An Icon in the Smartphone World Born Anew"
"BlackBerry is back," declares Slash Gear's Nate Swanner, calling the Classic "an icon in the smartphone world born anew."
"The updated device takes modern specs and wraps them up in a nice, familiar package geared toward enterprise," he writes. "For business pros . . . the suite of apps and services are all 2014 and beyond [and] Blackberry's suite of apps offer a layer of security when communicating between Android or iOS devices . . . Apps like Bloomberg LP and Cisco AnyConnect aim to put the Classic in the hands of enterprise customers everywhere. Given all the built-in security and retro-cool of Blackberry, that might happen in a big way."
Pricing and Availability
Customers with a North American shipping address can purchase the BlackBerry Classic online today through Amazon.com and ShopBlackBerry for $449 in the U.S. and $499 in Canada.
It will also be offered by AT&T, Verizon, Bell Mobility, Rogers Wireless and TELUS.
Are you ready for a Classic experience? Get the ball rolling and tell us in the comments below.
Still on the fence? Check out our second review roundup, "More than a Feeling: Great Classic Reviews Keep on Coming," as well as our third roundup, "The Classic will make BlackBerry Diehards Swoon." 
*Note that pricing differs per market