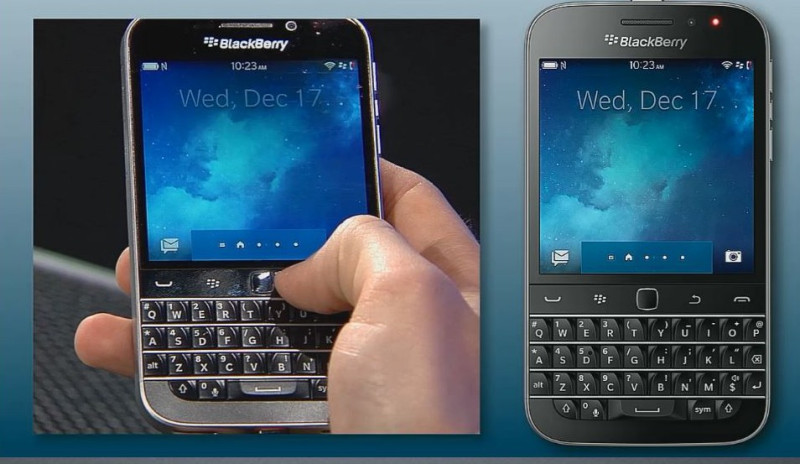 Post-launch, the BlackBerry Classic keeps on pulling strong reviews from outlets all over as people rediscover the benefits of a device that helps them do what needs doing in a package that makes sense –and it's available now online through Amazon.com and ShopBlackBerry for $449 in the U.S. and $499 in Canada.
Check out the 12 reviews below, as well as our earlier review roundups HERE and HERE.
For BlackBerry Upgraders, "The Classic Is The Phone For You"
"At first glance, you might think the BlackBerry Classic is actually a Bold 9900 in mint condition," writes DigitalTrends's Malarie Gokey. "BlackBerry users who have been clacking away at their QWERTY keyboards for years without interruption will feel right at home . . . [T]here's no denying that the keyboard works well . . . [The Classic] has enough power to get you through a day or two of intense work . . . The BlackBerry Classic is clearly aimed at traditional BlackBerry fans and enterprise users who place security and speedy communications above all . . . If you've been waiting for an upgrade to the Bold 9900, the Classic is the phone for you."
"BlackBerry Is Going Back To What It Knows Best"
"[T]he aptly-named BlackBerry Classic is a greatest-hits device from a company [reconnecting] with its core customer base," says Mike Prospero of Tom's Guide. "[T]he Classic was very comfortable to hold and use with just one hand . . . I liked the stainless steel frame and rubberized back, and never felt as if the 6.24-ounce phone would fall from my hands. The keyboard, as usual, was excellent for typing, and the trackpad remained as easy as ever to [use] . . . Like many BlackBerrys before it, the Classic is a solid piece of hardware that will undoubtedly appeal to diehards . . . BlackBerry is going back to what it knows best."
"THE Handset Diehard BlackBerry Purists Have Been Waiting For"
James Peckham from KnowYourMobile calls the Classic "THE handset diehard BlackBerry purists have been waiting for."
"The Classic isn't just a more traditional-looking BlackBerry," he says, "it also features one key feature sorely missed [recently], the touch-sensitive trackpad . . . The BlackBerry Classic, like the Passport, can run Android applications, features some of the best multi-tasking and messaging capabilities around, and is priced fairly conservatively [and] looks like something a lot of people should probably check out."
"A Very Well-Made BlackBerry"
Over at the Barron's office, staff were enjoying getting their hands on the Classic. As Tiernan Ray writes in his Tech Trader Daily column: "There was general admiration among the Barron's staff for what seems to many a very well-made BlackBerry in terms of fit and finish and feel in the hand. My colleague Jack Otter sighed with delight at the feel of the hardware keyboard . . . To type once again on that famous BB keyboard seemed to him much like "coming home."
"This Is the Best BlackBerry the Company Has Made Since the Bold"
"This is the best BlackBerry the company has made since the Bold," asserts the Financial Times' David Crow. "It feels well put-together, with a 3.5-inch glass touchscreen, the trademark qwerty keyboard, and a textured plastic back that gives the handset some grip . . . Typing on the Classic is like meeting an old friend."
"Solid Productivity Features With Plenty of Nostalgic Appeal"
Business News Daily's Brett Nuckles writes, "The new BlackBerry Classic couples solid productivity features with plenty of nostalgic appeal . . . with updated software, great security features and a physical keyboard that still provides the most accurate way to type on a smartphone . . . [T]he Classic retains the same touch gestures that I loved using on the Passport."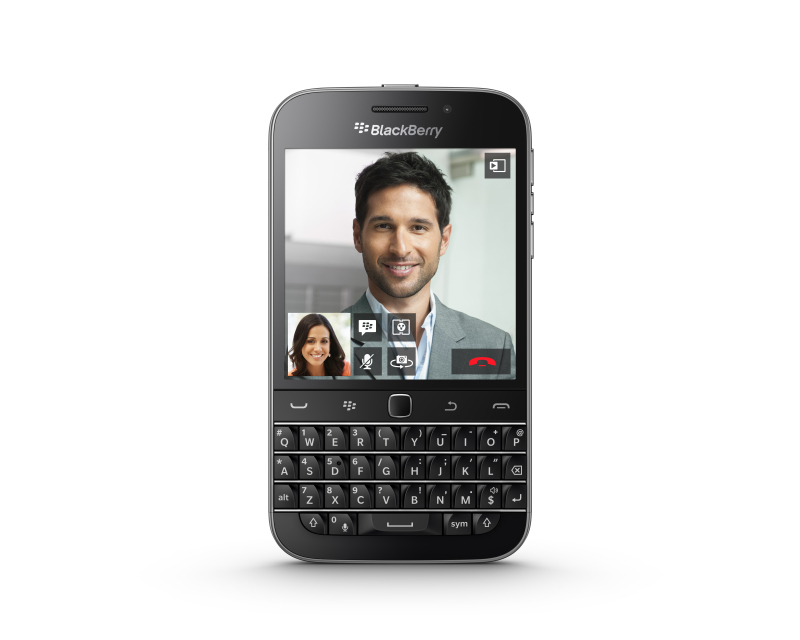 "Old School May Not Be So Bad"
"The Classic is an elegant device," writes Napier Lopez of TheNextWeb, "with a metal frame and textured, soft touch back.  There's no fear of dropping your phone here . . . The display was surprisingly decent [and] and there were no issues with viewing angles or touch responsiveness. The keyboard [is] just as good as any the BlackBerry keyboards before it . . . [T]here's something intangibly satisfying about being able to select text precisely using the trackpad, and then cut and paste through a real, physical keyboard."
"A Very Welcome and Refreshing Change of Pace"
"At a time when smartphones are all about touch screens, BlackBerry offers a very welcome and refreshing change of pace with the BlackBerry Classic," says The Christian Post contributor Virnelli Mercader. "Though at first glance it looks like most of its predecessors such as the BlackBerry Bold, it offers so much more . . . Fans of the brand often say that nobody does a keyboard like BlackBerry, making it the go-to phone for people who prefer physical [keys]."
"BlackBerry's Classic Throwback Isn't Just a Gimmick"
"BlackBerry's Classic throwback isn't just a gimmick" reads the Engadget headline in a review by Chris Velazco.
"BlackBerry's "Classic" phone is a curious bit of fan-service, a seemingly conciliatory blend of old and new designed to appeal to Waterloo's die-hards. It might seem a little odd that the company would choose to go all retro on us in 2014, but there's no denying the formula still has some appeal . . . BlackBerry has made much ado about the quality of the Classic hardware, [and] the company was right on the money . . . [T]he Classic keyboard has gotten plenty of attention, and rightfully so . . . [As for the toolbelt], the physical call pickup and hang up buttons are a welcome re-addition to the mix, as is the conceptually simple Back key . . . my thumbs aren't complaining so far."
"A Worthy Successor to the Bold"
The BlackBerry Classic is, by all accounts, a worthy successor to the Curve, Bold, and other beloved qwerty smartphones of yesterday," writes The Daily Dot's Mike Wehner. "It's gorgeous from any angle and looks like a phone I'd want to play with and hold for hours, just like I did with my beloved 8330 so many years ago. It can utilize both BlackBerry and Android apps, and its battery is designed to last a very, very long time . . . BlackBerry [has now] realized exactly what made people love its phones in the first place."
"May Well Be the BlackBerry Device Many Have Been Waiting For"
"The BlackBerry Classic may well be the BlackBerry device that many have been waiting for," says Pocket-Lint's Chris Hall, calling it "a device looking to recapture the glory days" and "instantly familiar."
"For those waiting for a keyboard device, we think the Classic will be popular," Hall writes. "In the enterprise world, where the Classic is pitched, it could come as a welcome relief for those with an aging Bold, Curve, or who don't like touch. For "professional consumers" here's a device that's business focused, designed to keep you communicating."
Seventy-One Percent of Respondents Favor Physical Keyboard
In a piece on the BlackBerry Classic, The Las Vegas Review Journal ran a poll asking "What type of phone keyboard do you prefer?" (Fun fact: BlackBerry devices and BBM are At the time this piece was put together, 71% of the 83 people who voted did do for a physical keyboard: Cue the Classic.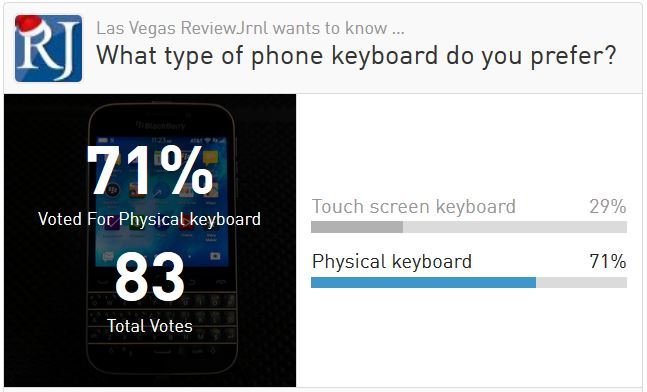 Pricing and Availability
Is the Classic right for you? Customers with a North American shipping address can purchase the BlackBerry Classic online today through Amazon.com and ShopBlackBerry for $449 in the U.S. and $499 in Canada. It will also be offered by AT&T, Verizon, Bell Mobility, Rogers Wireless and TELUS. (Note that pricing differs per market.)
Get them while they're hot!