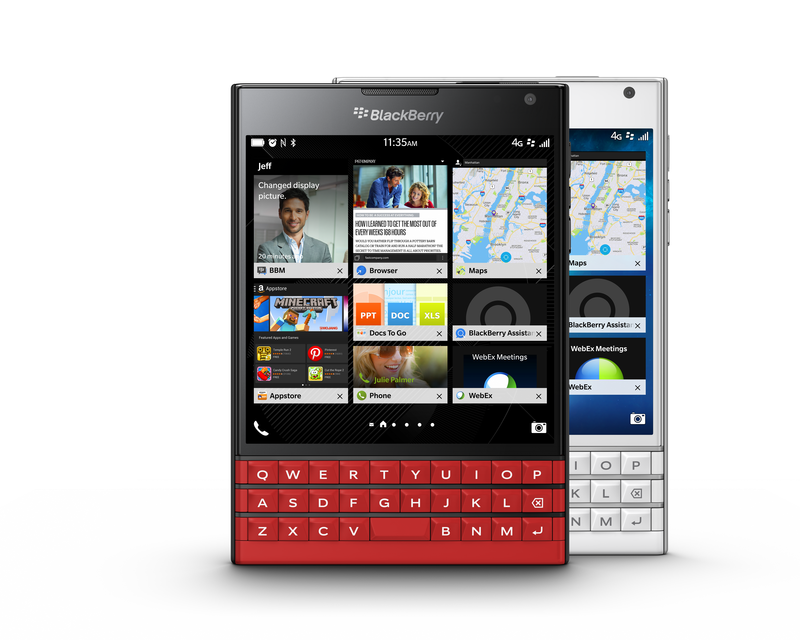 The BlackBerry Passport continues to sell strongly, thrilling old and new customers alike, as the productivity powerhouse's original chic black version is joined by both white and limited edition red variants.
Needless to say, chatter around the device is on the uptick again – not that it ever stopped! Glowing reviews are still coming out, and its unique design and incredible functionality are fueling conversation, which I round up below.
"I Rejected An iPhone 6 And Bought A Big, Square BlackBerry Passport Instead — I Love It"
That's the headline of a recent article at Business Insider by writer Mike Bird.
"The phone feels like it will be perfect for people like me: People who need their phones to do a lot of work, a lot of email, a lot of reading, and a lot of business stuff like PDFs," Bird explains. "If iPhone and Android are social-media tools, then the Passport is a work-productivity tool. It's a great fit for people who have both a smartphone and a work BlackBerry that they'd like to consolidate into one device."
The widely-read review has also generated more than 80 comments such as this:

And this:

And these: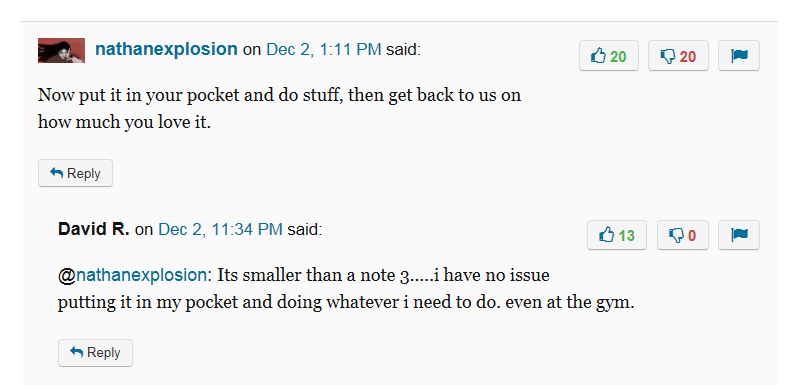 "BlackBerry's email and messaging software system is still beyond reproach"
U.S. financial publication TheStreet had a hyperbole-free, positive assessment of the BlackBerry Passport, surprising many of the article's readers used to very lopsided coverage of smartphone brands. Reviewer Gary Krakow gave the Passport an 8/10 rating.
Among his praises:
the Passport screen: "pretty terrific";
the keyboard: "deserves special mention . . . I can see the benefits of such an input device";
the browser: "much improved . . . it's now faster and more responsive";
the camera: "provided nice-looking photos";
the "top notch" email experience
Nearly 40 comments from readers, like this: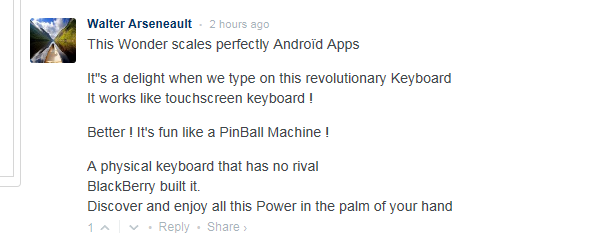 And this:

The bona fides are all there. Let's see what happens when you pour gasoline on a hot fire, so to speak.
…now with even more flair for those who want it.
Meanwhile phoneArena's Alan F. said it best: "As gorgeous as the black BlackBerry Passport seems to be to many of you out there, when pictures of the enterprise-centric 'Berry in white were leaked, the drool meter went off the charts. What is it about a handset done up in white that makes the heart pound faster, and the sweat glands work overtime?"
But Ubergizmo's Edwin Kee wrote, "…Either one would work just fine for those who prefer something functional and has an enterprise feel to it, and yet exudes a rather trendy image . . . [B]oth shades of red and white certainly usher in a Christmas feeling."
He was joined in that assessment by fellow Ubergizmo writer Adnan Farooqui : "Taking one look at the BlackBerry Passport is enough to make you realize that the company really did think out of the box for this device . . . [With] red and white colors . . . those who have been waiting can now rejoice."
Phonedog's Alex Wagner was intrigued by the red version, writing, "The red Passport is definitely interesting . . .  [I]t offers BlackBerry fans the opportunity to have a super bright phone that's a bit different than your typical 'Berry."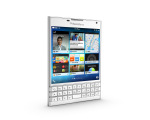 Fans certainly haven't hesitated to show enthusiasm in comments:
In the comments section of a BGR piece, "Ziggfly Jen" said, "The red Passport looks awesome! Good job BlackBerry!" while "JGoodard" wrote, "Already on preorder. Been waiting for this one-and that's at full price (not black Friday discount). Brand new Q10 just arrived too. It's a very berry holiday!"
In the comments of the phoneArena article, "kkmkk" said, "I love the mix between the red and black," while "Johnny8573" wrote, ""[The} white with stainless steel looks so elegant."
The Crackberry faithful were certainly stirred up in the comments section of pieces on the red and white versions:
"Couver81" : "This looks amazing. I was not in the market for a Passport but this is seriously making me reconsider."
"X-BB-EE":  "That's the best Red device to date!"
"mscloutier":  "Not much to say other than…I absolutely love it!"
"ryansilva": "I'll go for black. And white for my wife… she finally decided to change her iPhone 6 to BlackBerry Passport. It was a close call between red and white, though."
Users also took to Twitter to voice their admiration (and desires) for the eye-catching devices:
Get Your BlackBerry Passport Today
Black, white or red – the BlackBerry Passport is shaking things up and helping fans make a statement about themselves. While you work wide, you can now also work white or work bright, and all three feature the same top-tier productivity features, generous battery life and rock-solid input options.
Speaking of the battery:
BlackBerry Passport has the best runtime among ALL rivals:
Up to 11 hours longer than the iPhone 6;
Up to 7 hours longer than the Samsung S5;
Up to 7 hours longer than the iPhone 6 Plus.
How long, exactly?
| | |
| --- | --- |
| | Runtime |
| BlackBerry Passport | 30 hours |
| Samsung Galaxy S5 | 23 hours |
| iPhone 6 | 21 hours |
| iPhone 6 Plus | 25 hours |
(*Based on third-party lab testing sponsored by BlackBerry, under 4G and 3G wireless conditions, using a mixed-usage profile. Results will vary by carrier and network conditions.)
You can get your factory-unlocked BlackBerry Passport from ShopBlackBerry.com at these links:
Black (currently $599, regular $699)
White (currently $599, regular $699)
…and at Amazon HERE, with AT&T offering it for $649.99 unsubsidized or $199.99 with a 2-year contract. The BlackBerry Passport is also available in Canada via Rogers for $249 and Telus (for as low as $150 up front) and other carriers.
For those outside the North American market, you can get your BlackBerry Passport directly from us at our global shopping portal HERE.
(Check with your local carrier for device compatibility.)
Which color do you have or want? Tell us in the comments below.