Update: Some of you have told us that you love the new sticker picker – and some of you have told us you don't.
We're listening.
That's why, starting today, we are rolling out a new dynamic emoticon / sticker picker. It works like this:
Let's say you've typed something in the text field, like "I got you the perfect gift". – When you press the emotion picker it shows emoticons like it always has in past versions of BBM. Go ahead and add that smiley!
Here's the cool part: If no text has been entered, and you press the button it will give you the option to send a big, bold sticker.
The new dynamic emoticon / sticker picker will require you to update BBM and will be available first for Android and BlackBerry 10.
---
The updates just keep coming. BBM 2.6 is available starting today for iOS, Android and BlackBerry Smartphones and, as always, we've incorporated your feedback to improve the BBM messaging experience.
Send Stickers in Group Chat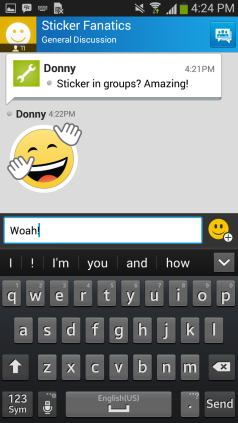 One of your most requested features, stickers in groups, is now available. Tell your group what you're really thinking with a big, bold sticker. (My favorite is Lil' Frenchie). Speaking of stickers, don't forget about our current promotion – All BBM sticker packs are $0.99 USD for a limited time.
Yours to Control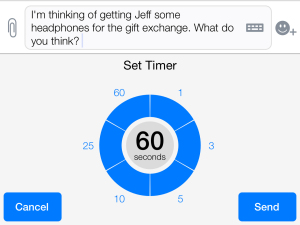 Timed messages are the best way to send messages and pictures that aren't meant to last forever*. I use it for sending and receiving gift ideas for the holidays! You told us that every now and then you need to send a longer timed message, so we've increased the length of the timer option – you can now set a timer that lasts up to 60 seconds. As well, these timed messages and pictures can now be viewed multiple times until the timer expires.
iOS 8 and iPhone 6 and iPhone 6 Plus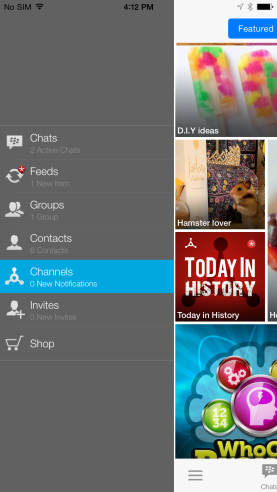 BBM now looks more at home than ever before on iOS 8. A fresh new look and feel has been applied to BBM for iOS, and we've updated the app to support the new screen sizes of the iPhone 6 and iPhone 6 Plus. You can't help but notice the sleek and modern design updates like a flat UI and attractive transparencies. These adjustments make BBM look sharp across supported Apple devices.
Lollipop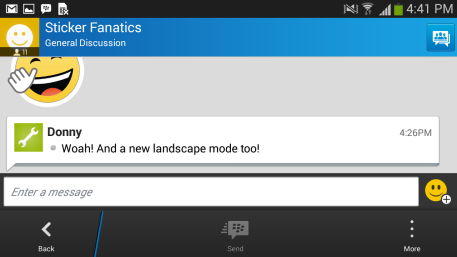 BBM for Android now supports Android 5.0 Lollipop and a brand new landscape mode. How about D's and R's on pictures? Yup – we added that too.  Get it now.
There are a few other improvements. For example, with BBM on BlackBerry 10, you can now share multiple pictures and attachments at the same time. We're always listening to your feedback and updating BBM to make it the best way to connect and share with your friends. Let us know below what you think of the new updates.
It may take 24 hours or more for the update to appear in your app store depending on your mobile platform and region.
---
*Note: While these features are designed to remove the message or picture from the recipient's BBM chat view, they do not prevent recipients from capturing an image of the content by taking a screenshot or using an image capture device. Retracting a message after it has been read by the recipient will remove the message from the BBM chat view, but will not affect copies of the message that the recipient may have made prior to the message being retracted.