The BlackBerry Passport and BlackBerry Z3 smartphones were honored with the iF DESIGN AWARD 2015, and are among the winners of the renowned iF label.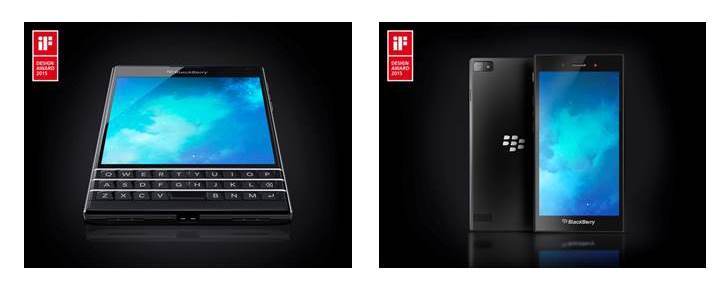 For over 60 years, the iF DESIGN AWARD has been recognized around the world as a label of design excellence, and the iF logo is an internationally established symbol identifying outstanding achievements in design.
The international high-profile jury assessed almost 5,000 entries from 53 countries in order to determine who would receive this coveted seal of excellence.
We asked Brian Paschke, Senior Industrial Designer, to provide some background on the team's approach to designing these two award-winning devices.
BlackBerry Passport
"Inspired by the passport, a universal symbol of mobility, the BlackBerry Passport is perfect for traveling light. To continually evolve, the BlackBerry Passport leverages our strength and heritage, yet is new and innovative. The touch-sensitive keypad affords an efficient typing experience, blending the digital and the physical. To enhance the experience, we used the typeface Slate in the same size and color for the physical and onscreen keys. The stainless steel frame, inspired by modern architecture, is exposed to celebrate durability and visual lightness. The display glass is shaped and polished to perfection, fully integrating into the overall form."
BlackBerry Z3 – Minimal Design, Maximum Content
"Built with precision, the BlackBerry Z3 makes the BlackBerry 10 experience accessible to all in a 5" form factor. With a modern and minimal design, it is the perfect balance of utility and elegance. It shares a similar construction to the BlackBerry Passport, holding all elements together in unity. The result is a product that looks and feels slim, yet is highly durable. Audio ports are precision-drilled by a laser to have a unified look with the rear pattern. The alignment between all details and display create a composition that reflects harmony, clarity, and care."
Our award-winning smartphones will be featured in one of three subsequent special shows in the iF design exhibition Hamburg. The iF design exhibition is located in the very center of Hamburg's HafenCity, the go-to place for those with a special interest in design and architecture.
It's clear that the iF DESIGN AWARD jury aren't the only ones impressed by these devices. Check out what others think about the BlackBerry Passport and BlackBerry Z3.