At CES 2015 in Las Vegas on Wednesday, BlackBerry officially unveiled its Internet of Things platform, while showing off a powerful, cutting-edge example of an IoT healthcare device built using our technology.
BlackBerry President for Devices and Emerging Solutions, Ron Louks (left) announced pricing and the coming availability of its BlackBerry Classic and Passport smartphones on our long-standing carrier partner in the U.S., AT&T.
The BlackBerry Passport and Classic will cost $199 and $49.99, respectively, on 2-year contracts, but even less upfront through the AT&T Next financing programs. See more pictures of the AT&T devices and read more here.
Finally, BlackBerry also touted the strong growth of its long-popular BBM messaging app, especially among iPhone and Android users, and showed off a new version that runs on Android Wear smartwatches.
Read "It's BBM Time" to learn more about the app and see a picture of it running on a Motorola Moto 360 smartwatch.
The Nanthealth HBox is a portable medical data device built on top of the QNX platform that securely collects data from wireless-equipped medical devices and sensors.
According to Dr. Patrick Soon-Shiong (right), CEO of Nanthealth, the HBox is a "hub for the Internet of Medical Things".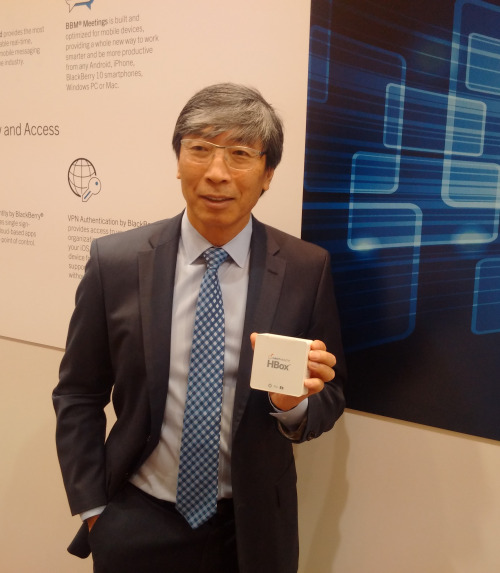 The HBox will be connected to the BES platform for secure, managed communications, which Soon-Shiong called a "very, very exciting opportunity."
The HBox is an example of the type of devices and applications that can be powered by BlackBerry's IoT platform, which combines the popular QNX operating system with BlackBerry's secure network and device management capabilities.
The HBox follows upon another BlackBerry-Nanthealth collaboration: the genome mapping app for the BlackBerry Passport that helps doctors fight cancer better in patients.
The existing QNX Neutrino Realtime operating system is the market leader in the connected car/infotainment space, with 50 million cars to date running our software and more than 50% of the market today, according to Dr. Sandeep Chennakeshu, President of BlackBerry Technology Solutions. Read more about QNX news at CES here.
Meanwhile, another component of the IoT platform, BlackBerry's secure network, today handles 35 petabytes of data per month.
The IoT platform will initially be targeted at helping companies in the logistics, auto and healthcare industries to build applications such as asset tracking, connected cars, or the HBox.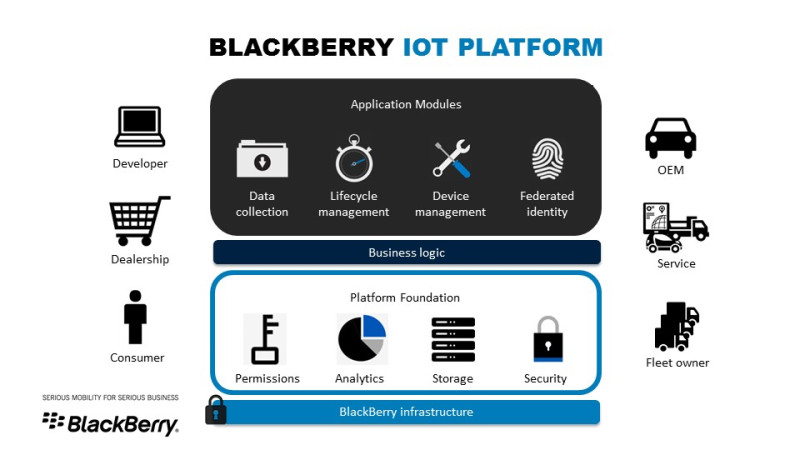 Above is a conceptual diagram of the BlackBerry IoT Platform.
BBM Growth and New SmartWatch App
BBM Senior Vice-President of Engineering, Herman Li, shared strong growth in engagement for the long-popular messaging platform. They include:
140 million new registered users for iPhone and Android in 2014, leading to 185% growth in that group last year;
70% of monthly active users on BBM are on every day;
150,000 BBM Voice calls placed every day;
Li also talked up the growing use of BBM as an advertising and mobile commerce platform, including:
1 million BBM Channels used by brands and individual users to reach followers. Brands include eBay, Amazon and Indonesian e-tailer, Qoo10 (learn more about their success here);
300 million stickers sent per month via BBM;
175 million visits to the BBM Shop per month;
400 million ad requests per day.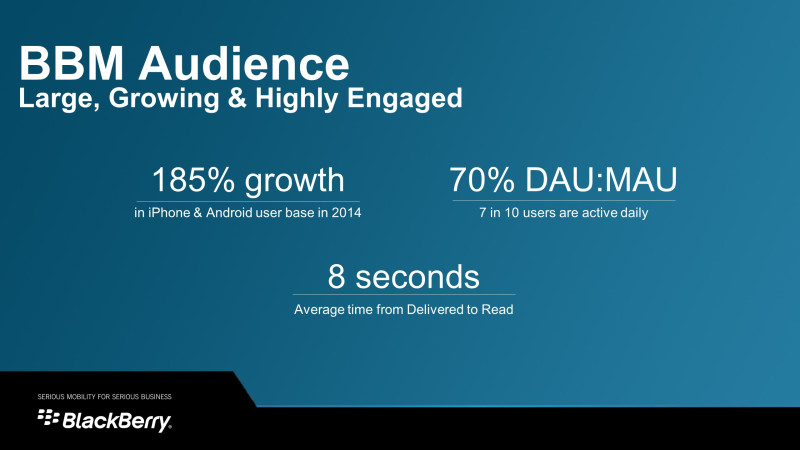 Enterprise customers are also showing interest in the secure version of BBM, called BBM Enterprise (formerly known as BBM Protected), and the business-grade version optimized for collaboration called BBM Meetings. 260 companies are evaluating BBM Protected, launched this summer, and 50 companies are evaluating BBM Meetings, launched two months ago, Li said.
BBM Enterprise could be a good tool in the healthcare setting to enable doctors and nurses to meet and connect virtually, said NantHealth's Soon-Shiong.