The unique and powerful BlackBerry Passport keeps landing solid reviews and making the news.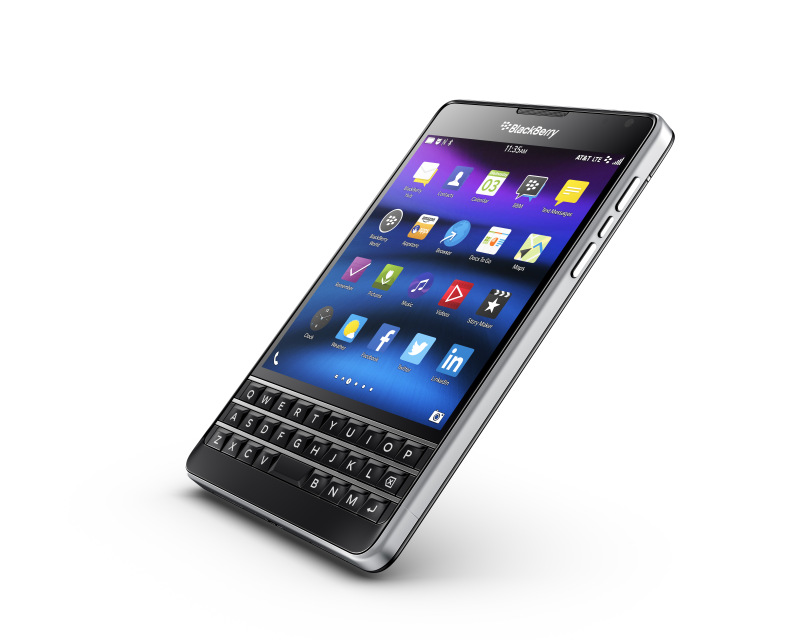 The media is covering the productivity powerhouse for its design updates, new mobile carriers to buy from, and new color options ranging from black and white versions to limited edition red and an extremely limited mini-run of ultra-bling gold.
Read on, or jump straight to the bottom of this post with links to each of the devices on ShopBlackBerry.
Reviews: "I Couldn't Help but Fall for the Passport"
While we've covered all of the reviews that have come out since September (check our prior roundups HERE, HERE, HERE, HERE, HERE and HERE), the well isn't dry yet:
IT Pro's Khidr Suleman gives it 4-out-of-5 stars, writing, "The BlackBerry Passport [is] big and demands attention, thanks to the unique 4.5 in square screen with its 1440 x 1440 resolution . . . The display is super bright too . . . Together, with the device's width, this makes it ideal for reading documents, books and browsing the web. You also don't ever have to switch between landscape and portrait modes . . . One of the standout features is the battery life, thanks to the gigantic 3450mAh battery pack [which] translates to excellent battery life . . . The Passport [provides] all the functionality you'd expect from a high-end device."
Over at NotebookCheck, German reviewer Florian Wimmer writes, "The Passport is a daring device because an unusual yet very practical screen format is used, and because it features a physical keyboard. The proprietary software that is intuitive to use and actually offers all features needed for routine use has been upgraded strongly via emulated Android apps [which] will please users . . . More positive aspects are the good speakers, the high performance, and the quality casing . . . The screen is also high-quality, the temperatures are kept within limits, and the wireless communication options are diverse. The battery life is just as convincing . . . BlackBerry will certainly win over individualists with its Passport."
Top Review's Pé Nai writes, "[The BlackBerry Passport is] a phone with an innovative keyboard and a perfect design to carry out productive tasks . . . Blackberry keyboards don't need an introduction and the keyboard on Passport goes one step ahead . . . [It's] packed with a 2.26 GHz Snapdragon 801 CPU coupled with 3GB RAM. This combination makes it one of the smoothest handset out in the market . . . [T]he professional, business-focused user – anyone who creates spreadsheets, presentations, etc. – will love the design."
Mobile User Experience's Marek Pawlowski writes, "[T]he Passport's unique form and function will help users do unique things on the move [and it feels] closer to a data-centric pocket computer than most smartphones . . . Another unique aspect of the Passport is the Blackberry 10 OS [which is] fast and intuitive, combining swipe gestures and keyboard shortcuts on the Passport to provide an impressively productive environment. [The] whole thing seems fluid . . . The Hub is ideal for scrolling through your messages and efficiently responding to everything in one unified environment. If that sounds like the way you like to work, Blackberry 10 is a strong proposition . . . The browser is fast and the big square screen is great for viewing content. The integrated Blackberry calendar, contacts and combined notetaker and to-do list app – Remember – are all well designed. It all adds up to a creative powerhouse of a device, suited to those who value the ability to create – not just consume – within a truly pocketable form factor. For some users it will come close to replacing the familiar phone, tablet and laptop combination employed by those who travel frequently . . . I couldn't help but fall for the Passport."
Stellar User Ratings at Amazon, Flipkart and Bell
Some people trust reviews from the professionals. Others put more weight into reviews by customers that shell out their hard-earned cash and invest weeks or months with a device every day..
(Check out our prior customer review roundups for the BlackBerry Passport HERE and HERE.)
With a current average rating of 4.7-out-of-5 stars on Amazon, the BlackBerry Passport is one of the top-scoring smartphones on the mega-retailer's site. As of now, the vast majority (700+) of reviews are firmly of the 4-or 5-star variety – 94%, in fact.

The Passport also holds an average of 4.7-out-of-5 stars on Indian e-tailer Flipkart with 94% of reviewers awarding it four stars or better…

…and Bell Mobility users have awarded the Passport a perfect average of 5-out-of-5 stars from the 52 customer reviews: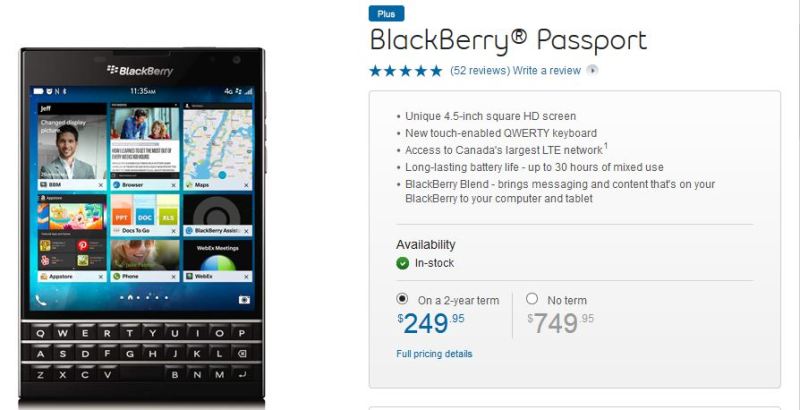 Another Way the BlackBerry Passport Keeps on Going: Battery
There are many reasons the BlackBerry Passport is still a conversation piece pulling in reviews, but one of those reasons is certainly the massive 3,450 mAh battery.
Remember – the BlackBerry Passport has a battery capacity that exceeds all rivals in milliamp hours:*
| | |
| --- | --- |
| | Runtime |
| BlackBerry Passport | 30 hours |
| Samsung Galaxy S5 | 23 hours |
| iPhone 6 | 21 hours |
| iPhone 6 Plus | 25 hours |
(*Based on third-party lab testing sponsored by BlackBerry, under 4G and 3G wireless conditions, using a mixed-usage profile. Results will vary by carrier and network conditions.)
The Passport runs 5-7 hours longer than the Samsung Galaxy S5, 6-12 hours longer than the iPhone 6, and 2-7 hours longer than the iPhone 6 Plus. That's enough power to do just about anything, and having all that the BlackBerry Passport offers and having it all accessible for longer than the most insane work day you can imagine is something that no one else can offer.
Video Tells All
We've also gone out and interviewed a number of Passport users for a YouTube video – check it out below.
Pricing and Availability
You can get your factory-unlocked BlackBerry Passport from ShopBlackBerry.com at these links:
Black (currently $599, regular $699)
White (currently $599, regular $699)
…and at Amazon HERE, with AT&T offering it for $649.99 unsubsidized or $199.99 with a 2-year contract. The BlackBerry Passport is also available in Canada via Rogers for $249 and Telus (for as low as $150 up front) and other carriers.
For those outside the North American market, you can get your BlackBerry Passport directly from us at our global shopping portal HERE.
Get your BlackBerry Passport today in the color of your choice and discover what "getting things done" really feels like!