Hey, Dos Equis guy – you have a new member in your "Most Interesting Man in the World" club.
Nelson Alcantara is a travel editor who has had many adventures in exotic locations while on the job, which he recounts in his book, No Permanent Address: The Adventures and Misadventures of… Modern Nomad.
In December, I interviewed Nelson, who's also a BlackBerry fan and takes his Q10 with him everywhere he goes, a habit that has not only helped him through busy work days, but also with getting rescued from a potentially dire situation in a South American jungle. (No, seriously – a jungle!)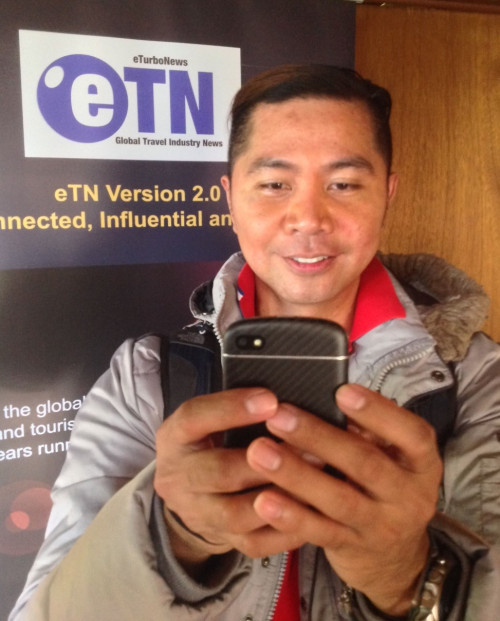 A Little Background
Alcantara (left) co-founded the travel and tourism trade publication, eTurboNews (eTN), during the '90s dot-com era while still in graduate school. "It all started with a subscription of travel and tourism professionals that was in the hundreds. Today, we have more than 230,000 subscribers worldwide," he said.
Little did he know he'd end up someday clawing his way out of the jungle with the aid of a BlackBerry.
"What Happened to the Tour Guide?"
The plan was to hike Tayrona National Park in Cartagena, Colombia, with a group of delegates of the United Nations World Tourism Organization's (UNWTO) General Assembly.
They had a tour guide who was to lead them safely through the jungle and then back to a designated meeting area. "The trip went according to plan up until we reached the beach, which no one had communicated was the midpoint of the hike . . . . Little did we know, we were way off and had fallen way behind schedule."
Alcantara and his group were supposed to make it to the meeting area before dark, but apparently no one knew where that was, and he ended up following some Venezuelan men he had met earlier, believing that they knew where they were going.
"I followed their lead. As we walked together, I found out that they were just as lost as I was, and we were all wondering the same thing: 'What happened to the tour guide?' "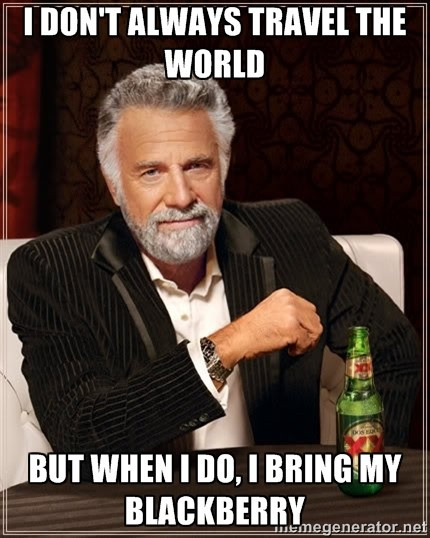 They ended up finding a path, but took the wrong one at the turning point. "We headed back toward the turning point as fast as we could, but the dreaded scenario was imminent – it was going to be pitch black very soon."
Alcantara was prepared when the inevitable happened: "I took my BlackBerry mobile phone out of my pocket and used it as my flashlight . . . . Thankfully, it wasn't that long until we got to an area where it was clearly a path and on plain ground." They decided to stay put so they'd be easier to find, and shut off their devices to save power. "I'm not entirely sure how long we sat there, but it seemed like an eternity," he said.
After some time, they heard the distant sound of voices, one of which sounded familiar to Alcantara. "I quickly turned my BlackBerry back on and waited for a visual sign of the group. As soon as I saw them, I waved my phone" and realized they knew the way back.
Phew.
You never know when you'll need your BlackBerry, but it might just bail you out of more than a boardroom meeting.