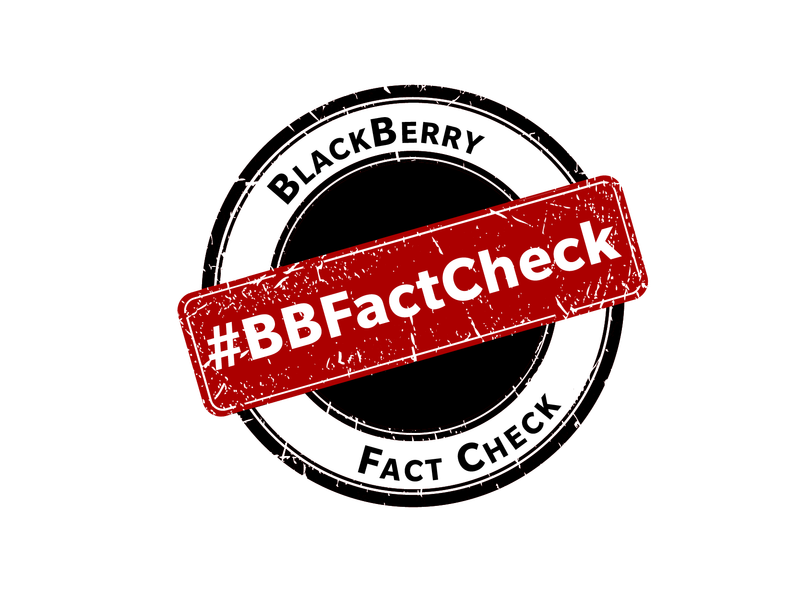 MobileIron recently held its Q4 earnings call where their CEO, Bob Tinker, made a number of comments regarding the competitive landscape — and BlackBerry in particular. Let's separate Bob's self-promotion from reality – and the facts.
Bob says: that he and his team "really don't see BlackBerry or BES12, inside customers, or in competitive deals." He adds "what we hear from our large enterprise customers, which is actually that they're turning off their BESs, around the world."
Fact Check: What Bob thinks he sees and hears is probably not the best assessment of what's actually happening in the market. To get a better sense of the competitive landscape, BlackBerry recently asked independent research firm GfK to survey enterprise mobility decision makers in large companies in the US, Canada, UK, France and Germany. They found that:
Approximately one-third of companies (32 percent) indicated that they currently use a BlackBerry MDM/EMM solution, making BlackBerry the most widely used brand among all MDM/EMM brands evaluated.
Overall satisfaction among companies using BlackBerry MDM/EMM solutions was 83 percent, giving BlackBerry one of the highest customer satisfaction scores across all MDM/EMM brands evaluated — and top among our main competitive set.
Over half of those surveyed who are using BES10 are using it to manage cross-platform devices.
Statistically and anecdotally, lots of enterprise customers who care about security and productivity are choosing BlackBerry.
Bob says: that MobileIron has "seen a lot of growth … in the larger enterprise verticals, such as financial services, healthcare, pharmaceuticals and professional services." He also claims MobileIron has "expanded our government and defense footprint with a win at US naval engineering commands" and other government contracts.
Fact Check: Let's not confuse growth with leadership. BlackBerry's incumbent leadership in security makes it one of the most trusted mobile platforms for regulated and security-conscious organizations. In fact, the GfK study found that BlackBerry is the most used provider in regulated industries such as financial services, government and healthcare. BlackBerry customers include: All G7 governments, 16 of the G20 governments, 10 out of 10 of the largest global banks and global law firms, and the top five largest managed healthcare, investment services, and oil and gas companies. They choose BlackBerry in part because we have more than 70 government certifications and approvals, more than any other mobile vendor, and are the only provider to offer secure and encrypted voice, text and messaging.
When security and regulatory compliance matter, organizations choose BlackBerry.
Bob says: that the scalability of their platform is a differentiator, and notes they've successfully rolled out deployments for customers of "over 50,000 seats and 100,000 seats in less than four months."
Fact Check: A differentiator is usually defined as a unique feature that sets a product or service apart from its competitors. Yet, BES12: a cross-platform EMM solution by BlackBerry is scalable to up to 25,000 devices per server and 150,000 devices per domain. BES12 was designed not just for massive scalability – but for productivity and, of course, security.
Bob's self-promoting views of the competitive landscape are not supported by the facts. Take a look at our growing portfolio of enterprise products and solutions, and you'll see why BlackBerry has more enterprise customers than MobileIron, Good and AirWatch – combined. #BBFactCheck