Last December, we released a new version of the BBM Shop, which includes apps, games, music, and services available for purchase from your BlackBerry or Android handset. (The Windows Phone and iOS BBM Shop both have stickers now, with more coming soon.)
And this January, the BBM Shop hit 1 billion user views, proving that BBM users are enthusiastically customizing their favorite messaging app to make it an even more useful tool.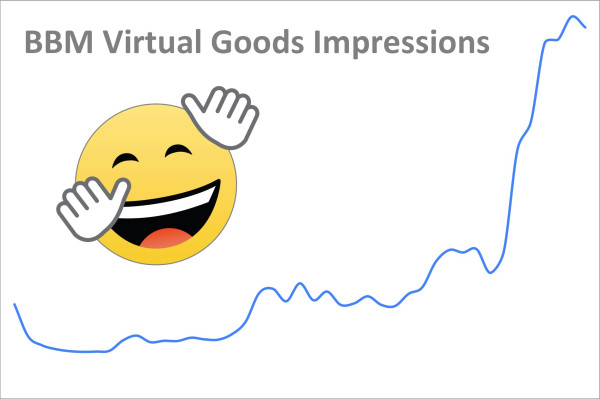 Compounding Popularity
Since we released the BBM Shop in early 2014, traffic has been increasing. Today, 72% of users with access to BBM Shop interact with our "virtual goods" (stickers, music, games, etc.) each month. In total, virtual goods have generated more than 3 billion total impressions, racking up more than a billion every month. The first billion took 5.5 months. The second billion took 3 months. The third billion took less than a month.
In just the last six weeks, users' interactions with virtual goods have shot up over 200%. (See chart above.)
BBM: Open for Business
As part of the monetization plan for BBM, we're looking to grow the user base and drive average revenue per user, better-known in our industry as ARPU. We're growing the user base with our cross-platform strategy, offering BBM for Android, iOS, and Windows Phone customers. We're doing the second by offering value to customers in the form of virtual goods and services like BBM Money and international airtime gifting.
We're also offering new opportunities for brands that want to reach their customers through BBM. Asian online marketplace Qoo10 was the first to launch a sponsored sticker pack, giving the pack away to fans free of charge, so they boost brand equity every time they use one of the stickers. The new BBM Shop also has a new ad banner space available. Contact one of our ad sales network partners for more information.
Worldwide, people are increasingly dependent on their mobiles, with the average mobile consumer checking his or her device 150 times a day! Mobile has overtaken the desktop internet, print, TV, and other media as the most important channel. Messaging is quickly becoming the preferred way to engage with the mobile internet, the gateway for many things we do online: shopping, making payments, paying bills, etc. These services and virtual goods are all about making BBM your go-to platform for everything you do with your mobile.
The World Inside BBM
The newest Shop update brings many new entertainment and utility options to you inside BBM: useful apps, games, streaming music, and airtime top-up.
Apps include: weather app BeWeather Pro, Instagram client iGrann, games like Candy Crush Soda Saga, keyboard apps (like Zimpl) to save you Android users from your keyboards, and lots of options for music streaming depending on where you are in the world, including:
Nobex, an award-winning application for streaming live radio content from over 20,000 radio stations from around the world.
Akazoo is a subscription streaming music service available in Indonesia, Thailand, Malaysia, Poland, and Greece, and coming soon to Singapore, Vietnam, Brazil, and South Africa.
7digital is a digital music platform and global leader in downloadable music, and will soon be available in the US, Canada, UK, Australia, Scandinavia, and the EU.
Langit Musik by MelOn is an Indonesian streaming and download service for Telkomsel users.
Via Media (of Zimbabwe) provides mobile services and content to South Africa and Nigeria.
Hungama is the largest aggregator, developer, publisher, and distributor of Bollywood and South Asian entertainment, music, and movies in the world. This content will soon be easily accessible for BBM users in India and Sri Lanka through the BBM Shop.
We've also added iTunes integration for those on iOS, so you can buy songs you like through iTunes with just a few clicks.
Don't forget to set Show What I'm Listening To and Show What Others are Listening To to "on" in your BBM Settings, so you and your contacts can help each other discover new music. This is just one of the ways social commerce is changing the music business.
Similar to what we've done with TransferTo and BBM Money, we're now offering airtime transfer in the BBM Shop. Just enter your phone number, the recipient's phone number, and make a payment with a credit card.
BBM is going to keep getting better, as we work to make it your app of choice for connecting with friends, family, and colleagues … and increasingly for everything else you do on your mobile. Stay tuned for more this year.