Inside BlackBerry for Business Blog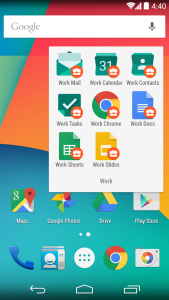 BlackBerry today announced that it will be joining the Android for Work program with Google. This will enable our cross-platform enterprise mobility management (EMM) solution, BES12, to manage Android Lollipop devices equipped with advanced security features to separate business and personal data and applications.
Backed by BES12, Android for Work creates a secure, dedicated profile for business data and applications. The BES12 solution will seamlessly integrate with the Android OS to enable platform-level containerization. This will eliminate the need for application wrapping, while providing unhindered access to Google Now and any Android application available on Google Play for Work™ that is permitted by an organization's IT policies.
Android for Work focuses on three key themes:
Enhanced security: New Android security features aimed at protecting business and private data
Simplified management: New features to simplify IT administrator experience across both BYOD and corporate-owned devices
Open platform for innovation: Partnerships with…
View original post 509 more words