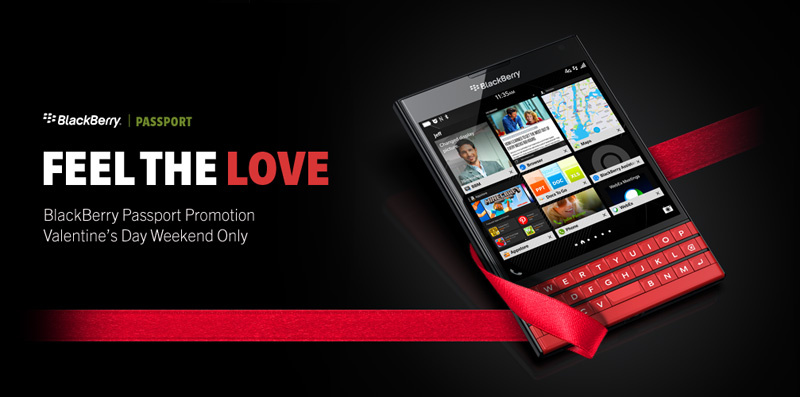 It's no secret that people are head over heels in love with the BlackBerry Passport, and starting today, we're spreading that love further.
Throughout Valentine's Day weekend, ShopBlackBerry.com is offering Canadian customers $125 off and American customers $100 off the Red BlackBerry Passport.
The Red BlackBerry Passport is the perfect color for the productive mobile professional who values power, performance and style. The color makes a vivid statement and this Valentine's Day, it's the perfect way to show your appreciation for someone special in your life and help them Work Wide.
Is the red too flashy? No worries. We've extended the sale to the black and white versions of the BlackBerry Passport too, so check out ShopBlackBerry.com to get your favorite BlackBerry Passport.
For those of you who are not familiar, the BlackBerry Passport is a device purpose-built for productivity-driven business professionals who want a smartphone that empowers them with the mobile tools they need to get things done. Featuring a large square touch screen and new touch-enabled keyboard, the BlackBerry Passport comes preloaded with new productivity-enhancing features including BlackBerry Blend and BlackBerry Assistant, as well as the BlackBerry World storefront and Amazon Appstore, offering access to the very best apps for work and play.
Check out what these BlackBerry Passport users are saying about how their productivity has grown, including celebrity chef Tyler Florence, this traveling manager, this senior hospital executive, software engineer, tech journalist, legal administrator, pharmaceutical CEO, software manager, insurance salesman, and these workers from multiple industries.
Read the praise that the media is heaping on the BlackBerry Passport in reviews, HERE, HERE, HERE, HERE, HERE, HERE and HERE.
Or check out this easy-to-share SlideShare presentation: