Is there a better laptop replacement than a BlackBerry Passport? Not according to Armando Sanchez, regional IT manager for CEC Entertainment, the company behind family entertainment center chain Chuck E. Cheese's. Created by Atari founder Nolan Bushnell in the late 1970s, Chuck E. Cheese's today has 577 locations in North and South America and the Middle East.
El Paso, Texas-based Sanchez oversees 13 IT managers and the technical operations of locations in the American Southwestern states. He uses his BlackBerry Passport to stay in contact with his work team and family, no matter where he is.
While he has used various Android handsets in the past, he sees BlackBerry devices as "the mark of a professional."
(Check out our other interviews with satisfied BlackBerry Passport users, including celebrity chef Tyler Florence, this senior hospital executive, manufacturing executive, non-profit founder, software engineer, tech journalist, legal administrator, pharmaceutical CEO, software manager, insurance salesman, and these workers from multiple industries.)
Watts: What appealed to you about the BlackBerry Passport?
Sanchez: A good friend of mine in a similar technical field was given a BlackBerry by his company and I thought it would be best if I got one.
I'm always on the move because of my job, and sometimes have to get into some tight places. I need a phone that could take some abuse.
The reliability of Blackberry and the sturdiness of the design were the main reasons to get the Passport. I really do feel like a professional with this business tool.
I've owned other [Android] phones – the HTC EVO, EVO Shift and Motorola Atrix – but I've always liked BlackBerry. BlackBerry has always been the mark of a professional. I've had the BlackBerry Curve, 9630 Tour, 9900 Bold, Z10, Q10, and now the BlackBerry Passport.
Watts: How do you utilize the BlackBerry Passport in your daily work?
Sanchez: The BlackBerry Passport is my work's most important tool.
Recently, my wife went with me on a two-day business trip four-and-a-half hours away from our home. On our way back, I received an urgent email from one of my bosses. I needed to get information about measurements for work we are doing at seven locations. My laptop was dead but I had an Excel sheet that needed to be filled.
While I drove, my wife became my secretary with the Passport. I called each location for the information I needed and she saved it on the Excel sheet. When all of the information was finalized, she saved the spreadsheet using Documents To Go, attached it to an email and sent it to my boss.
We made calls, edited documents, and sent emails with the same device while driving 75 MPH through the desert.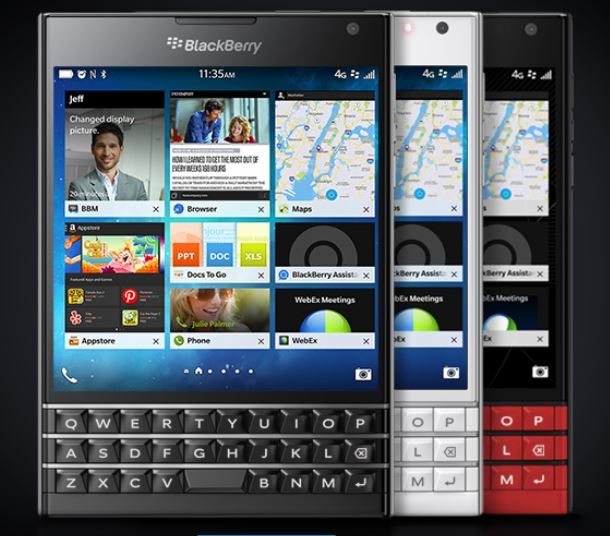 The Passport is truly an all-in-one business tool. With the latest OS update 10.3.1, I'm able to use Office Mobile and access all of my Office365 documents on Microsoft OneDrive. Very nice!
Watts: What about messaging? Do you use that at all?
Sanchez: I work with a lot of younger Millennial technicians who don't make phone calls – everything is text or instant messaging.
While I make phone calls, messaging is my team's main communication tool. With group messaging I can communicate with ALL of them regarding new policies, things I need done, solutions to technical problems, etc. BBM is great, responses are instantaneous.
Watts: It seems like you've got a nice productivity bump from the BlackBerry Passport.
Sanchez: Yes, I'm able to quickly communicate changes to policies or standards and remind all of my technical managers of documents I need on any particular day. I can view them on my phone, edit them, and email them quite easily. The laptop is no longer my main business tool.
Watts: How are the features and core experiences of the device working out for you?
Sanchez: Every feature works great!
BBM allows me to communicate with my wife while I'm on an airplane at 30,000 feet above the earth when Wi-Fi is available.
Having both BlackBerry and Android apps on my Passport is also a big plus. I use them to stay on top of work and keep entertained, and use a few travel apps to book rooms, cars, or flights at a moment's notice.
Watts: What apps do you find yourself using primarily?
Sanchez: I heavily use Documents To Go, Concur Mobile, BlackBerry Travel, Evernote, OpenTable, Pinterest, E*TRADE, SiriusXM, iGrann, Chess-wise, Workday, Maps, Southwest Airlines, Hilton Honors, Netflix – and Words with Friends, of course.
BlackBerry Hub is great – I have one view of everything that's important to me.
Watts: How do you feel about the BlackBerry Passport's 30-hour battery life?
Sanchez: It's fantastic!
I spend a lot of time in the airport, and I'm one of the few who isn't tethered to a charging station. This is important to me – I can work all day and still have a charged device when I'm in the airport after 7 p.m.
Most people aren't able to watch movies or browse the web on the plane that late in the day unless they carry around an extra iPad or Android tablet. When flights are delayed, you see white cords pop out of everyone's bags and there are laptops galore. Meanwhile, I'm on my BlackBerry Passport changing plans and rebooking everything from the palm of my hand.
Watts: How would you rate it?
Sanchez: Easily 10-out-of-10.
Watts: What kind of reactions do you get from the BlackBerry Passport?
Sanchez: Everyone I've talked to has been impressed with the device – especially after I show them all of its features. People have been in awe of Blend and the battery life the most.
I'm happy to report that the lack of apps argument is just another thing I can now put to rest with most of them.
Pricing and Availability
You can get your factory-unlocked BlackBerry Passport from ShopBlackBerry.com at these links:
Black (currently $599, regular $699)
White (currently $599, regular $699)
…and at Amazon HERE, with AT&T offering it for $649.99 unsubsidized or $199.99 with a 2-year contract. Rogers and Telus are also carrying the BlackBerry Passport in Canada.
For those outside of North America, you can get your BlackBerry Passport directly from us at our global shopping portal HERE.
(Check with your local carrier for device compatibility)
And when you're having to handle heavy lifting on the road, the BlackBerry Passport has a battery capacity that exceeds all rivals in milliamp hours (featured in a recent infographic called 'No Wallhuggers'):*
| | |
| --- | --- |
| | Runtime |
| BlackBerry Passport | 30 hours |
| Samsung Galaxy S5 | 23 hours |
| iPhone 6 | 21 hours |
| iPhone 6 Plus | 25 hours |
(*Based on third-party lab testing sponsored by BlackBerry, under 4G and 3G wireless conditions, using a mixed-usage profile. Results will vary by carrier and network conditions.)