As a typical North American who grew up with baseball, basketball and football (the one with the complicated rules and concussions) on the TV, how I view sports popular in other countries betrays my ethnocentrism at its worst. Snooker? Pool played on a golf-course-sized table. Team handball? Soccer with hands. Cricket? A baseball variant with funny equipment and games that can – how is this possible? – run even looonnngggeeerrrr.
Actually, modern cricket definitely predates modern baseball, and the matches played in the ICC Cricket World Cup raging for the past month are limited to one day. Those were just two of the four things I learned recently about cricket. I also learned that the Cricket World Cup is the third most popular sporting event the world behind the FIFA World Cup and the Summer Olympics, pulling 2.2 billion TV viewers in 2011. Makes the Super Bowl and NCAA March Madness seem quite parochial.
And I learned that Australian cricket legend and now cricket commentator, Mark 'Tubby' Taylor, is using a BlackBerry Passport to report on the matches on TV. The Australian national team, which Taylor used to captain, plays another cricket superpower, India, on Thursday for a spot in the World Cup finals (the BlackBerry community in India is also showing their support with BBM cricket stickers for World Cup season). New Zealand is already in the final, having edged South Africa in a thrilling match (but you probably already knew that).
Taylor, who seems to be the Michael Jordan of cricket (or is it vice-versa?), is quite happy about the BlackBerry Passport, telling my colleague in Australia that it's "handy to have so much info at my fingertips."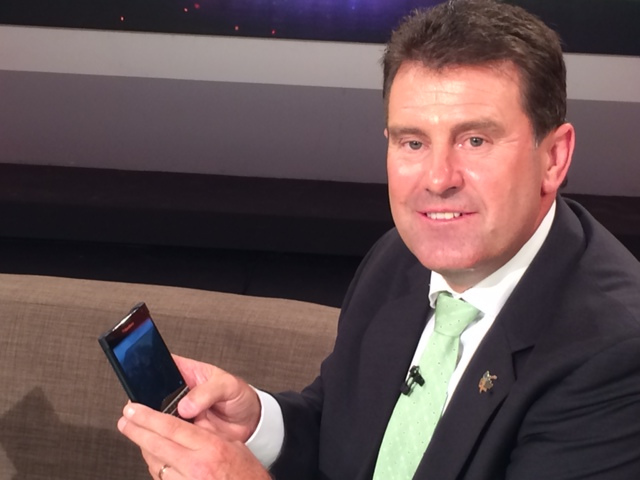 Taylor is not the only cricket star who loves BlackBerry Passport – so does English cricketer and businessman Kevin Pietersen. The Passport also helps keep Toronto Raptors (NBA) general manager Masai Ujiri on the ball. And Canadian tennis star Milos Raonic travels the globe with his BlackBerry Passport.
Besides sports and entertainment luminaries, there are also plenty of power professionals that rely on their BlackBerry Passport, including celebrity chef Tyler Florence, this senior hospital executive, regional IT manager, manufacturing executive, non-profit founder, software engineer, tech journalist, legal administrator, pharmaceutical CEO, software manager, insurance salesman, and these workers from multiple industries.
Besides the touch-enabled keyboard, oversized screen, and productivity-focused software, the BlackBerry Passport has a battery capacity that exceeds all rivals in milliamp hours (featured in a recent infographic called 'No Wallhuggers'):*
| | |
| --- | --- |
| | Runtime |
| BlackBerry Passport | 30 hours |
| Samsung Galaxy S5 | 23 hours |
| iPhone 6 | 21 hours |
| iPhone 6 Plus | 25 hours |
(*Based on third-party lab testing sponsored by BlackBerry, under 4G and 3G wireless conditions, using a mixed-usage profile. Results will vary by carrier and network conditions.)
Pricing and Availability
The BlackBerry Passport is available from Optus in Australia. Please contact your Optus representative for further information.
You can get your factory-unlocked BlackBerry Passport from ShopBlackBerry.com at these links:
Black (currently $599, regular $699)
White (currently $599, regular $699)
…and at Amazon HERE, with AT&T offering it for $649.99 unsubsidized or $199.99 with a 2-year contract. Rogers and Telus are also carrying the BlackBerry Passport in Canada.
For those outside of North America, you can get your BlackBerry Passport directly from us at our global shopping portal HERE as well as your regional carrier.
(Check with your local carrier for device compatibility).