UPDATE: March 11, 2015
The latest BBM update is now also available for iOS users, and will begin showing in the App Store within the next couple of hours.
Be sure to update your BBM app to get your Custom PIN, No Ads Subscription and more.
For tips and tricks and to learn more about Custom PINs visit this blog post from Danielle.
………………………………………………………………………………………………………………………………
The latest upgrade to BBM was announced today at MWC and will begin to roll out for BlackBerry 10 and Android devices tomorrow and iOS soon. We've made tweaks and squished bugs, resulting in the fastest and smoothest BBM experience yet. I think you're going to love it.
We've also added even more features. I want to quickly run through these new additions for you.
BBM has always been about messaging with privacy and control, and the BBM PIN is at the center of that experience.
All BBM users already have a PIN. These PINs are linked to your personal BlackBerry ID, and make it easy for you to add new contacts. Simply share your PIN to add people to your BBM contacts list while keeping private information such as your phone number or email address.
If you're newer to BBM, all PINs follow a specific alphanumeric format, and look something like "2668C1AD". I've seen PINs all over the place – on business cards, email signatures, flyers, and in some parts of the world, taxis !
Subscriptions
After upgrading to the latest BBM, you'll see a new section in the BBM Shop – Subscriptions. Subscriptions are additional purchasable BBM features that are based on a recurring fee. There are two subscriptions that will be available at launch – "No Ads" and "Custom PIN".
No Ads
Advertisements can be removed from BBM for $0.99 USD per month with the No Ads subscription. This subscription removes all ads from your feed, and you will no longer receive sponsored invites from our partners.
Custom PIN
With a Custom PIN subscription you can make a PIN that's easy for you and your friends to remember and/or says something special about you. Custom PINs have to follow certain guidelines. They must be 6-8 characters long, and can include numbers and letters only. Special characters cannot be used and PINs are not case sensitive. A Custom PIN subscription is $1.99 USD per month.
BBM users with any active subscription get another little bonus – a badge on their avatar to show off their premium status. Take a look at my profile picture in the screenshots below to see it in action.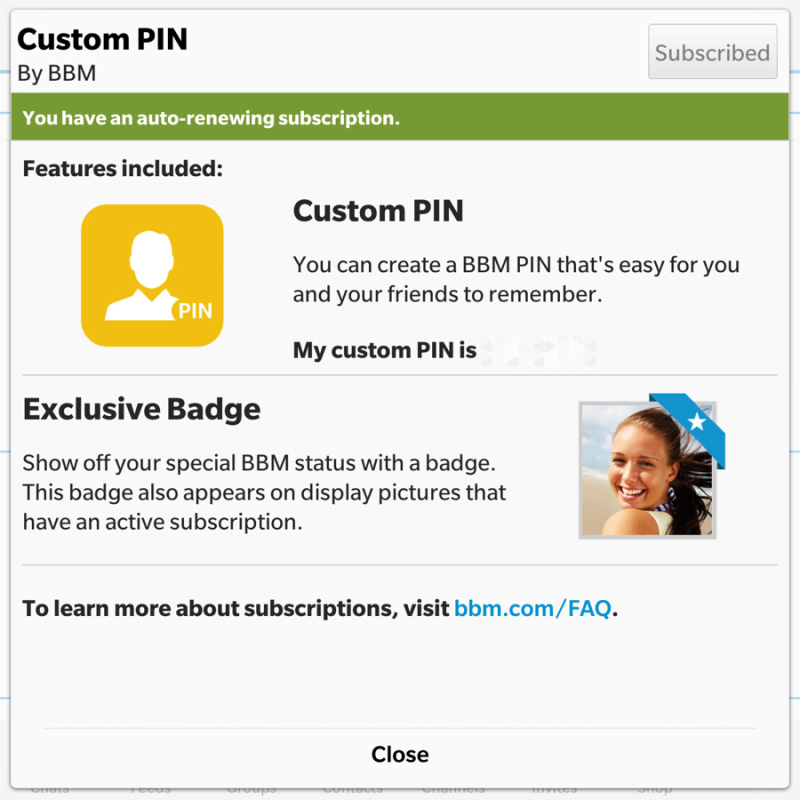 If you have more questions about Custom PINs take a look at the FAQor ask below in the comments.
More Exciting Additions with the Latest BBM Update
Photos in Groups
BBM Groups keeps getting better. Last time we added the ability to use stickers in Group Chats. This time we're adding another popular request – Photos in Group Chats.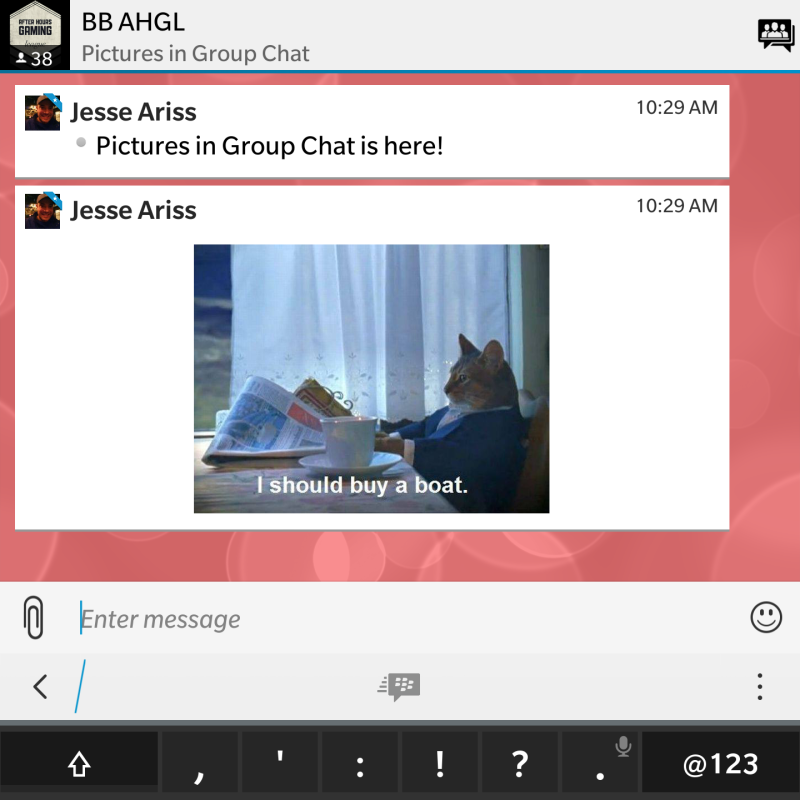 You can now share a photo while having a group conversation. These photos are also saved to the Pictures section of your group, allowing you to still "like" and comment on them.
Android Wear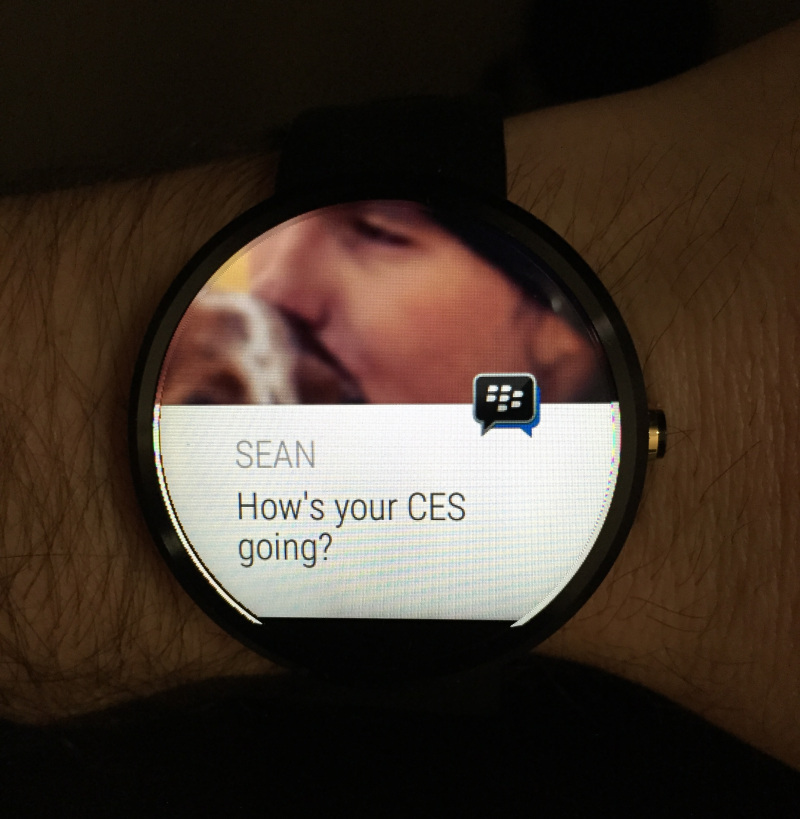 If you are using BBM on Android, (and a lot of you are ) you'll be excited about this! Android Wear Support is now baked-in to this release. Seamlessly receive alerts on your wrist when new BBM messages come in, and read and respond to them with a few simple swipes. This is going to make discreet messaging on-the-go even easier.
iOS Security Updates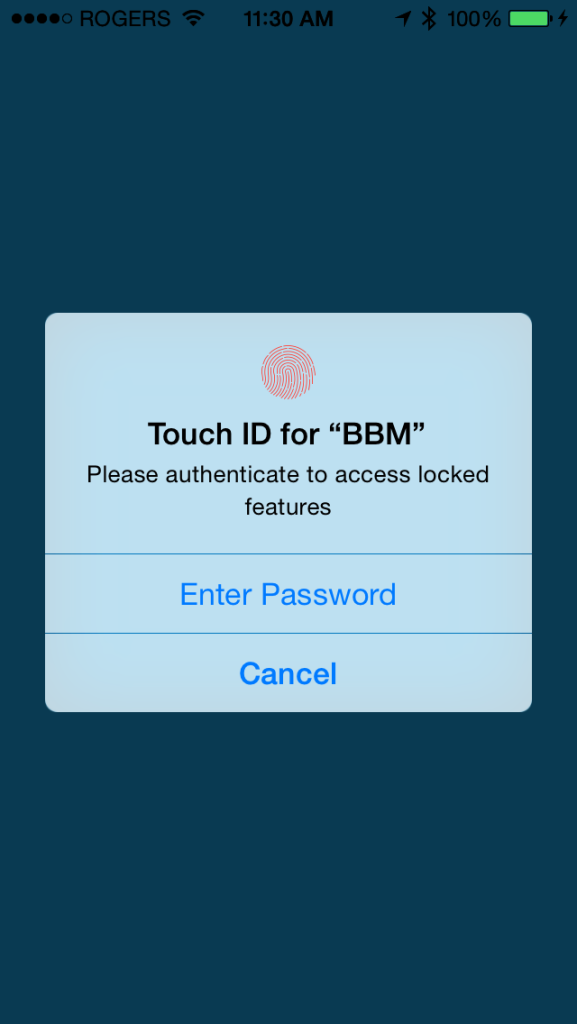 By taking advantage of iOS specific features like TouchID, we are enabling iOS users to password protect their BBM chats. Lock your private BBM conversations with a 4-digit passcode or your fingerprint. You can set how long you would like BBM to remain unlocked before a password is required again.
And More To Come…
You may have noticed that we've been updating BBM very often. We read every single comment, and take your feedback into consideration when developing BBM updates.
Thanks for helping make BBM the most private social network for your important conversations.
Stay tuned. There's more to come!