BBM Custom PIN Subscriptions are now available, and the BBM Team wants to ensure you have the info you need to make the best out of your exclusive BBM PIN.
What is a BBM Custom PIN?
The Custom PIN Subscription is a new feature found exclusively on BBM which allows new and existing users to create their own personalized BBM PIN. New contacts can add you to BBM using this Custom PIN, making adding new contacts easier than ever.
Getting Started:
Make sure you are running the latest BBM software on your device. (The latest BBM update is currently available for BlackBerry, Android and iOS. and BlackBerry 10 smartphones. iOS users will receive the update soon).
Open BBM
Tap the three bar icon in the bottom left corner
Tap Shop
Scroll down to subscriptions and select the Custom PIN Subscription.
Create your PIN. It's that easy!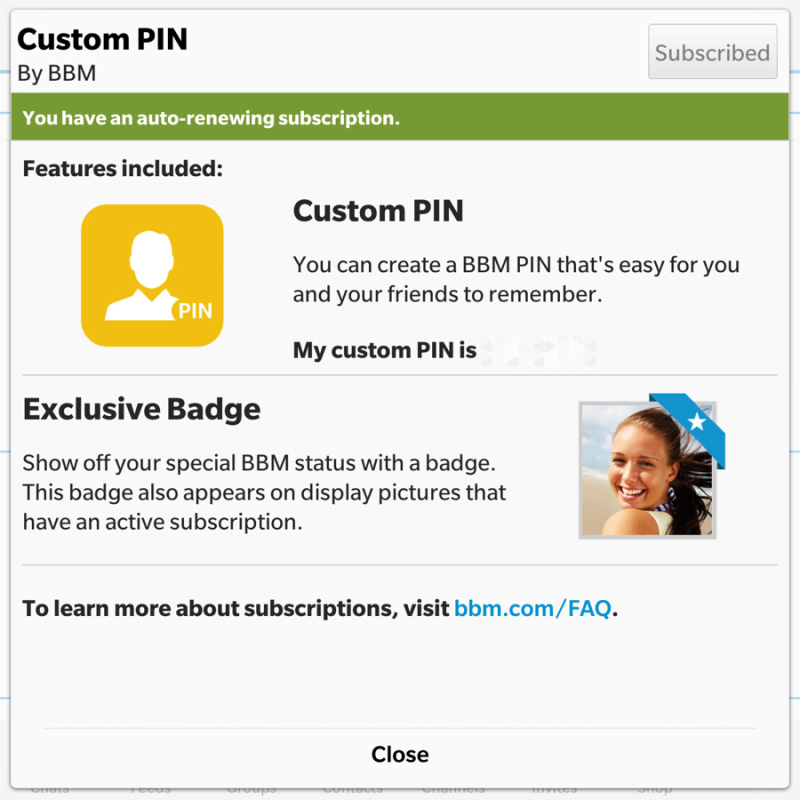 Tips:
What Makes a Good PIN?
Picking your Custom PIN is easy and the options are numerous: choose your nickname, alias or even something totally out of the box! Customize your PIN to reflect who you are.
Make Sure your PIN is An Appropriate Length:
A Custom PIN must meet certain criteria to be eligible for creation:
PINs need to be 6-8 characters long
Can include both letters and numbers. PINs are not case sensitive.
Special characters are not eligible
The full list of criteria can be found in BBM on the PIN customization page.
Act Quickly!
Custom PIN Subscriptions are going fast so make sure you subscribe to get your first choice of custom BBM PIN today!
Managing your Subscription
How to renew a Custom PIN Subscription:
Steps to renew your Custom PIN Subscription vary by device. You will need to ensure that you have renewed your BBM Custom PIN subscription to keep your custom BBM PIN.
BlackBerry 10 and Android subscriptions renew automatically through their respective stores monthly.
iOS users will receive a reminder every month for the custom PIN Renewal. Users can renew in advance or wait until prompted to renew. Note: a subscription can only be renewed one billing period in advance.
For example, if you choose not to renew your Custom PIN Subscription, you will no longer be able to use your Custom PIN to add you to BBM. In addition, that PIN will become available for other users to select as their Custom PIN. Your PIN number will revert back to your original PIN number.
If you no longer wish to receive Subscription features, you can elect not to renew them.
To manage all elements of your subscription:
BlackBerry 10 – simply go to BlackBerry World, tap My World and manage your Subscriptions.
Android – log into your Google Wallet payment service to manage your Subscriptions
iOS – you will receive a reminder every month to renew your Subscription. If you choose not to renew, your Subscription will be cancelled at the end of the period.
For Subscriptions purchased through carrier billing you will receive a SMS explaining how to cancel a Subscription.
Please visit BBM.com/FAQ for more details on managing your subscriptions and the other new BBM features.