We've been rounding up reviews for the BlackBerry Classic as they've been coming in since the initial launch in December.
With the BlackBerry Classic's availability continuing to expand via carriers such as AT&T and now Verizon (in the US) as well as outside of North America, more reviews are popping up.
Let's see what they're saying!
(And be sure to catch our video review roundup HERE, and our prior BlackBerry Classic review roundups HERE, HERE, HERE, HERE, HERE and HERE for the full scope, with a "best-of" SlideShare HERE. Yeah, that's a lot "thumbs-ups".)
"It's a Productivity Powerhouse"
"[I]f you want to communicate efficiently and effectively and you don't want to sift through an ocean of notifications to figure out why your phone just beeped, then carry a BlackBerry," urges Pocketnow's Adam Doud. "[A]fter a few days, I'm starting to discover why [people love BlackBerry phones]," writes Doud. "First of all, I had never carried a BlackBerry before I picked up the BlackBerry Classic . . . The hardware of this phone is exceptional . . . [T]his is a powerful device . . . as in it's a productivity powerhouse in a small package."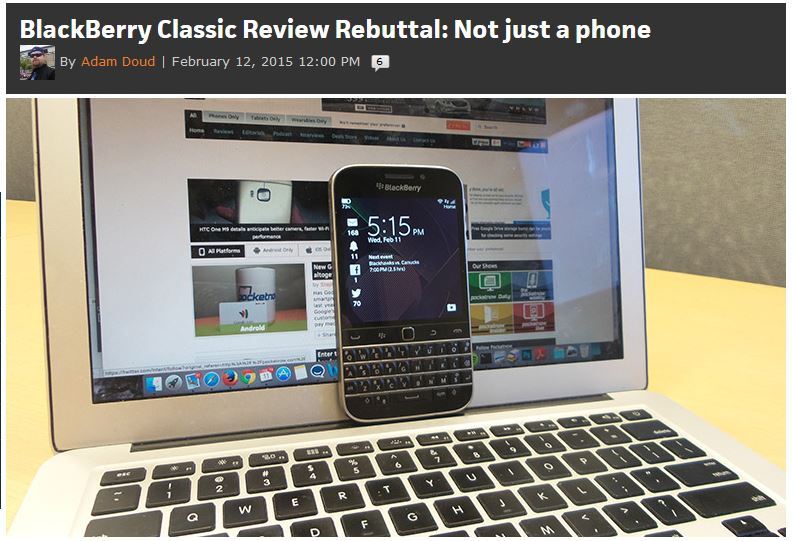 As to why people would want one, he writes: "It's because you want to; because you love to. It's because it works for you. It's because you're a little bit weird, and you're perfectly OK with that."
"The is the Device You've Been Waiting For"
"If you've ever used a BlackBerry in the past and hoped a device would come along that brings together modern apps and a touch screen with a classic keyboard, this is the device you've been waiting for," asserts SmartCompany's Andrew Sadauskas. "One of the big positives about this device is it features a solid physical keyboard. If you've used a BlackBerry in the past, getting used to the physical keyboard is a bit like riding a bicycle. In fact, it can be a refreshing change to tapping away on a glass screen only to have autocorrect suggest the wrong word . . . [I]f you do a lot of mobile messaging, emails, social media or word processing on the go, having a real BlackBerry style keyboard is a nice change to tapping on a glass screen."
"The BlackBerry Classic is a Home Run"
After using it for a while, Equities.com's Jeff Kagan says, "I can honestly say the BlackBerry Classic device I am using is a home run."

"It's a beautiful device," he says. "It looks and feels much like the BlackBerry Bold . . . By the way, that classic BlackBerry QWERTY keyboard is back. I was a BlackBerry user years ago and I still love that keyboard . . . [BlackBerry OS] 10 is an improvement, and works very well . . . I think BlackBerry is still the most secure mobile device on the market. That has a lot of value to one slice of the customer pie who needs security. That means business, government and very private consumers. For many people, the security of BlackBerry is still more important than any of Apple or Samsung's bells and whistles . . . The Classic will be very attractive to many current BlackBerry customers who are looking for something new . . . [I]f you want a solid, attractive, private and secure smartphone, then BlackBerry may be perfect for you."
"It Can't Get Any Better Than This"
"[The BlackBerry Classic] does all your core smartphone-y things," writes Gizmodo India's Surbhi Chawla. "[I like] the keyboard and the whole form factor of the BlackBerry Classic. It has a rustic feel to it and yet with the OS 10.3.1, you get a good bit of features . . . With BlackBerry's latest operating system, you get your apps two places: BlackBerry World, and the Amazon Appstore. These two pretty much offer all the apps that I need to get going . . . The battery juice that I got from this device, despite the amount of email and calls I receive in a day is exemplary . . . [I]f you are looking to get back to a keyboard device or upgrading your existing keyboard device . . . it can't get any better than this."
"The Best in the Business for Messaging"
"[The BlackBerry Classic is] the best in the business for messaging," lauds Chandrakant Isi of India's TechTree. "As the name suggests, the BlackBerry Classic has a good-old design at the core [and] the Classic is solid . . . The materials used are top-notch. It can be an ideal companion for your company's road warrior executives . . . BlackBerry has retained its iconic trackpad. Once I got a hang of it, it was pleasure to use . . . The full QWERTY keypad is what makes this phone stand out in the crowd. Every key provides proper travel and tactile feedback. Backlighting is neat . . . BB OS 10 is well optimized . . . After reviewing phones for years, I can tell that no company can beat BlackBerry in terms of voice quality and network reception. Coming from the Lenovo Vibe Z2 Pro, calls sounded exceptionally good on the [BlackBerry] Classic."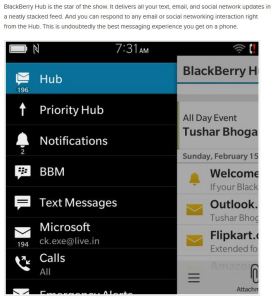 Isi also believes the BlackBerry Hub is exceptional:
"BlackBerry Hub is the star of the show" he writes. "It delivers all your text, email, and social network updates in a neatly stacked feed. And you can respond to any email or social networking interaction right from the Hub. This is undoubtedly the best messaging experience you get on a phone."
The BlackBerry Classic's Hub and Blend Software is "Invaluable"
"[T]he BlackBerry Classic begins to make a lot of sense for people who have more work than time," writes GoodGearGuide's Tony Ibrahim in a 4-out-of-5 star review. "BlackBerry's Hub remains a one-stop interface for all notifications . . . Then there's the ace up BlackBerry's sleeve. The Classic makes it possible to reply to all notifications from one work device; not the smartphone, but your work computer [via Blackberry Blend, which] is the kind of feature that seals the deal. It is unique to BlackBerry and the ability to seamlessly handle all of your communications from one device is a sure way of being more productive . . . Good Gear Guide found the Classic would hold battery for little over 24 hours. This remains a strong result when you consider the smartphone is constantly synchronizing a multitude of accounts . . . People who wake up to a myriad of work emails and texts will find BlackBerry's Hub and Blend software invaluable."
"I Love, Love, LOVE the BlackBerry Classic!"
For The Joplin Globe's Joe Hadsall, the BlackBerry Classic had an interesting effect:
"Of all the phones I've reviewed, only one has made me hate my BlackBerry Q10. Of course, it's another BlackBerry. I've written many times about how love-struck I am with the product line, from the sophisticated OS to the perfectly-tuned keyboard. So it should surprise no one that I love, love, LOVE the BlackBerry Classic."
"The Classic is a leap back to glory days, featuring the Bold's old "tool belt" of a trackpad and physical buttons for making calls, accessing menus or going back a step," he writes. "The device is sharp, with a fantastically responsive, intuitive keyboard. The back features a finger-friendly resin that doesn't slip . . . This is hands-down one of the best devices I've used for staying on top of my job, interacting on social networks, managing files, playing music and staying in touch. BlackBerry's range of native apps is wide and versatile and lets me do so much more . . . I could write an entire column about how wonderful the BlackBerry Hub is . . . [BlackBerry] Blend is seamless: I used it on two computers, and the ability to pound out texts on my computer was amazing . . . If communication or productivity is important to you, the BlackBerry Classic has a lot to offer."
Pricing and Availability
The BlackBerry Classic is now available at Verizon retail locations across the United States in addition to VerizonWireless.com for $99.99 with new two-year activation after $50 mail-in rebate debit card (takes up to 6 weeks and expires in 12 months). Verizon Edge is also available for eligible customers.
Verizon joins AT&T, which is offering the BlackBerry Classic for $649.99 unsubsidized or $199.99 with a 2-year contract, or $419.99 outright or $49.99 on a 2-year plan.
The factory-unlocked phone is also available through ShopBlackBerry for $449 in the US and $499 in Canada (and a number of other carriers worldwide), or via Amazon at the time of writing for $399.99 (regularly $449.99).
Check out updated global availability HERE, and then tell us what you love about the BlackBerry Classic!