Some people have a knack for drawing attention, and bearing something that demands it just makes them stand out even more. Frederick Fisher, President of Los Angeles-area-based Fisher Consulting Group, happens to be one of those people.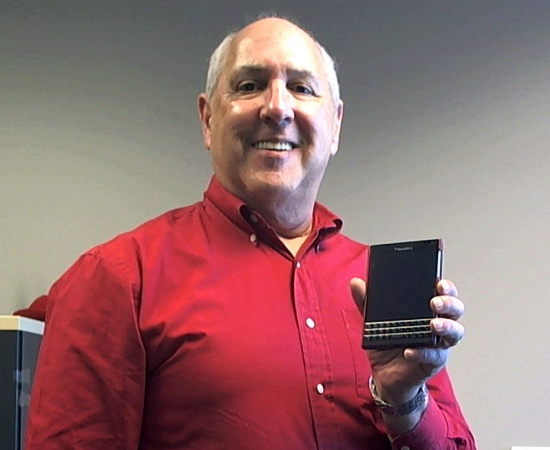 Fisher (right) caused an uproar when he brought his BlackBerry Passport to a T-Mobile store. He's been turning heads with his device ever since.
Let's hear what happened in this Q-and-A with Fisher himself.
(Check out our other interviews with satisfied BlackBerry Passport users, including celebrity chef Tyler Florence, this senior hospital executive, non-profit founder, manufacturing executive, software engineer, tech journalist, legal administrator, pharmaceutical CEO, software manager, insurance salesman, and these workers from multiple industries.)
Watts: What was it that drew you to the BlackBerry Passport? 
Fisher: [There were] multiple reasons, but primarily because of the device's security, functionality, keyboard, ease of use, big screen and the battery life.
(Check out how the BlackBerry Passport stomps the competition with its huge, 3,450 mAh battery HERE.)
Watts: I hear your Passport caused a stir at a T-Mobile store… 
Fisher: Many people have been shocked to see it and to find out that BlackBerry is still around.
After it was delivered to me from Amazon last fall, I took it to T-Mobile to it activated. I nearly started a riot when I walked in the store. The manager was so impressed he nearly fell over!
My activation service should have taken twenty minutes, but I stayed in the store for an hour and a half so everyone could get the chance to play with it.
We even watched Passport videos on YouTube on the large display screens in the store – everyone was that captivated by it.
Watts: How is it useful to your work?
Fisher: It's very useful, and fast and effective for what I do.
I deal with high-level executive insurance policies and clients, and information is primarily transmitted through emails. There is a ton of confidential information in these policies and I'm nervous about sending this information on any other device aside from BlackBerry.
Our employees routinely writes articles and reviews insurance policy forms, along with retrieving and forwarding documents via Dropbox on the road. It's a requirement that everyone has a BlackBerry, as I don't allow BYOD in my company for security reasons.
BlackBerry's QNX platform is just very secure. It's difficult to embed malware on these platforms. BlackBerry is the most secure cellphone on the planet.
Watts: Do you use any other phones in addition to your BlackBerry Passport?
Fisher: I have another BlackBerry that I use for the sole purpose of having a private and secure hotspot just to ensure that none of the information I'm sending can be compromised.
Watts: So it's increased your personal productivity? 
Fisher: Absolutely! My typing has become faster and more accurate on a keyboard than a virtual keyboard.
Watts: How are the features and core experiences of the device working out for you? 
Fisher: Very well. I love the Blend connection to my computer. All of the apps I use—Facebook, Linkedin, Office-to-go, banking/financial, GoToMeeting, Skype and various utilities—all run smoothly.
And the battery life? It's GREAT! I rarely have to plug in when I'm out and about.
Watts: Is there anything you can do with the Passport that you weren't able to on other devices? 
Fisher: Yes, I can type accurately!
In general, I'm able to view and do more with the bigger screen on the device, and having Blend to file info on other devices is awesome.
Watts: How would you rate it? 
Fisher: 10 ++++
Pricing and Availability
Starting a riot in T-Mobile? The BlackBerry Passport doesn't get any better than this! If you haven't picked up yours already, there's an easy fix for that.
You can get your factory-unlocked BlackBerry Passport from ShopBlackBerry.com at these links:
Black (currently $599, regular $699)
White (currently $599, regular $699)
…and at Amazon HERE, with AT&T offering it for $649.99 unsubsidized or $199.99 with a 2-year contract. The BlackBerry Passport is also available in Canada via Rogers for $249 and Telus (for as low as $150 up front) and other carriers.
For those outside the North American market, you can get your BlackBerry Passport directly from us at our global shopping portal HERE.
(Check with your local carrier for device compatibility)
Remember – the BlackBerry Passport has a battery capacity that exceeds all rivals in milliamp hours:*
| | |
| --- | --- |
| | Runtime |
| BlackBerry Passport | 30 hours |
| Samsung Galaxy S5 | 23 hours |
| iPhone 6 | 21 hours |
| iPhone 6 Plus | 25 hours |
(*Based on third-party lab testing sponsored by BlackBerry, under 4G and 3G wireless conditions, using a mixed-usage profile. Results will vary by carrier and network conditions.)
Has your BlackBerry Passport caused a stir? Tell us in the comments below!