One of the most prominent events in mobile – Mobile World Congress – may be in the rear-view mirror, but the excitement around the newest version of BBM has only just begun.
BlackBerry was front and center, with the anticipation surrounding BlackBerry's upcoming mobile devices turning heads, along with BBM moving to version 2.7 and its new Subscriptions feature.
After upgrading to the latest version of BBM, you'll see the new Subscription section in the BBM Shop, offering additional purchasable BBM Features based on a recurring fee. There are two subscriptions available for BBM users: "No Ads" and "Custom PIN."
Let's take a look at how they work, and what users think about these new features.
Custom PIN
With BBM Custom PINs, users are more than "just a phone number" or a set of random alpha numeric digits. BBM is letting users be themselves, and this update gives users even more control over than ever before within the BBM experience.
How are users utilizing Custom PINs?
Users can now create a PIN that's both easy to remember and represents the user's personality – BBM lets users reflect who they are.
Users can connect to one another quickly and easily, without the hassle of switching devices (as the feature travels with the user's BlackBerry ID). BBM now also recognizes our subscribers with a badge on their avatar as a way of saying thank you, granting users recognition and a premium status. It's no surprise as to why people are excited –what's not to love?
Here's what people are saying:
But Wait – There's More!
Check out what other people are saying about their new Custom PIN:
"I love my custom BBM PIN because it now enables me to broaden my "Brian S" brand to my fans and personal contacts globally through BBMs new Custom PIN feature. Kudos to the BBM Team!"
-Brian S, DJ Music Maker
"I love my vanity PIN because it's a representation of who I am! I'm in love with BlackBerry 10!"
-LIL E – Professional Music Artist
"BBM is my main stream for IM communication. The Custom PIN allowed me to get a unique and elegant ID on BBM"
-Shashwat Pradhan (India)
"I got my Custom BBM PIN to make it easier for people to get in touch with me, and – since I change devices all the time – I don't remember all the PIN's. With Custom PIN, tied to my BlackBerry ID (and not the device), I now have one easy-to-remember PIN! No more fuss."
– Morten Lindstrom (Trinidad & Tobago).
"I chose to buy my Custom PIN in order to stand out, to get a much better visibility, and to stop trying to remember my regular PIN (not easy!). I chose my PIN because it's the nickname I use everywhere and it makes BBM way more integrated with the ecosystem Ibelong to."
-Alessandro Bellotti (Italy)
"I need to be accessible in a safe and reliable way for my customers and don't want my phone number riding all over the internet. Because of this, Custom BBM PIN is the right way to do it."
– Leandro Cerdàn (Spain)
"The Custom PIN makes me unique by distinguishing me from most BBM users. It brings you the freedom to set your own, easy-to-remember PIN, thus enabling you to easily connect to more people."
-Shlomi Gavra (Israel)
"The ability to customize your BBM PIN not only makes it easier to share – and remember – PINs, but it also allows you to market and advertise your Custom PIN."
–John George (UK)
"The Custom PIN allows me to personalize and brand my presence on BBM."
– Patrick Kosiol (Singapore)
"The BBM Custom PIN uniquely identifies my personality from the average PIN. This brings you the simple task of not having to remember your new PIN every time you get a device because you would have a PIN that is simple to remember. I recommend you check this out!."
– Benjamin Smith Bortley (UK)
Focus on your BBM Experience and Kiss Ads Goodbye
Why do users love the No Ads Subscription? It's simple.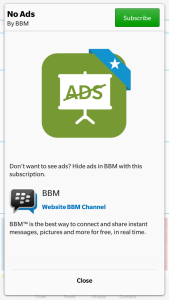 You can use the BBM app you already know and love, sans ads. With the No Ads subscription, users can communicate whenever, wherever – completely ad-free.
Obviously, advertising in BBM is a delicate balance – we show ads we think will benefit you and do it in a seamless way so as to keep from disrupting your core BBM experience. However, with the No Ads subscription, users can now choose to have BBM completely ad-free.
Recap:
So why are users loving BBM Subscriptions?
1. Personalization – BBM users can now finally choose the PIN they want to represent themselves and use it to connect to others.
2. It's simple to use – Adding users to BBM has never been easier with the Custom PIN Subscription – no more trying to remember complicated letters and numbers.
3. Easy Transfer- BBM Custom PINs are transferrable, since they're tied to users BlackBerry IDs' – not the device.
4. Ad-Free- Users can now opt out of ads in BBM.
Subscriptions are now available on all platforms. Please visit BBM.com/FAQ for more details on how to get and manage your subscriptions, and get the latest info on other BBM features.