How many smartphone models have you seen compared to a "fine wine?"
I know of exactly one, and it's the BlackBerry Passport (like our limited Black and Gold edition to the right), thanks to ZDNet's Matthew Miller, who's been using it for the last five months and had previously included it on his list of best business phones, calling it the "world's best QWERTY in uniquely functional form factor."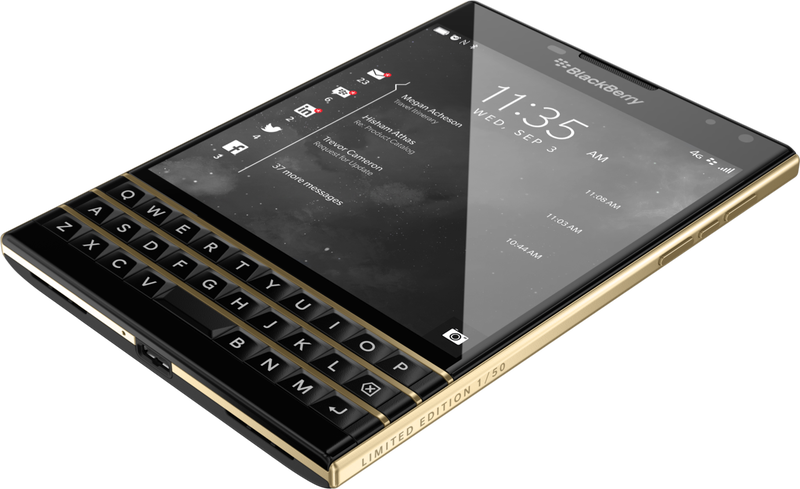 So, why is Miller heaping even more praise on his BlackBerry Passport? Let's find out.
(And be sure to go HERE for a roundup of written news and reviews related to the BlackBerry Passport arriving at AT&T, with many links included to prior roundups of reviews from around the world. A video review roundup is also available HERE.)
"Continues to Impress Me Daily"
"My excitement for a new smartphone tends to wear off after two or three months, but occasionally a device rises to the top and keeps me coming back for more," Miller writes. "I bought my BlackBerry Passport in October 2014 and the efficiency of the operating system continues to impress me daily."
Miller cites the physical construction ("rock solid"), keyboard ("awesome to type on and the more you use it the better it gets"), the battery ("lasts me longer than any other smartphone") and the call quality ("no other phone sounds as good").
And the BlackBerry 10 OS, packed with commanding features?
"If communications is important to you, the BlackBerry Hub is the most efficient communications system I have ever used and my productivity increases daily as I fine tune it to fit my needs," he praises, also complimenting the browser: "there are many advanced smart links, functional reading mode, ability to share via a number of services you have installed, and other features that make web browsing on a Passport my favorite mobile web experience."
He goes pretty deep with the OS in his personal use, taking advantage of BlackBerry Assistant ("always gives me accurate voice-to-text results and I love how it's easy to launch with the button between the volume buttons") and BlackBerry Blend, which he lauds as being "essential for centralized communications."
"I'm able to stay in touch using a number of services, get notified about meetings, and more," he says, happily. "No other smartphone platform offers such connectivity across platforms."
As for apps, Miller says "there is nothing I use on a regular basis that is missing on my [BlackBerry] Passport" due to the growing selection available between BlackBerry World, Snap and the Amazon Appstore.
How do You Really Feel?
When you use a device custom-designed for a specific task, it's usually going to be better than a "master of none" device. While Miller says he likes other phones as well, "the BlackBerry Passport gets things done more efficiently and is a joy to use."
"Every time I pick up the Passport, I feel I have a rock solid phone in my hand that I know won't let me down, he writes."
Pricing and Availability
You can get your factory-unlocked BlackBerry Passport from ShopBlackBerry.com at these links:
Black (currently $599, regular $699)
White (currently $599, regular $699)
…and at Amazon HERE, with AT&T offering it for $649.99 unsubsidized or $199.99 with a 2-year contract. The Passport is also available in Canada via Rogers for $249 and Telus (for as low as $150 up front) and other carriers.
For those outside the North American market, you can get your BlackBerry Passport directly from us at our global shopping portal HERE.
(Check with your local carrier for device compatibility)
As Matthew Miller appreciates, the BlackBerry Passport has a battery capacity that exceeds all rivals in milliamp hours:*
| | |
| --- | --- |
| | Runtime |
| BlackBerry Passport | 30 hours |
| Samsung Galaxy S5 | 23 hours |
| iPhone 6 | 21 hours |
| iPhone 6 Plus | 25 hours |
(*Based on third-party lab testing sponsored by BlackBerry, under 4G and 3G wireless conditions, using a mixed-usage profile. Results will vary by carrier and network conditions.)
Has your BlackBerry Passport seemed to improve over the last five months? Tell us in the comments below!