A week after publishing 8 milestones on BBM Shop's one-year anniversary, here's more proof of the tailwind behind BBM: the extreme loyalty of our users.
According to data published by Silicon Valley mobile analytics provider, Quettra, BBM has the second highest user retention among 22 Android social and messaging apps tracked by Quettra. They include WhatsApp, Instagram, WeChat, Snapchat, Twitter and others.
As reported by The Information and CNBC, BBM held onto more than 93% of its users after 30 days, more than double the 43% average user retention after 30 days for all apps measured. After 60 days, 89% of BBM users remained loyal, and 82% after 90 days. Only Facebook Messenger ranked higher than BBM.
Below is a screenshot published by The Information, which commissioned the data from Quettra. Visit The Information to view the interactive version of the chart, which lets you see the exact retention rates at different times up to 90 days after the app is downloaded.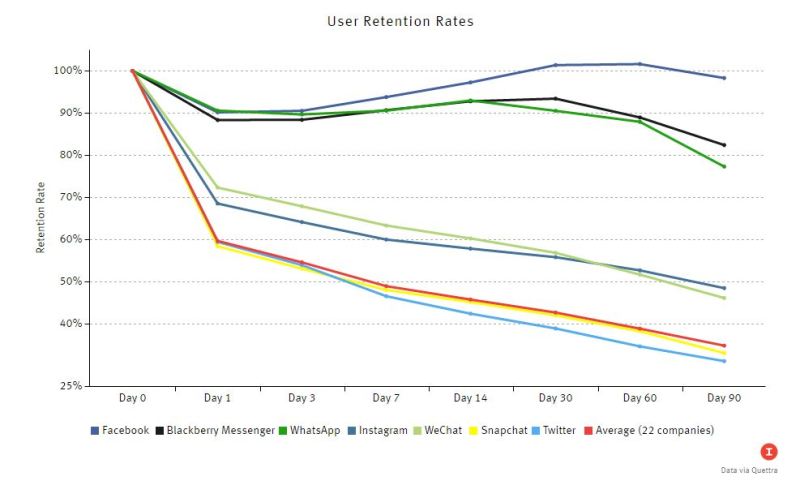 Quettra tracks app usage on 75 million Android phones around the world, a 6% global sample.
BBM users' loyalty shouldn't be surprising. As we posted last month, BBM passed 100 million Android installations via Google Play after 18 months of availability. Even more impressive: out of 4.4 million user reviews, 2.8 million rate BBM 5 stars (total rating: 4.3 out of 5).
Our user loyalty is matched only by the enthusiasm of our users for our new digital goods, including stickers and more, available from BBM Shop. 1.87 billion stickers were sent by BBM users in the first year of availability. The Shop, which boasts 250 items for sale, has been visited more than 1.5 BILLION times, too.
BBM 2.7 was released in mid-March, offering a host of new features. Visit the BBM page on Google Play to download BBM for Android. BBM is also available for iOS, Windows Phone and BlackBerry OS.