Spring is in the air here at BBM HQ, and we've got an exciting offer to share.
As you know, with the latest BBM update, it's now easier than ever to chat with both BBM and device contacts, but what about brand new contacts? Don't worry, we've got you covered.
Custom BBM PIN Subscription Sale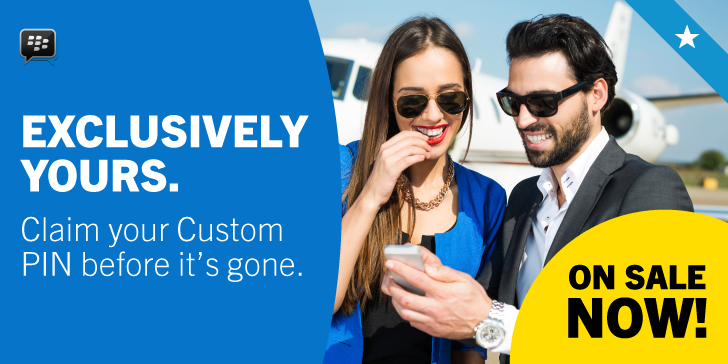 Since launching in March, we've had many people express their love for their Custom PIN and share how easy it has been to add new contacts to BBM. Because we know you're loyal to BBM, we don't want you to miss out! We are making it easier than ever to get your Custom BBM PIN.
For a limited time, you can get a Custom PIN subscription from the BBM Shop for 99 cents per month.
Your Custom PIN is easier for you and your friends to remember and will add some personality. Use your nickname, your company name or something that's personal to only you – the options are endless.
Remember, PINs must be 6-8 characters long, and can include numbers and letters only, and are not case sensitive. Don't forget, special characters cannot be used.
As always, if you have more questions about Custom PINs, take a look at the FAQ or ask below in the comments.
Existing Custom BBM PIN users don't worry, we haven't forgotten about you!
All existing Custom PIN users can take advantage of this sale. To apply the new price to your current Custom PIN subscription, just follow these three steps:
Step 1: Make sure you download the latest version of BBM.
Step 2: Visit the BBM Shop and tap the Custom PIN Subscription icon.
Step 3: Tap 'Update your Subscription' and follow the instructions on the screen.
Step 4: Remember to cancel your $1.99 subscription.
Make sure you update near the end of your BBM subscription billing cycle. Information about your current subscription details can be found in BlackBerry World, Google Play or the Apple App Store.
What are you waiting for? Get your Custom BBM PIN today.