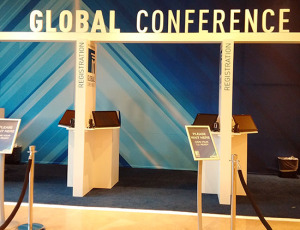 The Milken Institute has an ambitious mandate: to help turn ideas into real-world initiatives that address some of society's greatest challenges. As part of this mandate, it brings together participants for its annual Global Conference who have the ability and resources to effect change. The success of the event, according to the Milken Institute, hinges on one common element: "The power of ideas."
For this year's event in Los Angeles, BlackBerry had two members of its executive team bring their 'big ideas' to the event as speakers.
Chairman and CEO John Chen spoke as part of a panel titled Health Care in the Digital Age. He was joined by Dr. Patrick Soon-Shiong, Founder and CEO, NantHealth, a key healthcare partner for BlackBerry.
In addition, BlackBerry's Chief Evangelist Mark Wilson presented on a panel titled From Marketer to Influencer to Global Brand Shaper.
The Epicenter of Power Pros
The nature of the event attracts the kind of power professionals that need their BlackBerry to stay productive and secure. In fact, Michael Milken, the chairman of the Milken Institute told John Chen:  "I love my new BlackBerry Classic … great product."
Milken noted that he isn't the only one who appreciates the strengths BlackBerry offers. "We've seen that many government employees are switching back to BlackBerry so that they don't get to read their emails in the paper in the morning!"
John Chen also took time out from the conference to talk about BlackBerry's business to CNBC, Fox News, CNN Money and Bloomberg; the latter interview concluded with journalist Erik Schatzker proudly declaring: "I too am a BlackBerry user … because I like the product." Power professionals, it seems, are everywhere at Milken!
Bringing Security To Healthcare Data
Below, you can watch Health Care in the Digital Age and discover the important role BlackBerry is playing in the evolution of healthcare.
Some interesting highlights: Dr. Patrick Soon-Shiong talked about the role that data is playing in fighting cancer. He's partnered with BlackBerry because "BlackBerry has this well-established security system."
John Chen talked about why security might be critical in realizing the potential of data in healthcare. One of the key elements in making some of the ideas Patrick talked about a reality is convincing people to capture, store and share huge amounts of health data about themselves, down to their very genetic makeup. John likened this to the beginning of e-commerce, when people were nervous about sharing their credit card information online. But, John notes, "healthcare is a little different." If someone steals your credit card information, the card can be cancelled and you can get a new, secure credit card number. But, once your healthcare information is compromised, John said, you can't simply replace it with something new and secured.
BlackBerry, John believes, has the right strengths to help address this issue.
"At BlackBerry, we know that what a lot of our technology in privacy and security does — it's not just security, it's the privacy part — could definitely apply to the medical world … What I'm trying to do is build the most secure communications system for mobile."
Patrick showed the audience what it means when security, smartphones and data come together as he demonstrated a patient's ability to share their health information, down to their genome, on a BlackBerry Passport (watch segment below).
UPDATE: Balancing Digital Marketing and Privacy
The panel Mark Wilson participated in — From Marketer to Influencer to Global Brand Shaper — is now available in its entirety below.
Some interesting highlights: Mark talked about what he's most proud of in terms of what BlackBerry's marketing efforts have accomplished. For him, it's been BlackBerry's success in raising "the conversation about security as it relates to mobile." While the level of security BlackBerry offers has traditionally been associated with heads of state and corporate leaders, it's become just as important for 'regular users' as well.
"We may not be President of the United States," Mark said, "but maybe we don't want our photos spread around the internet … if you look at our medical records, a medical record on the black market is worth $500." A sobering thought as more and more sensitive data finds it ways into our hands through mobile devices.
That shift is significant to BlackBerry from a marketing perspective; as Mark noted "we know more about secure communication than anybody."
Yet, as people live more of their lives in the digital realm, the opportunities for marketers have increased exponentially. "Every aspect of human culture has been digitized," explained Mark. "As everyone reveals their preferences in a digital way, you can mine that data in ways that you never thought possible."
So, how does BlackBerry balance the opportunities in knowing more about its customers and its legacy for security and privacy? Clear boundaries.
Mark notes that BlackBerry has a tremendous amount of customer data flowing through its network — the kind of data that many marketers "would salivate for." Yet, for BlackBerry that data is, by design, untouchable. Instead, BlackBerry mines publicly available sources like Twitter to help gain market insights.
"For BlackBerry, we're all about security and privacy. If we violate that in any way — you're irreparably harming the brand."