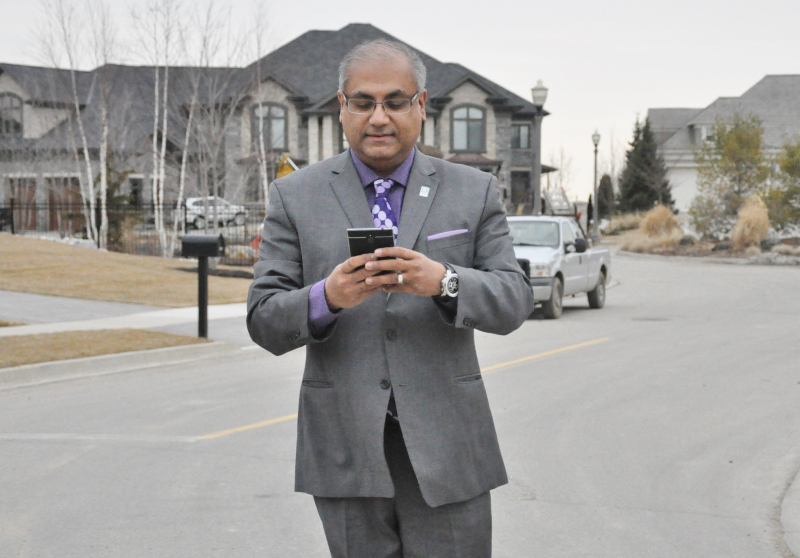 Riz Jadavji is a leading real estate sales representative in BlackBerry's hometown of Kitchener-Waterloo. He works hard and generates results — Riz is one of a few select agents to achieve top three percent sales status in Royal LePage Canada in consecutive years.
Success in real estate means working long hours and being constantly on-the-move, from open houses to deal closings. Staying organized, staying in-touch and staying on top of administrative tasks wherever he finds himself is a big part of why Riz is a success.
Not surprisingly, Riz is also a long-time BlackBerry user and recently moved from the BlackBerry Z30 to the BlackBerry Passport. We caught up with Riz to find out what he thinks of his Passport.
(Check out our other interviews with satisfied BlackBerry Passport users, including celebrity chef Tyler Florence, this senior hospital executive, manufacturing executive, non-profit founder, software engineer, tech journalist, legal administrator, pharmaceutical CEO, software manager, insurance salesman, corporate IT manager and these workers from multiple industries.)
How do you use the BlackBerry Passport in your daily work?
The Blackberry Passport is my personal pocket assistant each day. While I value my efficient Executive Assistant Jessica, I also rely heavily on my Passport to keep me well organized with my hectic schedule. It's the perfect tool for multi-tasking and helps keep me organized, yet productive.
Juggling multiple messaging, email and social media platforms can be challenging — do you find the BlackBerry Hub to be an asset for you?
The HUB — I must say — is amazing to say the least. I really appreciate the ease of functionality. I can see everything that I want to see and still have the ability to filter out what gets in the way of a busy schedule. It's ingenious to have everything in one spot; it eliminates my having to go in and out of many apps to find out what is happening throughout the day.

How do you feel about the BlackBerry Passport's 30-hour battery life?
In my field, I find a lot of my day is involves reviewing PDF files of offers, various attachments while dealing with numerous banks and lengthy phone conversations with clients. I find while nearing the end of day, I see others pulling out their charging cords while I can still enjoy reviewing YouTube videos and catching up on highlights of the day on various news sites. Despite all that use, my battery keeps on ticking.
Was the keyboard a factor in getting the BlackBerry Passport?
I was primarily hooked on the Blackberry keyboard, and then I got a BlackBerry Z30. I was pleasantly surprised that I could actually type quite well using the onscreen keyboard. Now, with the Blackberry Passport, I am back into my comfort zone of typing on a physical keyboard again, but in this case the larger keys make typing a breeze.
What apps do you find yourself using primarily?
I am a fanatic when it comes to using the social media platforms; that along with my need for multiple emails means that I spend a lot of my time in the BlackBerry Hub. I am also constantly using Blackberry Remember, the Calendar, Bloomberg, Documents to Go and Evernote.
Is there anything you can do with the Passport that you weren't able to on other devices?
With the Passport, I am able to stay connected across all communications platforms, while using a number of services and apps throughout the day to tend to my business needs. Many other devices cater to just entertainment while offering the use of a phone tool, but the Blackberry Passport provides me the comfort of knowing I can rely on it as one of my tools of the trade in order to maximize my output. I feel very confident knowing that, while on the road most of the day, I can turn to the Passport for all my needs: social, business or entertainment.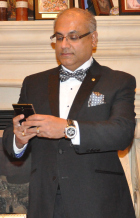 How would you rate the BlackBerry Passport out of 10?
I've been a faithful BlackBerry user since its inception, so maybe I'm a little biased, but I have to give it a perfect 10 out of 10!
What kind of reactions do you get from the BlackBerry Passport?
The initial reaction when I pull the phone out usually starts with "Is that the new Blackberry Passport?" Although I have had my unit since it was launched, it is amazing how many people still consider it NEW. I truly believe that, based on the look and feel of this phone, it's perceived as an executive business model and gets noticed by my peers.
Has the BlackBerry Passport improved your productivity? If so — how?
The BlackBerry Passport has enabled me to accomplish greater results with increased speed and has allowed me to develop a more efficient process to incorporate within my business model. I'm able to get a lot of work done in a short amount of time without opening up a laptop.
To put it another way: my business tag line is "Don't Put it on HOLD…Call RIZ to get it SOLD! ™" Well, without my BlackBerry, I would have to put my business on HOLD! It truly helps me get things done.
Pricing and Availability
You can get your factory-unlocked BlackBerry Passport from ShopBlackBerry.com at these links:
Black (currently $599, regular $699)
White (currently $599, regular $699)
…and at Amazon HERE, with AT&T offering it for $649.99 unsubsidized or $199.99 with a 2-year contract. Rogers and Telus are also carrying the BlackBerry Passport in Canada.
For those outside of North America, you can get your BlackBerry Passport directly from us at our global shopping portal HERE.
(Check with your local carrier for device compatibility)
And when you're having to handle heavy lifting on the road, the BlackBerry Passport has a battery capacity that exceeds all rivals in milliamp hours (featured in a recent infographic called 'No Wallhuggers'):*
Runtime
BlackBerry Passport— 30 hours
Samsung Galaxy S5 —23 hours
iPhone 6 —21 hours
iPhone 6 Plus —25 hours
(*Based on third-party lab testing sponsored by BlackBerry, under 4G and 3G wireless conditions, using a mixed-usage profile. Results will vary by carrier and network conditions.)