If I told you there were award-winning BlackBerry 10 devices available at massive discounts for a limited time, would that pique your interest?
That's right – they're the BlackBerry Z30 and Q5 – the same devices that have landed some serious awards, including the 2014 Red Dot Award for Product Design (Z30 and Q5), the Gold in the Consumer Product of the Year category in Best in Biz Awards 2014 International (Z30), and the 2013 Good Design Award from the Chicago Athenaeum (Z30).
During our ShopBlackBerry Spring Sale – running now only until 11:59 PM PST on Friday, May 8th – you can take home the unlocked Z30 for an incredibly low $229 in the United States, while an unlocked Q5 can be yours for only $149, and no – that's not a typo.
(Prices and discounts may vary by country. Read how you can save up to $1,000 over two years with an unlocked phone like the Z30 or Q5.)

BlackBerry Q5: Affordable QWERTY Excellence
Available in white from ShopBlackBerry, the BlackBerry Q5 gives you that unmatchable BlackBerry physical keyboard, a bright 720 x 720 screen with a super-clear 329 pixels per inch, and the full BB OS 10.3.1 experience, packed with features including BlackBerry Blend, the BlackBerry Hub, and so much more – all for $100 of the regular price of $249.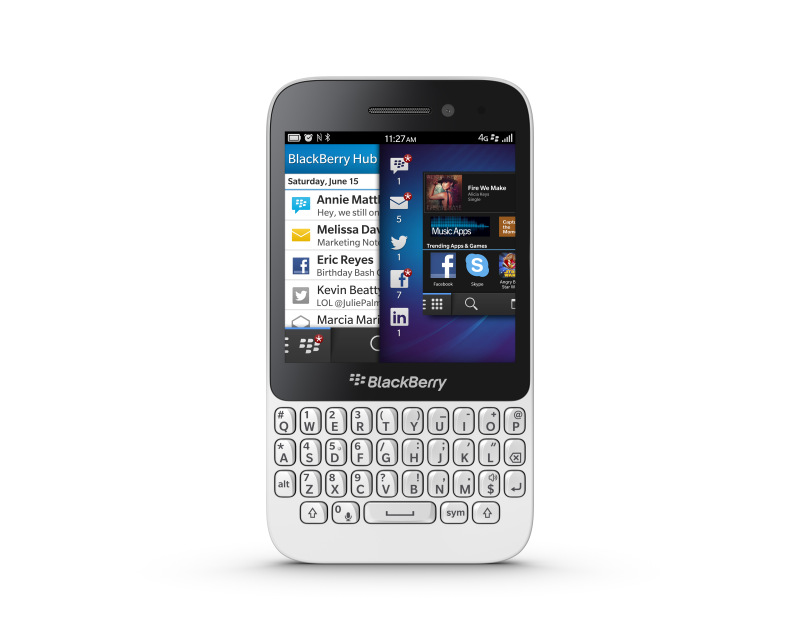 The Q5 has landed great customer reviews, with an average of 4.3-out-of-5 from almost 200 reviews on Amazon, like these: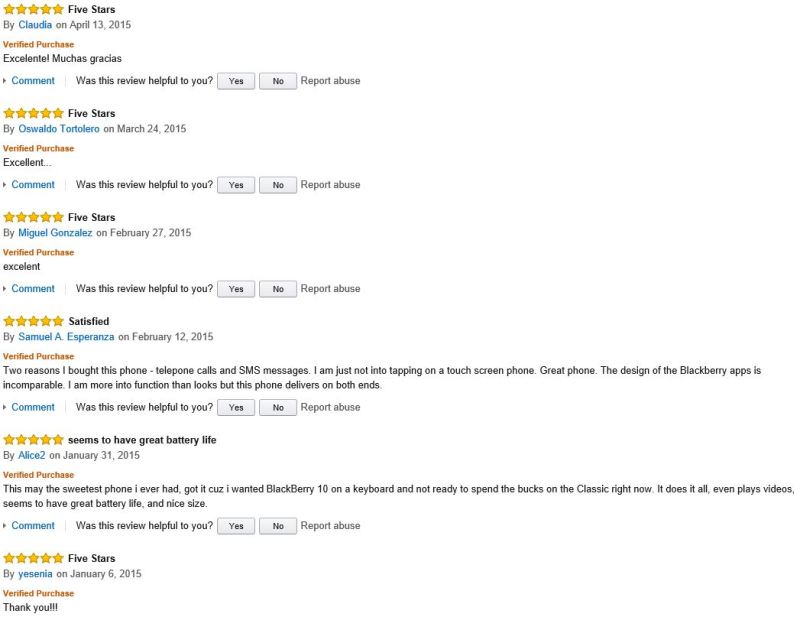 "Hidden features make this a gem of a phone"
"I've just received my red Q5 and golly it's a great thing," writes Amazon customer "victorb" in a detailed review.
"It is a beautiful object, nice weight in the hand, lovely dimensions, crisp clicking keyboard where the individual characters light up rather than just the keyboard itself, and touch display slightly more pixel dense than the iPhone . . . it has NFC, Flash and wireless HD broadcasting to TVs . . . BB10 is about productivity . . . [If] you want a phone for productivity . . . I would heartily recommend it."
"Opened the box and we immediately fell in love"
I got this phone for my sisters when they came town . . . Opened the box and we immediately fell in love," writes "perpetual."
"It worked really well and my siblings are happy with it . . . They have been using it for a month now and no issues – It is a solid, sleek and really nice phone! They are currently using it with their SIM cards and they have no issues!"
You can get your white BlackBerry Q5 from ShopBlackBerry for $149* HERE.
(Check ShopBlackBerry in your area for regional pricing and availability).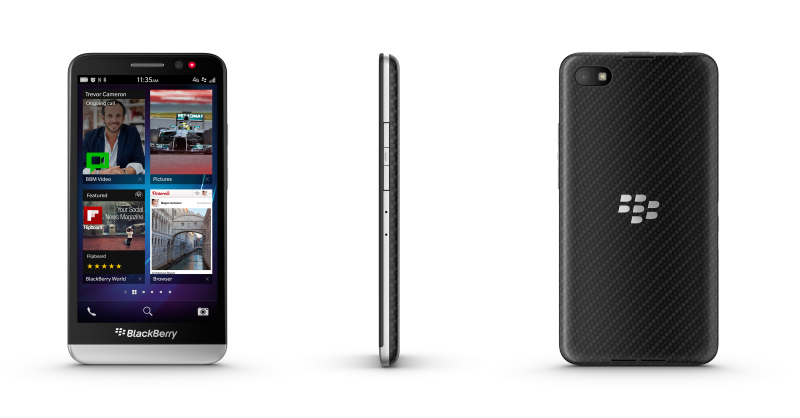 BlackBerry Z30: All-Touch Device with Flagship Features
Available in black at up to 50% off on ShopBlackBerry, the BlackBerry Z30 is for all-touch lovers searching for compelling features, from the aforementioned BB 10.3.1 OS to its 5-inch HD screen, 4G LTE connectivity, HDMI-out port, 25-hour battery life and premium build.
The BlackBerry Z30 sports a 4.3 out of 5 star average with more than 275 reviews. In fact, people are still leaving 5-star reviews for it, like these: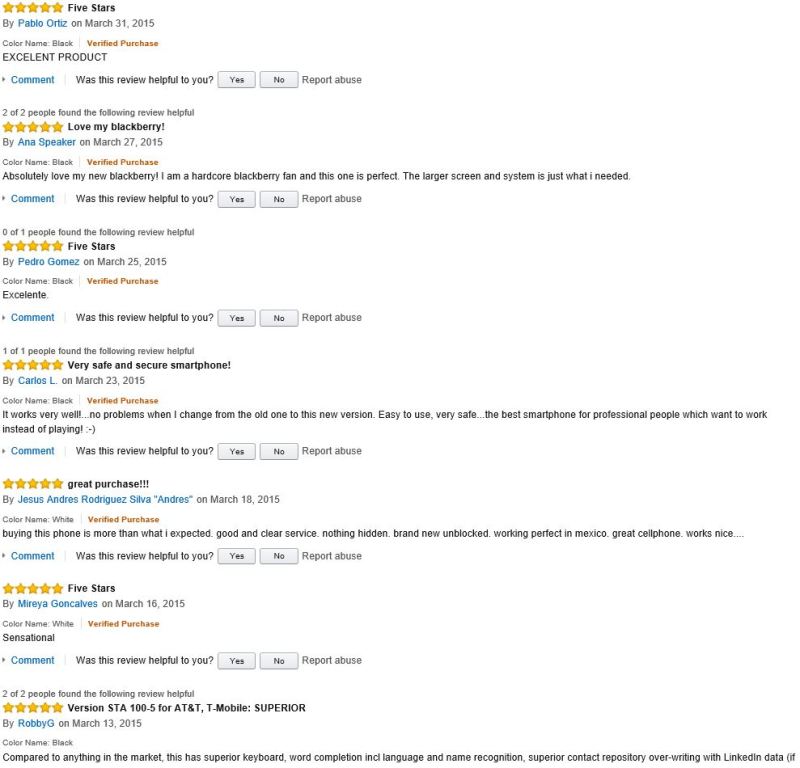 "I love my BlackBerry Z30!"
"I absolutely love my new BlackBerry!" writes "Ana Speaker."
"I am a hardcore BlackBerry fan and this one is perfect. The larger screen and system is just what I needed."
"Great phone – Go get it!"
"The display is great, not too flashy, not too bright, [and] the resolution is amazing and pleasing to the eye," writes "Jay."
"Feels comfortable to grip and hold, especially the back cover has a soft matte finish to it with the classy BlackBerry logo," says Jay. "I especially like the curved edges of the phone which appear very smooth. Battery life: Simply superb. With the 2880mAh battery this phone packs a punch . . . [A]fter a day of familiarizing with how the OS works, I don't think of switching to any other phone. It's intuitive, not clunky and awesome for multi-tasking . . . BlackBerry Hub: This is the best thing ever in BlackBerry devices . . . Overall Verdict: Great phone – go get it!"
Don't Miss this Incredible Sale
At these prices, there's no excuse to skip your shot at a full-featured Blackberry 10 smartphone, whether you prefer QWERTY goodness or an exceptional all-touch interface.
Check out OUR POST on the Blackberry Spring Sale, and act-fast: the sale only runs through Friday, May 8th.