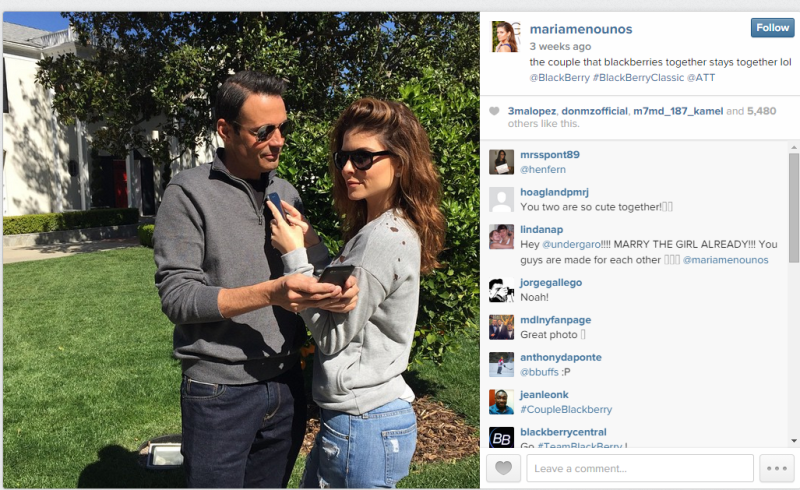 Maria Sharapova, Neil Gaiman and Maria Menounos (above) wouldn't seem to have much in common. One is a tennis star, the best-paid female athlete in the world, and a fast-rising businesswoman. Another is a best-selling writer, known worldwide for his fantasy fiction and graphic novels, but also a prolific journalist, screenwriter, and social media presence. Still another is an actress, entertainment show host and New York Times-best-selling author who also dabbles as a professional wrestler (really!).
Scratch that – you can probably see what unites them: high-profile day jobs plus multiple side endeavors that together create mind-bogglingly-busy schedules. When every moment counts and there's no room for error, tools that make you as productive as possible are a must. So it's telling that all three choose BlackBerry devices featuring our vaunted keyboard.
This is the keyboard that makes you four times more accurate than when you are on a touchscreen device. The keyboard that won't stop getting unwanted imitators. The keyboard that continues to be enhanced with innovations such as touch-enabled web browsing and flick-to-text. The keyboard that enables Gaiman, using his BlackBerry Passport, to post an average of 45 tweets per day to his 2.2 million Twitter followers. Gaiman "truly loves" his BlackBerry Passport and "the envious comments it elicits."
Or take Menounos, the multi-tasking media personality – besides hosting two shows on the E! Entertainment channel, she is CEO of a television show firm and has authored two best-selling books. She relies on her BlackBerry Classic to keep on top of her life, both business and personal (via Instagram, above).
Meanwhile, Sharapova uses her white BlackBerry Q10 to help keep track of her busy tournament schedule, endorsement appearances, and many other business interests, including a candy business called Sugarpova, a sunscreen brand, and various clothing and footwear brands.
Productivity AND Security
Besides our vaunted keyboards, we enhance your productivity through long-lived batteries – the coming BlackBerry Leap will deliver 25 hours of runtime, while the BlackBerry Passport runs for up to 30 hours, far longer than its closest rivals from Apple and Samsung. We have also created software enhancements such as BlackBerry Hub, which unifies e-mail, messaging and social media into a single inbox, BlackBerry Blend, which gives you secure remote access to your corporate data on any laptop or tablet, and BlackBerry Assistant, the voice-based assistant for work AND personal content that gives your fingers a respite. And as I've written before, today's BlackBerry devices offer three sources of apps for work and recreation.
No wonder so many leaders in all fields and all backgrounds choose BlackBerry. In sports, there is Canada's top male tennis player, 24-year-old Milos Raonic. In business, they include celebrity TV chef/startup CEO Tyler Florence, Silicon Valley venture capitalist Jason Calacanis, media mogul Arianna Huffington, and Google chairman Eric Schmidt.
In entertainment, you probably knew that the Kardashians and Paris Hilton are all BlackBerry users. But did you know American comedian Nick Cannon, 34, rocks a BlackBerry Passport? How about Oscar-winning actors Leonardo DiCaprio, Tobey Maguire, Bradley Cooper and Ben Affleck? Or young actresses such as Rachel Bilson and Freida Pinto, singer Christina Aguilera, and actress and producer Sarah Jessica Parker: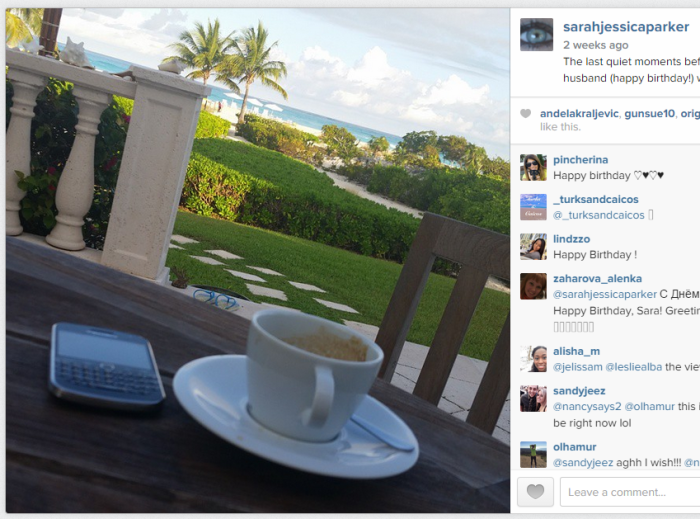 (Read our in-depth interviews with satisfied power professionals happy with their BlackBerry Classic and BlackBerry Passport devices.)
Some of you may have seen comments late last week by UK Labor Party leader, Ed Miliband, claiming that he switched from an iPhone to a BlackBerry because the latter's "limited functionality" would help tame his addiction to Twitter and reading political commentary.
Well, our devices didn't earn the nickname 'CrackBerry' for nothing. As you can see above, leaders from every field are choosing BlackBerry over iPhone because it enables them to e-mail, message, tweet and post faster and more securely. It's why our device continues to have "massive market share" among the political and business leaders attending the World Economic Forum in Davos, Switzerland. It's also why British Prime Minister David Cameron (Miliband's rival in coming elections) asserted publicly that he could manage the entire country from his BlackBerry. We'd love to send a BlackBerry expert to properly brief Miliband on all of the features he's missing out on. In the meantime, we hope Miliband doesn't act on important policy issues with the same inadequate grasp of the facts.
It is true that in the mobile world, productivity and security are usually diametrically opposed. Boost one attribute and you'll subtract from the other. For all the power professionals and leaders that choose BlackBerry, that's not the case – they enjoy the strongest security AND the best productivity at the same time.
That's why as part of our cross-platform drive to embrace other platforms, we plan to bring many of these BlackBerry 10 enhancements to other devices, as part of the BlackBerry Experience Suite. Porting these features over won't happen overnight. So until then, devices such as the BlackBerry Passport, BlackBerry Classic, Porsche Design P'9983 and the coming BlackBerry Leap all remain the only way you can enjoy the same productivity boost as all the high-flying professionals and leaders we've mentioned earlier.