It's finally here – the all-touch BlackBerry Leap has landed in the UK, offering rising professionals and savvy businesses everywhere an affordable way to give their productivity a jumpstart.
The BlackBerry Leap, formally announced at Mobile World Congress in Barcelona, brings with it all that OS 10.3.1 has to offer in a sleek, modern design with a generous 5-inch HD touchscreen that people are taking notice of.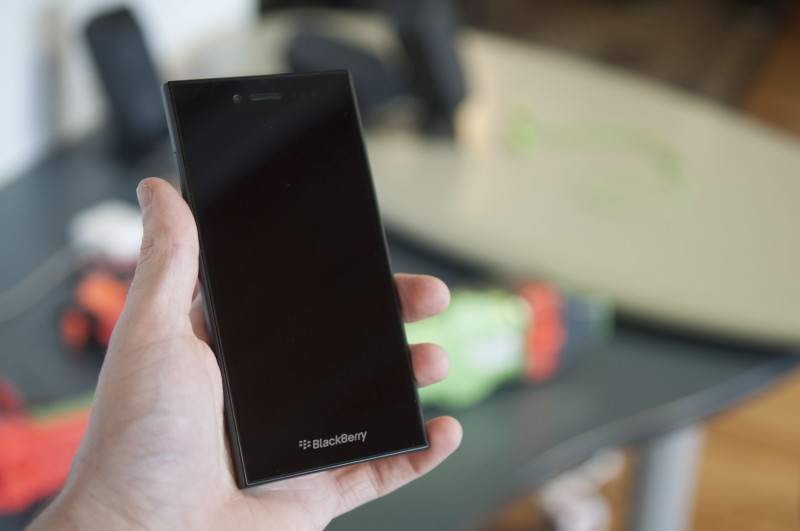 (Be sure to check out the initial reactions to the BlackBerry Leap announcement, the introductory video, a look at the device's design, quick-start tips from BlackBerry staff, info on apps for the BlackBerry Leap, our official unboxing video, and more.)
From the 25-hour battery to BlackBerry Blend and the BlackBerry Hub, it's all there and ripe for the taking starting today in the UK from ShopBlackBerry.com and Vodafone, with other countries soon to follow.
"A Secure, Business-Focused Productivity Platform"
"With its 5-inch, 720p touchscreen and bog-standard rectangular shape, the BlackBerry Leap . . . is aimed at "young career builders" . . . in need of what the BlackBerry pedigree implies: a secure, business-focused productivity platform," writes CNet's Nate Ralph and Andrew Hoyle in a hands-on look at the device. (We'll feature the full review as soon as it's up.)
"The device runs BlackBerry OS 10.3.1, which tweaks the look and feel while also baking in a few new tricks, including improvements to multitasking and how background apps are managed," they write. "[The BlackBerry Leap's virtual keyboard] supports multiple languages and will step in to correct your egregious typos, and generally behaves much like a virtual keyboard on a modern smartphone should. More importantly, the lack of a physical keyboard means you'll have the full 5-inch display to play with. Its screen is also very bright, though the 1,280-by-720-pixel resolution is a touch low for a modern smartphone at this size . . . [S]ome would argue it's professional-looking. A 2,800mAh battery and a few power consumption tricks built into BlackBerry OS should net up to 25 hours of battery life. And the 1.5GHz dual-core Qualcomm 8960 processor feels nice and zippy while bouncing around menus and the like . . . [The BlackBerry Leap] is a leap of faith that's aimed at roping in young go-getters to establish a new generation of BlackBerry faithful."
"BlackBerry Leap is Arriving at a Perfect Time"
"If you look at everything on the whole, the BlackBerry Leap is arriving at a perfect time," writes Crackberry's Christopher Parsons, who goes by the moniker "Bla1ze" on the website, in a very in-depth review. "[The] potential is certainly there . . . Right out front you have a bright 5-inch, 1280×720 LCD display that, even when set to mid-levels for battery saving reasons, still manages to look great and have some nice color pops to it . . . On a comparison level, I think anyone who is thinking of moving into a Leap from say a BlackBerry Z10, BlackBerry Z3 or even a BlackBerry Z30 would be happy with the Leap display . . . The virtual keyboard on BlackBerry 10 is still one of the best on mobile and the BlackBerry Leap sticks to that best-in-class keyboard experience. As with all BlackBerry 10 phones, the keyboard learns how you write and because of that, it offers some of the best error correction available on mobile devices plus, multi-language support is built right in allowing for you to type multiple languages simultaneously . . . BlackBerry loaded up the device with a 2800 mAh non-removable battery [and] I don't think anyone is going to have any issues with battery life on the Leap . . . [H]aving a phone that performs well and sounds good remains a high priority, [and] it's no surprise the Leap is great for calls . . . At the end of the day, BlackBerry needed to make this device happen, [and it's a] solid and very capable device that comes at a reasonable price."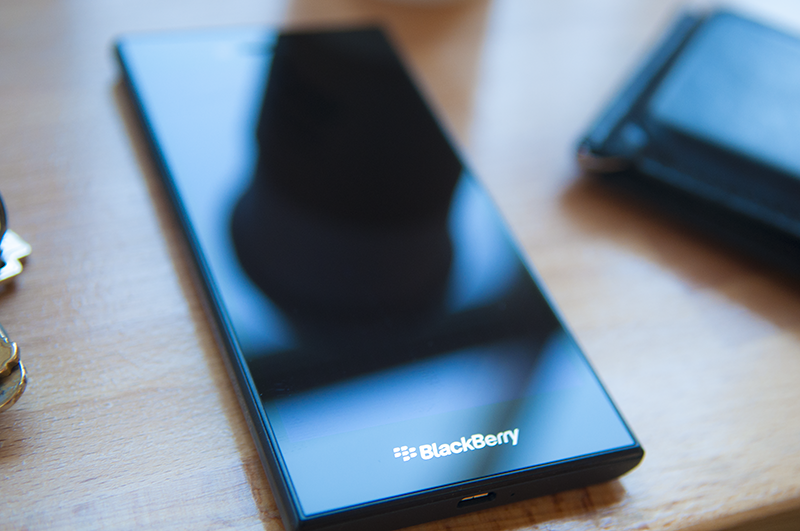 "The Next-Generation All-Touch BlackBerry"
"BlackBerry Leap [sports] a beautiful 5" screen covered by Gorilla Glass 3, [and even] takes a few design queues from the Porsche design house," writes BerryReview's Ronen Halevy. "I personally am loving the rubberized yet not-too-grippy back that molds perfectly into your hand. The most impressive part is that it is all available for only $275 . . . This is the type of phone you feel can handle some rough and tumble. . . [The BlackBerry Leap packs] enough power for 25 hours of heavy use [thanks to] a 2800mAh battery that will carry you through the whole day . . . Overall, BlackBerry has a very solid phone on their hands that really does justice to its pedigree . . . It brings the latest OS 10.3.1 features including the built in dual app store from Amazon and BlackBerry along with Blend and BlackBerry Assistant. [T]his is the all-touch BlackBerry you have been waiting for."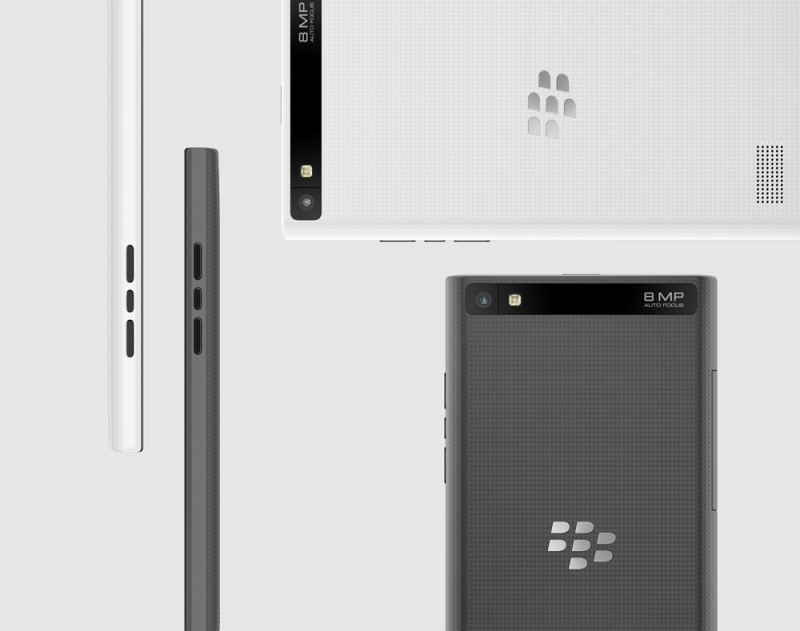 "The BlackBerry Leap Helps You Start Up"
"[T]his phone is designed to be used, with reflective surfaces and industrial design, writes BerryFlow's review team of James Nieves and Jubei Raziel. "[The BlackBerry Leap is] designed for users who prefer all-touch, and BlackBerry delivers with a comfortable mid-tier handheld . . . The 5" LCD panel is vibrant and offers ample viewing angles and, with brightness at full, can be used out on a patio without having to squint to enjoy the screen. The display is fairly power efficient as well, which aids the overall balance of what BlackBerry sought to achieve with the device . . . BlackBerry cameras have really come a long way [and] you can glean some amazing shots on the phone . . . As expected with a BlackBerry smartphone, call quality and reception is great . . . With 2GBs of RAM, the device is rather snappy [and] the software optimizations between the SOC and the 10.3.1 software keeps consistent the fluidity and multitasking offered by BlackBerry 10 . . . Affordable, slim and durable, directed at a specific, enterprising end user, the BlackBerry Leap has a great touch-keyboard, awesome battery life and security. It runs well [and] as a platform, the Leap works exactly as intended."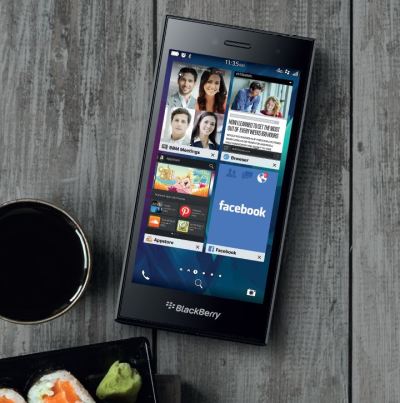 "BlackBerry 10 OS 10.3.1 Shines on the Leap"
"[T]he Leap [fits] a specific crowd that is looking for a phone that feels high-end but comes in a mid-tier price, and that's the market BlackBerry is putting its sights on with this device," writes N4BB's JT Teran.
"Battery life is going to be a big selling point for the Leap . . . The device's 2800mAh battery should give most users 25 hours of mixed use . . . The Leap's screen is a big win . . . It's bright, and vivid. Colors look really good on it, and at all viewing angles, the picture we get is pretty sharp . . . The Leap has, hands down, the best 720p display BlackBerry has ever used in their phones . . . The BlackBerry Leap comes pre-loaded with BlackBerry 10 OS 10.3.1 . . . Apps – native and Android – run incredibly well on the Leap. Gestures and touch presses are responsive, and snappy throughout the OS. Of course, the Leap also features all the goodness fans have become accustomed to with BlackBerry 10. The BlackBerry Hub, BlackBerry Assistant, and BBM perform as well, if not better, than they do on the Z10, and Z30. This is one of the advantages of having BlackBerry make the hardware, and the software its phones run . . . [The BlackBerry Leap] is an affordable device for consumers that want a productive OS on a device that will keep them going throughout the day without needing to charge. On the enterprise side, the Leap offers a low-cost option for those companies that want a solid experience for their employees."
"This Device is for Productivity, Entertainment and Communication"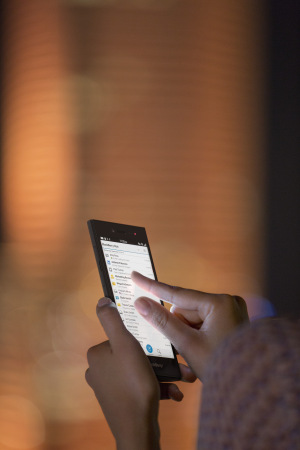 "Think of the Leap as a step forward for the consumer and a step up for the Enterprise customer," writes BlackBerryOS's Brian Behler. "As a consumer, I would definitely purchase this phone. You get a great deal of power and style for the price. It is slim and attractive. It is quick and provides 4G LTE speed. The battery life is outstanding for its class and you will enjoy the power and sustainability the Leap's battery provides. Trust me on this. As for the Enterprise customer, this is a no-brainer purchase. You want the security, quality and reliability that BlackBerry is known for. You rely on their expertise and ability to deliver what they promise day after day. The Leap is the new face of Enterprise productivity because it is affordable. Add to all of that the feature of BlackBerry Balance, which allows you to split your BlackBerry smartphone into work and personal devices. It will be a hit for Enterprise and people who need productivity on a budget . . . The Leap grows on you [and] it will make you smile with [its] great features for the price."
Other Reactions to the Launch
In addition to the formal reviews, there were a number of other articles about the April 15th launch.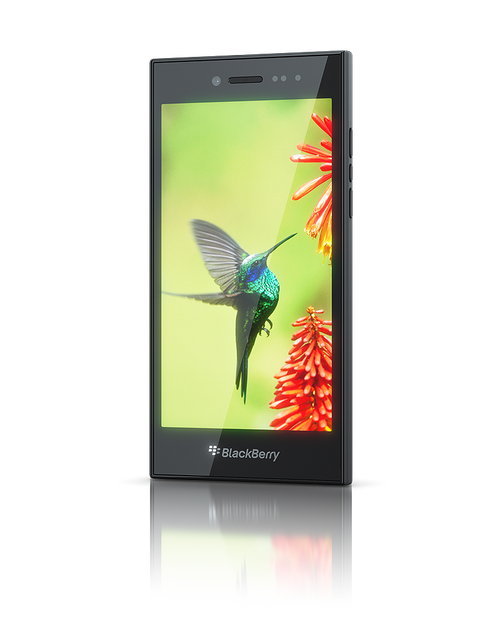 "[While the BlackBerry Leap] is priced much cheaper than [flagship smartphones] at only $275 off contract, it promises to deliver enterprise-grade security to consumers, such as support for encryption, built-in malware protection and backup, wipe and restore," writes Mellisa Tolentino of Silicon Angle. "Another feature of the BlackBerry Leap worth noting is the BlackBerry Hub, a place where you can manage all your messages from text, email, social media and BBM so you can easily stay on top of everything. And [it] also has a voice and text personal assistant so you can easily perform tasks while doing other things, such as driving or attending a meeting . . . [F]or a $275 smartphone, the BlackBerry Leap is not too shabby."
"[A]lthough it comes as more affordable than the Classic and Passport, [the BlackBerry Leap] doesn't compromise on security," writes Invest Correctly's Neha Gupta. "BlackBerry's Leap is designed in such a manner that it supports productivity while still remaining an exciting phone that young executives would love to carry around."
"Blackberry Leap: Ideal Smartphone for Young Professionals," reads Tech News Today's headline, in an article by Allson Peters.
"Blackberry Leap is targeted towards young aspiring power professionals [who] might choose Blackberry . . . because of the security the company provides in the interactions between its smartphone owners," Peters writes. "In order to help these younger professionals in their productive use of the Blackberry Leap, the phone has a 2800 mAH battery which will provide uninterrupted utility of up to 25 hours. Users will have access to business and productivity apps through the Blackberry World app store or the Amazon app store . . . Blackberry has always been targeted towards professionals and with the Blackberry leap it has maintained that image."
More to Come
In addition to the United Kingdom as of today, BlackBerry Leap will continue its rollout over the next few weeks across countries including Germany, France, United States, Canada, United Arab Emirates, Saudi Arabia and India. Availability in other markets will be announced locally at a later date.
(Read the official press release HERE.)
As more reviews come here, you can rest assured that we'll be featuring the best ones here on INSIDE BlackBer