When you think of "professionals," what comes to mind is probably those skilled in specific occupations – doctors, lawyers, and technicians.
For Marc Lawinger, one of the marks of a true professional is whether or not they carry a BlackBerry device.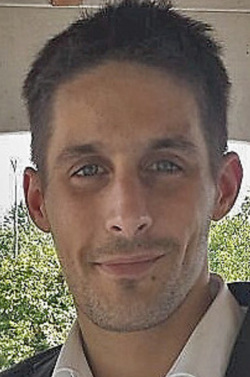 Based out of Germany, Lawinger is a Senior IT consultant for GK Software, and his responsibilities see him in constant communication with clients, necessitating a device that enables him to stay on top of his business.
He ditched his iPhone 6 Plus for the have-it-all combo of the BlackBerry Passport and the BlackBerry Classic – they give him that unique "professional" feeling.
Sound familiar?
These two tech journalists also left their iPhones for BlackBerry devices, and other roundups HERE, HERE, and HERE illustrate the true professional's preference for BlackBerry devices over consumer-grade iPhones.
Watts: As a professional, you have higher order needs. Did this factor into dumping the iPhone 6 Plus for the BlackBerry Passport / BlackBerry Classic combo?
Lawinger: Honestly, the iPhone is a toy. I need a device that has functioning reminders, calendar, mail, and professional apps to stay on top of my work.
I'm always on the go in my role with GK Software. My company provides solutions that integrate stores of large retailers to ERP (Enterprise Resource Planning) systems like SAP, and my job is to analyze customers' needs and provide them with the right solution.
I needed a phone that lets me efficiently communicate with our customers and get them the right services – especially while I'm traveling.
I bought the BlackBerry Passport because it seemed like it would meet my needs, and was motivated to get the BlackBerry Classic after watching one of Don Halliwell's short clips on YouTube.
Watts: What is the advantage of having the BlackBerry Passport and the BlackBerry Classic?
Lawinger: The main advantage is that both devices are better tools than the iPhone I previously carried.
But I got the BlackBerry Classic to store my other SIM card and keep a backup handy. If the BlackBerry Passport had dual SIM capability I would probably just have one device.
Watts: How does the BlackBerry Classic reflect a professional outlook?
Lawinger: BlackBerry has a standard of being a manufacturer of professional devices. The Classic's features and form factor live up to the hype.
But beyond the status symbol that comes along with BlackBerry, the Classic is designed to be a professional tool that works. Since getting it I've become much faster at getting my business tasks done than I have been with any other device, especially on the go.
Watts: How are both devices useful to your job?
Lawinger: The BlackBerry Passport and the BlackBerry Classic are perfect solutions for when I'm traveling and need to be able to respond to a client fast and professionally. No errors or typos in my messages – I need to be clear and concise in my communication efforts.
I deal with a ton of confidential information, and the security that comes with BlackBerry is the way to go. A lot of my colleagues use Android devices with an operating system older than three years which I don't think is very smart.
Watts: Has anything changed about the way you work since employing the devices?
Lawinger: The way I respond to messages and email has changed completely. Most of my emails are answered on the Classic now because it's fast, secure, and has battery life my colleagues can only dream of. My productivity has increased ten-fold.
Between both devices, I rarely have to open my laptop.
Watts: What features do you enjoy most about the BlackBerry Classic and the BlackBerry Passport?
Lawinger: The physical keyboards are just perfect. I've never been able to type this fast and easy, and I love being able to communicate more quickly.
I like using Blend when I work from home. I don't have to fire up my company's laptop every time I need to work, and I'm able to use my personal computer with no VPN – this is hands-down one of the best features.
I use a variety of apps on my BlackBerry Classic – LinkedIn, WebEx, Xing, Bloomberg, Google Maps, WhatsApp, and last but not least, BBM.  And the battery life on either phone is A+! I can easily get through two full days of work – a true mark of a power professional.
Watts: Do your peers agree with you?
Lawringer: Slowly but surely, my colleagues have realized that I have the better work tool now, and they're interested in BlackBerry.
Pricing and Availability
You can get your factory-unlocked BlackBerry Passport from ShopBlackBerry.com at these links:
Black (currently $599, regularly $699)
White (currently $599, regularly $699)
Limited Edition Red: (currently $599, regularly $699
…and at Amazon HERE, with AT&T offering it for $649.99 unsubsidized or $199.99 with a 2-year contract. Rogers and Telus are also carrying the BlackBerry Passport in Canada.
For those outside of North America, you can get your BlackBerry Passport directly from us at our global shopping portal HERE.
In the United States, AT&T has made available the BlackBerry Passport and BlackBerry Classic via att.com and in AT&T retail stores with Verizon is also offering the BlackBerry Classic.
North American customers can also purchase the BlackBerry Classic online through Amazon.com, and U.S. and Canadian customers go directly to ShopBlackBerry.
In Canada, Rogers and TELUS are carrying both phones.
Check here for availability in your region.
NOTE: Pricing varies by region.