In the hands of actual customers, the BlackBerry Passport – which recently landed this prestigious industrial design award – is a device that in no way elicits an ambivalent response.
Since its initial rollout, customers enthusiastically have been awarding it the highest scores at online retailers across the globe, and the device actually jumped to the top position for unlocked phones when it debuted.
(Check out our previous online customer review roundups HERE and HERE.)
At Amazon's US site, the Blackberry Passport is holding steady at 4.6 out of 5 stars with 1,024 reviews: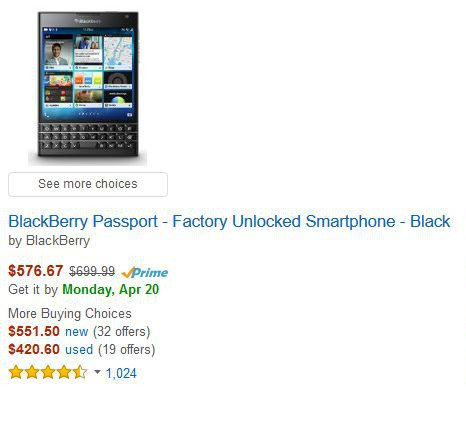 …while it holds 4.7 out of 5 stars at India's Flipkart.com: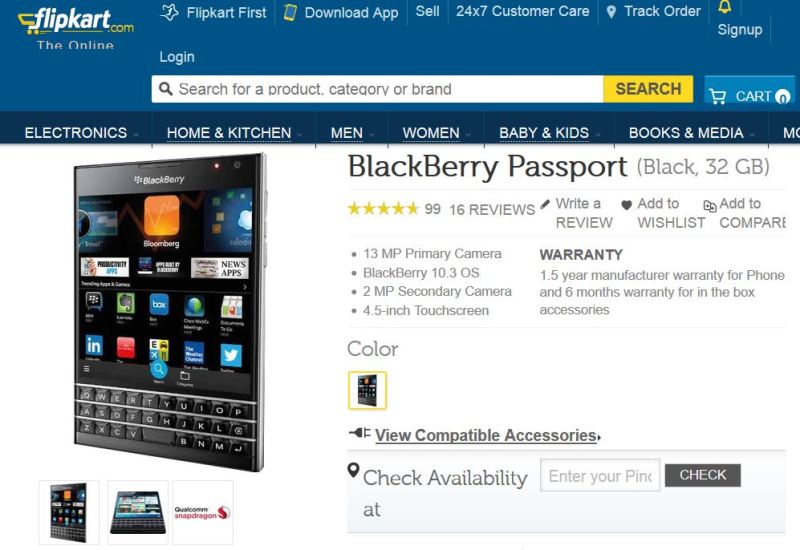 Customers in the UK Love their BlackBerry Passports, Too
So, how is the BlackBerry Passport faring in the United Kingdom?
As expected, it sports fantastic reviews across the board from customers. Indeed, at the UK Amazon portal, the device is maintaining a must-have average of 4.8 out of 5 stars, with 128 out of 135 reviewers awarding it 4 stars or better: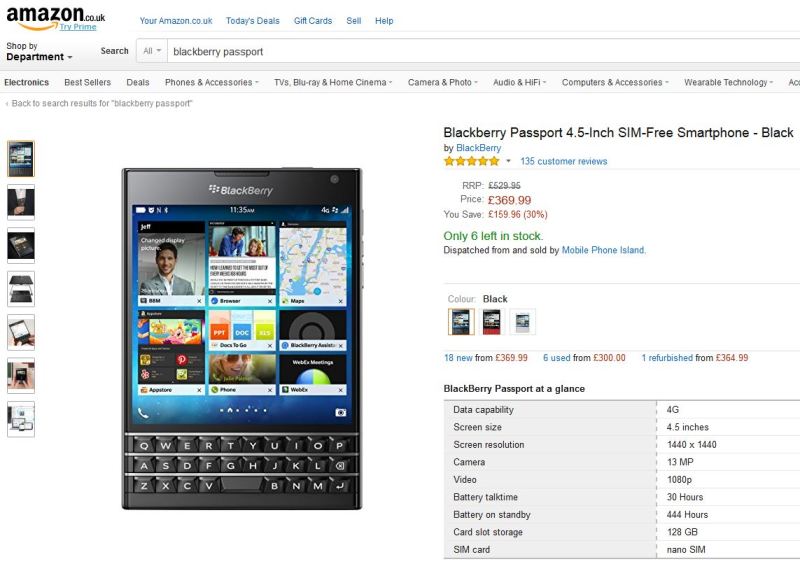 Let's take a look at what they're saying.
(Click on the screencaps to enlarge.)
"Brilliant Business and Consumer Phone"
Customer Charlie Belize calls his BlackBerry Passport a "brilliant business and consumer phone," writing, "The Passport is a stunning communication device that is elegantly designed and very well built. For some people, it could quite credibly render your tablet and even your home PC obsolete because it is so efficient and practical . . . This thing is built with a beautiful sturdy steel frame, a massive 3450mA battery and bullet-proof Gorilla Glass 3 [and has] excellent call quality (both ends), strong antenna reception and awesome battery life to get you easily through 1-2 days, without bother. This is built for secure emailing and does social media equally well."

Converting Colleagues
Amazon UK customer "Boris" gives his BlackBerry Passport high marks, and it evidently impressed his colleague as well.
"If you are a BlackBerry fan or like a physical keypad, or just want something a little different, then this phone is a must. It is quick, functional, user-friendly and is a perfect blend of a phone made for business but has all the fun elements, too . . . I have had iPhones, HTCs, BlackBerrys, Nokias, etc., [but] this is a truly unique device in a world where everything looks and feels like an iPhone . . . The BlackBerry Passport is bold, well-constructed and gives the user a sense of individuality when using it . . . My colleague laughed when I mentioned a BlackBerry Passport, him being a loyal Android phone user. He literally took 5 minutes of fiddling with it to say, 'I want one' . . . I ordered him one, too . . . A masterpiece."

"Different, but a Great Communications Tool"
Customer "Technoquest" writes that while the phone is "different" it's a "great communications tool."
"I'd never considered owning a BlackBerry until recently – I perceived them as imposed on corporate executives, the mobile phone equivalent of a company Mondeo," the customer writes. "Recent concerns about iOS and Android vulnerabilities prompted a rethink . . . I bought a used Z30 and the upgrade to BB OS10.3 has been a great step forward, so much so that I wanted to commit fully to a top spec phone, hence my new acquisition. What convinced me was the clever way BlackBerry brings all notifications together in the 'hub', so each email account, SMS, WhatsApp, BBM, Facebook, Twitter and Linked In messages are all brought together with calls in a timeline. This is a huge timesaver and real productivity aid. There's no doubt that the keyboard is way faster (and more accurate) than a touch screen for text entry. All BB OS10.3 devices have intuitive navigation [and] Snap makes access to Google Play store (for Android apps) easy . . . For anyone whose main use of their smartphone is working with emails and social media, making calls and looking up documents the Passport is hard to beat."

There are many more reviews just like these. Check out this screenshot of some of the shorter ones: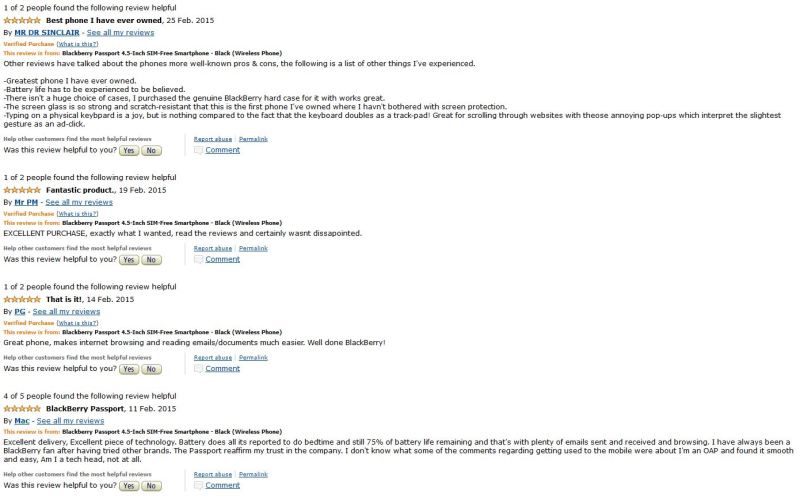 No Surprise: The BlackBerry Passport also Boasts a Five-out-of-Five Average at Carphone Warehouse
Meanwhile, customers over at Carphone Warehouse have dubbed the BlackBerry Passport a five-star favorite.
Customer Simon Sian writes, "I wanted something different and this is different! I went from my iPhone to this. The size is a bit wider then other phones, but it is amazing. The BB 10 software is really powerful, I am really amazed by it. You get Android apps, too. I'm glad I purchased it. People ask "Why did you get a Blackberry?" I think what people forget is that this is a very powerful phone with a funky keyboard. It feels great too and I'm open to trying things out . . . You will not be disappointed if you get this Blackberry phone."

"Love, Love, Love It!"
"Wasn't sure if I was going to like the shape at first, but I needn't have worried," writes "spritzer" of the BlackBerry Passport. "Swapped my Q10 for this one. Wonderfully intuitive, very quick, so easy to navigate, and exceptionally stylish/sturdy. Keyboard is great too. Love, love, love it!!!!"

"I Just Left Android After Four Years"
"[I] just left Android after over four years," writes BlackBerry Passport customer "Jimmy."
"BB10 OS is fantastic and very smooth [and the] browser is the best in the world, without doubt," he writes. "Email – don't need to say anything – it's Blackberry . . . [The] touch/physical keyboard combo . . . is genuinely brilliant . . . Go in store and use a demo (have them in Vodafone too). Any Android app can be installed (either by Amazon Appstore or side loading), [and the] music player deserves a special mention, as does the battery which is a monster. Well worth dropping Android/iOS for!"

"A Breath of Fresh Air"
The BlackBerry Passport is a "breath of fresh air," according to "bbbysherry," who writes, "Without doubt, [it's] the best phone out there – so fast and easy to use . . . [T]he screen [is] so sharp and [it's] clear [there are] many more apps [available] on this BlackBerry Passport. [It's] the best BlackBerry yet –definitely on a par with my iPhone 6 [but] much easier to read [on]. Well done, BlackBerry, you're now back at [the] top!"

"A New Breed"
"This phone is brilliant, the software is amazing," writes "technoman,"who calls the device "a new breed."
"It is intuitive, smooth, fast and innovative," he writes. "The keyboard is just amazing . . . Scrolling up and down on the keypad is something new, but always amazes me every time! The call quality is like HD/Blu-ray quality, ranging on the next-level experience. And the battery, using email, text, music, maps, Twitter, Facebook, Instagram, web browsing, Crackberry, phone calls and various other social apps. The battery lasted me nearly 2 full days without a charge needed! Astounding."

Again, there are many more reviews, which you can read on Carphone Warehouse's BlackBerry Passport page.
BlackBerry Passport customers at Clove and Vodafone also rate it 5 out of 5.
Availability in the UK
In the UK, the BlackBerry Passport is available on pay-as-you-go plans from Amazon, Carphone Warehouse, Clove, Mobile Phones Direct, UnlockedMobiles.com and ShopBlackBerry, with pay-monthly options also available from Carphone Warehouse, EE Business, Vodafone (business and individual), Carphone Warehouse, Currys, Expansys, Mobile Phones Direct, PC World, Compare Business Phones and Selfridges.
Be sure to get yours today, and discover for yourself why it's getting such rave reviews from buyers the world over.