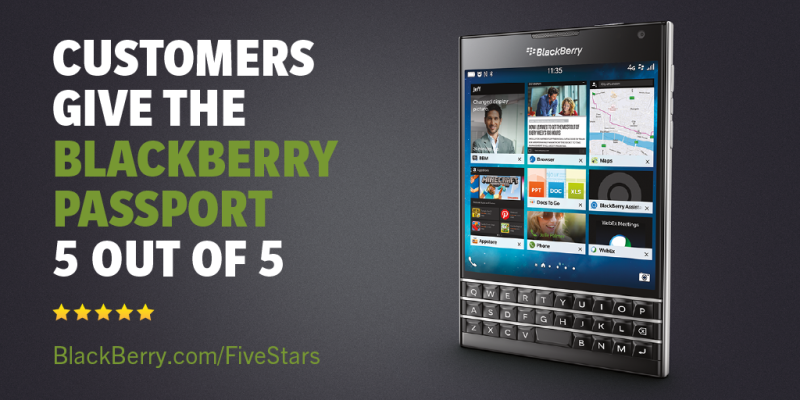 Users love the BlackBerry Passport. This UK holiday weekend, we're telling the British public just how much.
Today and Saturday, BlackBerry is taking out ads in six of the UK's top newspapers to share how enthusiastic BlackBerry Passport owners are rating it 5-out-of-5-stars for its oversized screen, touch-enabled keyboard, slick unified messaging center in BlackBerry Hub, large selection of BlackBerry 10 and Android apps, and more.
At leading electronics retailer, Carphone Warehouse, the Passport has garnered a 5-star rating, with 97% of reviewers giving it a perfect 5 while dubbing it "amazing," "wonderfully intuitive" and "exceptionally stylish/sturdy," "genuinely brilliant," and the "best phone out there!"
(The Passport has also gotten 4.8/5 stars from UK consumers at another prominent e-tailer. And today's BlackBerry user in the UK is a sophisticated, high-earning urban professional, according to market research firm, YouGov, and includes both the prime minister David Cameron and his Labor Party challenger, Ed Miliband. 'ello Gov'na indeed! But I digress).
With glowing ratings and endorsements such as these, we couldn't help but share. If you're in the UK, look for our ad this weekend in papers including the Daily Telegraph, Times of London, Independent, Metro, City AM, and the London Evening Standard.
During this May Day holiday weekend, we hope to reach more than 8 million UK adults in London and surrounding areas and encourage them to check out the Passport at any of Carphone Warehouse's 800 UK stores (or its web site), where the Passport is available for as little as £27.50 per month. They can also research it first by going to our web site BlackBerry.com/FiveStars (or visit ShopBlackBerry, where the Passport, Classic, Z30 and Q5 are on sale now through Friday May 8th).
If you're in the UK, we'd love to see your pictures of the ad or your visit to Carphone Warehouse on social media, and your thoughts about the Passport.
And if you're already a Passport user, please share your review of the Passport below in comments, on your favorite retailer's web site, or encourage your friends, relatives and workmates to check out the Passport on sale today.