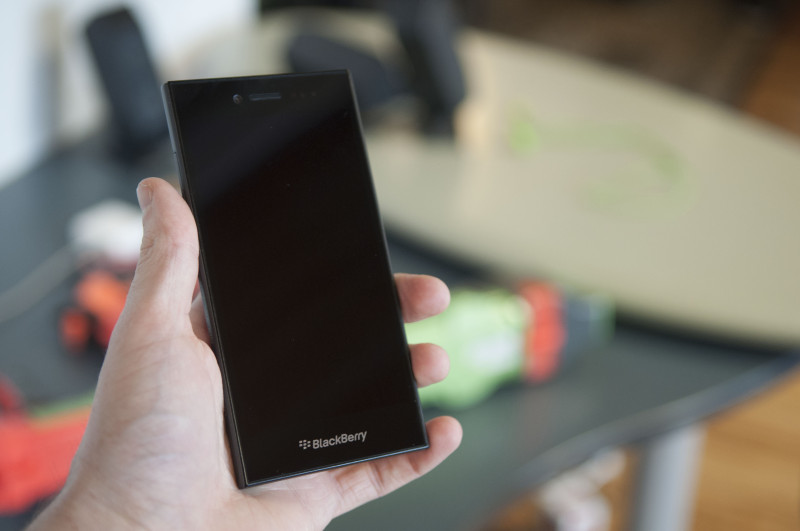 The BlackBerry Leap, has been impressing customers and reviewers with its impressive suite of productivity features packed into a familiar, affordable, all-touch device users hail as a "great handset."
Now rolling out across the globe, the BlackBerry Leap features real work and communication tools that redefine what professionals should expect at an "entry level" price.
From the BlackBerry Hub's all-in-one streamlining of email, messaging, calls and social media accounts to BlackBerry Blend's substantial workflow continuity power and the BlackBerry Calendar, it's all available out of the box at an unmatchable price point.
Let's take a look at a few customer reviews, then go on to the latest reviews from the press.
Customers Say this of the BlackBerry Leap: "Great Smartphone, Great Price"
Over at Amazon's UK site, you have review titles ranging from "WOW" to "Great smartphone, great price," and "Great handset from BlackBerry!"
These initial customer reviewers all award the Leap 5/5 stars, and with good reason: it does what they need it to.
"Amazing phone," praises "jonatha," who writes, "Honestly, Blackberry [devices] are changing so fast. [The Leap offers] brilliant speed and great battery life."
Verified buyer "Christopher Pope" writes, "I'm really pleased with this phone…I looked at the iPhone 6 and just saw more of the same old iPhone. Boring! The Leap has the best battery which actually lasts all day with heavy use. I'm really pleased as my iPhone used to die several times a day. The Siri-type Assistant seems to be more intelligent. The price was excellent too…I'm glad I stuck with my instinct."
And "Mrs R." is enjoying her upgrade, writing, "I just upgraded from a Z10 and I'm really impressed. [T]he screen size is great and it feels like a really sturdy phone. Easily set it up from my BlackBerry Link […] and I didn't lose any data. Great phone at a great price!"
Meanwhile, over at Rogers in Canada, "techjunkie" calls the Leap a "great entry-level device," writing, "[It's] very snappy [with a] nice durable feel to it, [and a] nice big bright display. [It features] the only desktop messaging software that works on iPad/Mac Windows and Android [and it's a] great business tool [with] battery life that is as powerful as flagship devices. Great device for those who don't want expensive contracts and who value their data and information more secured."
Press Reviewers say the BlackBerry Leap "Means Business"
In addition to satisfied customers, reviewers are still putting out the good vibes for the BlackBerry Leap.
The Street's Gary Krakow writes, "BlackBerry is still producing a solid platform and worthy devices to help power users take care of business . . . [T]he company's latest Hub software system excels at handling numerous messaging accounts…The Leap runs on the latest Blackberry operating system [and] runs the most modern BlackBerry apps [and] features BlackBerry's Blend app which integrates messaging, media and content . . . BlackBerry Assistant [allows] users to use voice and text commands to manage both work and personal items…We found Leap to be worthy of the BlackBerry name. It's fast, easy to master and is unequalled in its ability to deliver messages in one location . . . Overall, the Leap is a very good smartphone and a terrific business tool that BlackBerry is offering at a super-attractive price."
Over at SiliconIndia: "The Blackberry Leap […] brings along a whole new package this time. The company has always made use of some exceptional quality on their handsets with their own proprietary OS BlackBerry 10.3.1 and updated applications and features…The BlackBerry Leap […] [features] a classy look with a slim face and neatly strapped lines on its side . . . [T]he display is [great] on the Leap where the text appeared to be crisp [and] colors pop nicely…BlackBerry OS 10.3.1 […] comes with loads of neat tricks where it runs most of the Android apps and [the Hub] lets you see the messages and respond to them quickly…This is a phone that would be a great buy."
Fellow Indian site LiveMint's Vishal Mathur praises the BlackBerry Leap's killer software, writing, "The best feature of the BlackBerry 10 OS is the Hub [which you can customize] in many ways, making sure you see only the mails and social media updates you want to. BlackBerry still remains the best platform for receiving email on your phone—our test mails consistently showed up on the Leap at least a few seconds before they did on an Android phone. BlackBerry also has what is possibly the best on-screen keyboard among all smartphones right now."
BlackBerryIndiaBlog also has a great review video:
More to Come
The BlackBerry Leap is barely out of the gate, but as these early birds are discovering, the value to be had for the money is exceptional.
Stay tuned to INSIDE BlackBerry for the latest news on the BlackBerry Leap, including pricing and availability, which you can find in an updated article HERE.