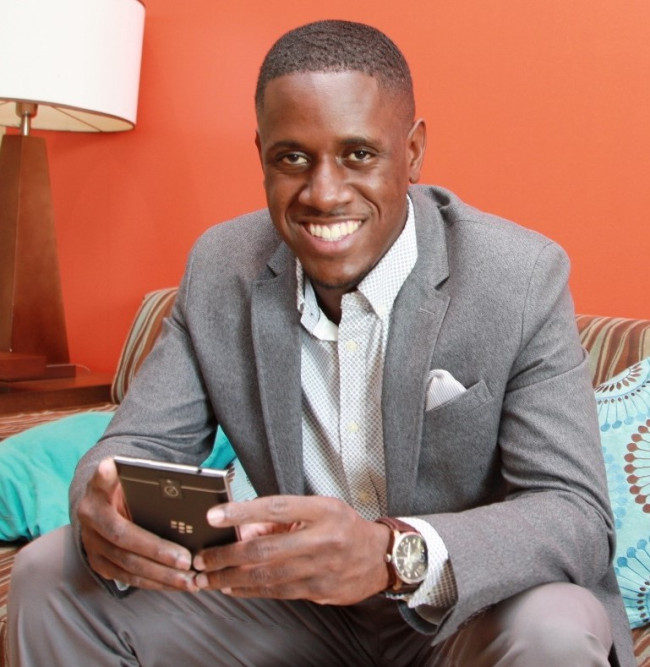 There are many who dream of being entrepreneurs, but the ones who actually take the initiative to get the ball rolling are the ones to watch.
For Dale Trotman, the drive was there "from a very young age." The 26-year-old Barbadian is pursuing his dream with MedRegis, a budding startup that is creating a series of e-health apps for the medical industry in the region.
Entrepreneurship requires the right tools and the know-how to use them effectively to realize change and get results. For Trotman, his BlackBerry Passport is the right tool for his needs, which he features prominently in MedRegis' promotional videos (below, and in lower screenshots).
(Read our other Q&As with Passport-wielding entrepreneurs and CEOs, including celebrity chef Tyler Florence, who is involved in 8 businesses, this serial tech entrepreneur, this IT consulting CEO, this non-profit founder, this pharmaceutical CEO and more. Or read the great reviews for the BlackBerry Leap, our budget-friendly all-touch device targeted at younger professionals.)
Matt Young: Tell me about the apps that MedRegis is working on.
Dale Trotman: Our approach is to create a suite of four apps which center on the individual duties of each major professional in ambulatory care – front desk, nurse, doctor and pharmacist – designed to assure efficient workflow processes from one professional to the next throughout the entire care of a patient.
This has created a buzz within the ambulatory care community in Barbados. Many clinics and doctor offices have offered their facilities and staff to pilot the solutions.
Young: How did you hear about and get the BlackBerry Passport, and why was it your pick?
Trotman: BlackBerry has been my cell phone choice from the first BlackBerry Bold through the Z10. When it comes to productivity, no one has captured that concept quite like BlackBerry, especially with the BlackBerry Hub.
When BlackBerry introduced the BlackBerry Passport, the first feature that captured my attention was the screen size. I remember saying to myself, "Documents and emails must look amazing on this device." I can remember actually stalking Amazon.com waiting for them to be restocked in October and November. My final decision to upgrade from my Z10 was a combination of the BlackBerry Hub, the revolutionary keyboard with its new features that enhance typing, and the screen size – great for emails and documents.
Young: What do you see as the defining benefits and what are your favorite apps?
Trotman: I love the ease with which I can replace the use of a tablet PC with the BlackBerry Passport, due to its enhanced mobility and screen size.
BlackBerry Blend has also been an amazing experience. Many times while doing work on my laptop I miss important emails and BBM messages. It integrates these applications into my schedule so I can take notice of other important events, even when busy.
I utilize BBM and I have a custom PIN, and I also use Password Keeper, Dropbox, OneDrive and Box, BlackBerry Express, Documents To Go, BlackBerry Blend, BlackBerry Travel, Evernote and Remember.
MY: How does the long battery life affect you? Is it liberating?
DT: When productivity is one of the key areas that will define your success, battery life becomes crucial. The battery life of the BlackBerry Passport is truly amazing. I can go more than 24 hours in some cases without having a dead battery and this is essential when I am traveling or on the road and still need to conduct business as usual.
MY: So overall, the BlackBerry Passport is a valuable tool in pursuing your goals?
DT: It's a very valuable device for me as an entrepreneur. Emails are core to my entrepreneurial journey and the BlackBerry Hub keeps me organized and on track in a way that the iPhone or an Android device cannot.
Also, the widescreen has been a huge advantage over other cell phones. For example, in April, MedRegis made the finals of TIC Americas X-Edition entrepreneurial competition in Panama.
As one of thirty-two finalists chosen from over 2,700 entrants from across the Americas, we were judged on our pitches to the judges in a private session and also we were judged on how we marketed our projects at our public booths.
I had the perfect idea to utilize my BlackBerry Passport to assist me. Instead of being in the confines of the booth, I preloaded all of my documents and videos and created a mini presentation using BlackBerry Express and made myself mobile with the hope of creating that 'WOW' factor – and it worked.
People were impressed with my approach and they also took notice of the BlackBerry Passport. The comments ranged from how the screen limits the need to scroll when previewing documents at a readable size, to the amazing screen resolution, to how productive BlackBerry Express is.
At the end of the competition I was the recipient of the Social Innovation Award.