The BlackBerry Leap is continuing its rollout, offering young professionals an incredibly affordable package that will indeed help them "leap" into anything their burgeoning careers can throw at them.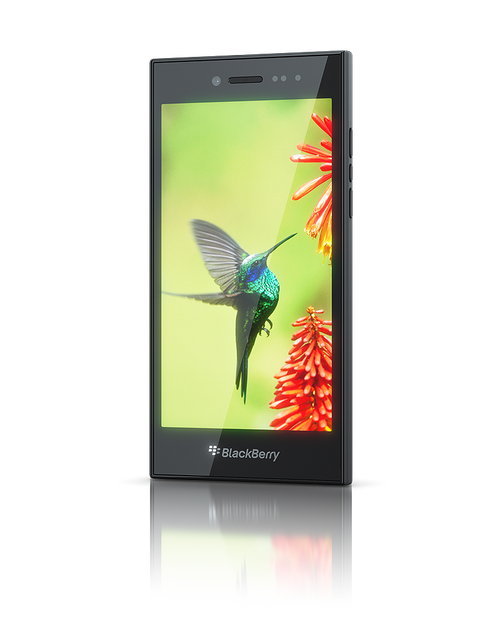 (Check HERE for updated availability by region, and go HERE for the initial review roundup.)
Filled to the brim with cutting-edge productivity features in a form factor appealing to tomorrow's leaders, the BlackBerry Leap is proving its mettle to reviewers as it lands in Canada.
From BlackBerry Blend's amazing breakthroughs in workflow continuity and the beautifully streamlined approach the BlackBerry Hub brings to everything from emails to messaging and social media, it's an embarrassment of productivity riches reinforced by additional apps for professionals (Documents To Go and Evernote, for starters), the fully-featured BlackBerry Calendar app, the crystal-clear voice calls and a best-in-class virtual keyboard.
Let's jump in and see what the reviewers are saying.
"Low price, but undeniably a BlackBerry"
"BlackBerry's latest offering, the Leap, gives users who enjoy an all-touch experience the upgrade that keyboard lovers received with the Classic," writes the Financial Post's Lynn Greiner. "It's aimed at mobile professionals who want an economical way to get the power and security of a BlackBerry at a consumer-friendly price [and] despite the low price, the Leap is undeniably a BlackBerry.
"Build quality is solid [and] I found it easy to operate one-handed; the textured back and non-slip sides cut down the risk of drops . . . The screen is very good: a clear and bright edge-to-edge 5 inch, 1280 x 720 HD display.
"[T]he 2800 mAh battery is, to put it mildly, amazing. It's rated at 25 hours of heavy use; I was able to go for over two days without worrying about finding a power plug. And that was without enabling any of the power saving features.
"A lot of the goodness in the Leap comes from the operating system. It runs the latest and greatest, BlackBerry 10.3.1, giving the device all of the benefits of BlackBerry security and business features, as well as BlackBerry Blend, software that allows you to access BlackBerry features on a desktop or tablet.
"As well as being a great first BlackBerry for a mobile professional, the Leap is an ideal upgrade for the BlackBerry Z10."
"Users, Startups and Entrepreneurs will Like what the Leap has to Offer"
"[T]his is a serious handset that's built for working and not for showing off," writes Canadian Reviewer's Gadjo Cardenas Sevilla, who notes it has "a great tactile feel" with color which is "subtle, elegant and contemporary."
"The biggest feature of the BlackBerry Leap is its long-life battery," he writes, "rated to last for well over a day of heavy use . . . BlackBerry understands that a phone designed for busy entrepreneurs and startups, needs to survive hectic workdays and nighttime events.
"[The] personal assistant and integration with BlackBerry Blend [create] a synergistic connection between your Leap and your notebook or tablet. Using Blend in tandem with the BlackBerry Leap, I could easily read and reply to emails, BBMs and texts while using my MacBook. BlackBerry Blend is a significant feature for entrepreneurs [and the] BlackBerry Hub is a great time saver [and] unparalleled in containing and organizing messages as they come in. Personally, it is the one feature I miss when using my iPhone or an Android device. Like Carly Simon sings, 'Nobody does it better,' at least when it comes to handling messaging from various sources.
"The intended segment of users, startups and entrepreneurs, as well as BlackBerry devotees looking to move from their Z10 whose contracts have expired, will like what the BlackBerry Leap has to offer and most especially its long battery life and improved overall performance."
"Despite the Low Cost, the Leap has a lot Packed into It"
ITBusiness Canada's Jim Love believes the BlackBerry Leap's price is an attention-getter, writing, "The price is extremely attractive – especially for younger buyers and small businesses. It will launch with a price tag of zero dollars ($0) on a plan with most carriers. If you want an unlocked version the price is a low $350. Despite the cost, the Leap has a lot packed into its small form factor.
"Speed is one of the things you first notice. Battery life is exceptional. My first charge lasted a day and a half. I spent a lot of that day streaming media to the phone. While it uses a "virtual keyboard," BlackBerry has focused quite successfully on speeding up data entry and increasing the accuracy of input. And of course, it offers all of this with BlackBerry's deserved reputation for great security.
"[T}he integration of all messaging into the BlackBerry Hub is the best native toolset for managing the modern tsunami of messages . . . In the management of documents – primarily Microsoft Office, BlackBerry's approach is also aimed at the business warrior. Docs To Go allows BlackBerry users a sophisticated and powerful way to be productive in a mobile environment. While it has some rivals, there is simply nothing better that I've encountered.
"For those who want to work 'offline' a simple micro SD card can extend the memory of the device by as much as 128 GB for a surprisingly low cost. The BlackBerry Blend software can transfer documents directly. You can work securely and locally in a coffee shop, an airport or even mid-flight.  With the extended battery life on all the new BlackBerry devices, you can do this for even a long flight or when the charging stations are all taken.
"[The BlackBerry Leap preserves] the very best business features of the BlackBerry line while still reaching a younger, albeit business-focused audience . . . But the bottom line on the Leap may indeed be the bottom line. At zero dollars on a plan and $350 for an unlocked version it's an option that you must consider in a startup or small company. Even in a larger firm like ours, where mobility costs are consuming more and more of our technology spend, the Leap is an attractive option. As an employer, I'd be confident enough that these devices would provide everything necessary to make our employees mobile and effective."
"BlackBerry Fulfills and Expands on its Legacy"
"[The BlackBerry Leap] feels good in the hand [with a] solid production design with rounded edges and a dimpled back," writes The Star's Raju Mudhar.
"Messaging is still a strong suit, with the Flow screen working as a central spot for all communications," he writes. "Surfing works well on the browser, and the phone's Hub also handles multiple apps better than its competitors, with a central screen showing what's running. The company's virtual keyboard — with excellent predictive text — still works well.
"The latest OS now comes pre-loaded with the Amazon App Store, and that helps BlackBerry users get their hands on many popular apps. I easily loaded Spotify, as well as games such as Crossy Road and Candy Crush Saga.
"[BlackBerry Blend] can be downloaded onto PCs and tablets (including Android and iOS), and once you wirelessly connect, you can easily move files, deal with emails and even link to your desktop. It is an impressive tool and one area where BlackBerry fulfills and expands on its legacy of building devices that are designed to be productivity workhorses. As a phone aimed at young professionals, Blend makes sense, as it's key to making this device the center of your computing world."
"Quite Sufficent to get You Through a Hectic Day"
"In the hands, the BlackBerry Leap feels nice, [and] we love its soft, textured finish" writes Maxime Johnson of JournalMetro (via Google Translate from the original Quebec French).
"[BlackBerry OS 10.3.1) now has a PDA and BlackBerry Blend function, which can effectively unify its working environment between the phone and a tablet or laptop.
"By default, you now also have access to the Amazon App Store application store, in addition to the BlackBerry World, which provides access to considerably more third party applications than before.
"BlackBerry 10 obviously still offers its usual strength, like the BlackBerry Hub to manage its communications, a good keyboard (even virtual) and compatibility with virtually every conceivable security policy of companies.
"The BB OS 10.3.1 is fluid, and you can go through hundreds of emails without problems. BB10 is an effective and efficient operating system, and it shows. An Android phone with the same features as the BlackBerry Leap would never be as powerful.
"The BlackBerry Leap's large 2,800 mAh battery is quite sufficient to get you from the wee hours of the morning through a hectic day."
"Killer Features"
International Business Times' Pavithra Rathinavel says the BlackBerry Leap has some "killer features":
"BlackBerry Leap comes with the build of BlackBerry 10.3.1 pre-installed on the handset. Therefore, this device brings in a killer feature called the BlackBerry Assistant, which is the voice activated digital personal assistant in the lines of Siri, Cortana and Google Now," he writes. "Meanwhile, the BlackBerry 10.3.1 OS also comes with the Amazon App store, in addition to the BlackBerry World for BlackBerry-specific apps.
"Similar to other BlackBerry devices, this unlocked Leap handset can…encrypt calls and provide malware protection. Plus, the virtual QWERTY keyboard reportedly 'corrects mistakes in a flash.' Adding a cherry on top, the BlackBerry Leap…comes with the BlackBerry Blend, which lets the user to view the handset's contents on a PC/laptop."
"Will Give Users Access to BlackBerry's Business-Geared Features"
"BlackBerry is hoping its new low-cost touch screen smartphone will win over Canadian consumers who aren't willing to pay the hefty price of an iPhone or Samsung Galaxy device, [and the] price may be attractive to those looking for an affordable smartphone option," writes Nicole Bogart of Canada's Global News.
"The new smartphone will give users access to many of BlackBerry's business geared features, including BlackBerry Blend – a new feature that makes email, BlackBerry Messenger, text messages and other data from their BlackBerry smartphones accessible on other platforms like Apple's Mac OS and Windows," she writes. "[Plus,] BlackBerry users now also have access to the Amazon Appstore, giving users access to thousands of Android apps."
She was also featured in the accompanying video below:
More to Come
Starting today, the BlackBerry Leap will be available from Canadian carriers across the country, for as low as $0.00 on contract. Click on the above link to check your carrier – including Rogers Wireless, Bell Mobility, Sasktel, TELUS, WIND Mobile, TBooth wireless and WIRELESSWAVE – for more information on availability and pricing.
As it finds its way into discerning hands, more reviews will be popping up, which we will be featuring here on INSIDE BlackBerry, so stay tuned for the latest news.