Bay Street is the heart of Toronto's financial district, the equivalent of New York's Wall Street. It's where risks are taken and fortunes made, and there's a certain man who knows how to navigate it in a big way.
Canadian Business calls him "Bay Street's wild child" – perhaps for his WekFest music festival fundraisers and rock star wardrobe, which belie his hard-nosed reputation in the buttoned-down world of finance.
To Toronto Life, he's "The Oracle of Bay Street," because he sees a profitable future in opportunities too risky for investors with weak constitutions, and supports them with his own merchant bank, Difference Capital.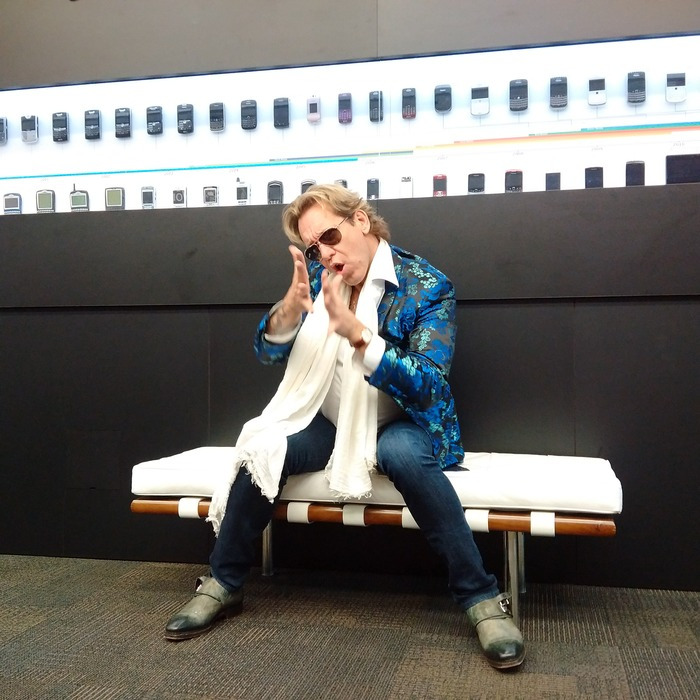 Michael Wekerle, CEO of Difference Capital, is a business superstar—someone akin to Donald Trump or Sir Richard Branson, but with his own style. For Canada's high-tech startups, this risk-taker with a penchant for pushing the envelope is the guy you want on your side, investing in the dreams and talent of future tech luminaries and innovators.
He's also a huge BlackBerry fan, sporting both the BlackBerry Passport and the BlackBerry Classic, which we'll get to in a bit.
(Also read our stories about other world-famous BlackBerry achievers, including media mogul Arianna Huffington, celebrity chef Tyler Florence, tennis star Maria Sharapova and TV show host Maria Menounos and more.)
At the Frontlines
First a little background: A Toronto native, Wekerle dropped out of college at York University to pursue a career on Bay Street.
In 1982, he began working on the floor of the Toronto Stock Exchange, willing to do whatever it took to succeed. As Canadian Business's Joe Castaldo wrote in a recent profile, "When the firm downsized, he asked for a job from the head trader at First Marathon Securities, who told Wekerle he could have a job if he lopped off his unkempt mane and returned within 15 minutes. That haircut essentially launched his career."
Thanks in part to his "gregarious personality" and "famous ability to multi-task" (as Castaldo put it), Wekerle rose through the ranks at First Marathon before leaving to co-found Griffiths McBurney & Partners (now GMP Securities), where he oversaw trading operations.
Wekerle kept putting himself at the frontline, and it paid off. When Ted Rogers, the late CEO of Rogers Communications Inc., launched a $3 billion takeover of a rival, he called Wekerle to help him buy up shares, according to Toronto Life magazine. And along with his partners at GMP—by now a "trading powerhouse" according to Toronto Life—Wekerle played a key role in taking Research in Motion (now BlackBerry) public in 1997.
A Man of Rare Talent…
The role he played in the RIM IPO is an oft-cited milestone in Wekerle's career. Asked about how he became involved by Yahoo! Finance Canada's Andrew Seale, Wekerle explained,
"I was really fortunate to be involved with RIM in 1995…I forged a good friendship with the guys and we bought the account. When nobody had really heard of RIM, we ran a pre-initial public offering capital raising campaign and then we led the initial public offering with RBC but it was really ourselves who broke the bust."
In 2005, Wekerle helped Goldcorp merge with Wheaton River Minerals, creating what is now the world's second largest gold producer by market cap. Wekerle, via GMP, also helped advise on Kinross Gold Corp.'s C$7.1 billion acquisition of Red Back Mining Inc. and Royal Dutch Shell Plc's C$2.4 billion deal for BlackRock Ventures Inc.
He also helped his own firm go public in 2003. According to Toronto Life, his GMP shares were worth approximately $95 million at their peak. And he ran successful side businesses buying and renting out private planes and investing in commercial real estate.
"Wekerle is more than just lucky," wrote The Globe and Mail's Sinclair Stewart in a 2006 profile. "On Bay Street he's considered the top trader in the business . . . Even rivals attest to his canny feel for swapping stock, and few do it grudgingly. He may be No. 1 in an industry that runs on jealousy, but the Wek is well liked . . . [W]hat really makes the Wek a great trader is that he's a great salesman: He's almost congenitally difficult to dislike, and it's easy to understand how his almost childlike enthusiasm . . . could make even the toughest customer feel defenseless."
While the RIM IPO and Goldcorp merger are typically the flashiest career milestones cited, Wekerle's ability to get things done behind the scenes is what made him so influential.
"As for Wekerle's influence, that's simple," wrote Canadian Business in 1999. "[He's] involved in a great deal of the financing that happens in Canada, especially deals that are done outside the banks for small to mid-sized companies. Wekerle has an incredible feel for the markets, and he's developed very strong relationships with fund managers and those on the corporate issuers."
…Who Lives Larger than Life
Many of Wekerle's successes are accompanied by stories of his penchant for excitement and personal flair. The dueling aspects of Wekerle's persona – commanding trader who happens to party with the members of heavy metal band, Mötley Crüe – seem intertwined, and could be attributed to the fact that the man is "larger than life," and both lives and works in a big way.
As Castaldo wrote in the same profile:
"Wekerle is the kind of guy who will always pick up the bill, tip generously and treat the server the same way he would a CEO. He's active on the charity circuit and is a big supporter of Toronto's Centre for Addiction and Mental Health and the Seeds of Hope Foundation, a community outreach program. He even paid to send one teenager he met through the program to Morehouse College in Atlanta, where tuition, room and board runs upwards of $40,000 per year."
The results have made him a compelling, "gotta-watch-him" figure.
Of Dragons and Maple Syrup
These days, the CEO of Difference Capital is busier than ever, judging on CBC's Dragon's Den (the equivalent to the American business reality TV show, Shark Tank, both of which sprung from the UK's original Dragon's Den), and investing in actor Mark Wahlberg's burger chain, Wahlburgers.
Wekerle is also investing in Waterloo's technological know-how as a member of what's being called the "Maple Syrup Mafia," backing local startups in an effort to strengthen Canada's technology industry. Waterloo, and the larger Canadian "tech triangle," is home to more than 600 startups and over 1,000 tech-related companies, features three think tanks related to science and technology, has a GDP of CA$25.2 billion (as of 2012), and boasts office locations for huge companies including Google, SAP and Toyota, among others, according to TechTriangle.ca.
"[It's] a great community [with] great people [and a] big town mentality with a small town feel. A BlackBerry Town," Wekerle says. "But BlackBerry provided such high-level training for executives that it spawned another wave of top-notch entrepreneurs, which made Waterloo more than a one-company town. It became a breeding ground for other promising tech companies—like Magnet Forensics and Vidyard, to name a couple—which helped solidify Kitchener–Waterloo's reputation as a place for innovation."
Wekerle, whose investments via Difference Capital include popular social media management toolmaker, Hootsuite Media Inc., wants to establish a more informal scene from which greatness can again rise in the area. To that end, he has purchased six former BlackBerry buildings with the goal of transforming them into a high-tech mixed-use development.
As he told Canada's Morning Edition radio program: "What I'm trying to do is to create that kind of middle-class environment, with a place to shop, a place to have some commerce, a place to have some social time, restaurants, etc.," he said. He still likes BlackBerry, telling Yahoo! Finance, "I think they're back on track, I like where they're going [and] they made a lot of money for people at the peak . . . I can't say enough good things about them."
"I'm Gonna Need Them Both"
That affinity extends to BlackBerry products, with Wekerle adopting both the BlackBerry Passport and Classic as his personal devices. "I can't choose – I'm gonna need them both," he said in a video on his Wek TV personal YouTube channel.
Of the two he said, "See, this is what the next generation's gonna see. [The Passport] is great for my everyday business world – for watching stock quotes, or looking at a graph on something you want to buy or sell, while [the Classic] is great for just the ease of the phone. The Classic is legendary – it's rock 'n' roll."
Of the BlackBerry Passport, Wekerle said the "battery life lasts me a full day [and] because of the larger screen, I can dynamically do more – BlackBerry adds 20 percent more [time to the] productivity [of] my day."
Looking to the Future
Between BlackBerry's efforts at rebuilding and refocusing as a leader in enterprise mobility services and Wekerle's resolve to foster the next big thing in Canadian tech, things are looking up for Waterloo (and the tech field as a whole.
As a December 2014 Bloomberg piece noted, Difference Capital expects some of the 30+ firms it invests in to raise from CA$25 million to more than C$100 million through initial public offerings. For both the company and the man, it's a tale of determination, foresight and experience.
Future interactions between Wekerle and BlackBerry are sure to be exciting – stay tuned to INSIDE BlackBerry for all the latest news and developments.