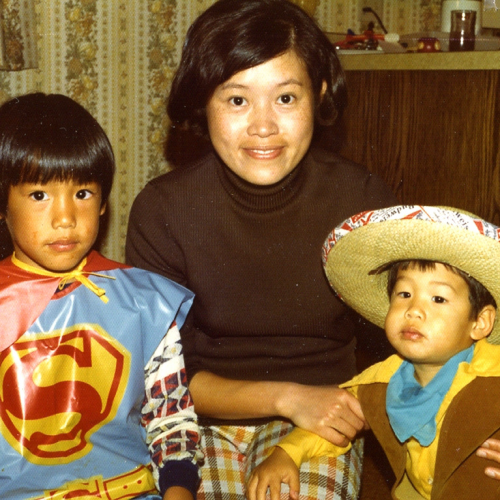 My mother started working in the early 1970s, part of the post-Mad Men generation that was the first to enjoy the freedom – and pressure – to strive professionally, while still handling most of the domestic chores. Naturally, she knew how to get things done. She was a goal-setter and a list-maker, always finding scraps of recycled paper to write down task lists. My brother – that's him, the cowboy – says he picked up the listmaking habit from her.
As a technology lover, I'm sure my mom would've embraced the smartphone as an even better way to track tasks and get things done. For Mother's Day, I asked BlackBerry employees to share their best productivity tips that they learned from their mothers, their spouses that are moms, or themselves employ as time-pressed working moms. They came back with a bunch of great stories, work tips and lifehacks.
Naturally, most of the tips involve BlackBerry apps and devices. Of course, you can use other brands of smartphones and probably find equivalent apps. Or you can just choose a device – with the longest-running battery, accuracy-enhancing physical keyboard, and software like BlackBerry Blend – that is optimized for getting things done, not goofing off.
Nadia S.
I'm a mom of two young kids, a 6 year old son, and a 2 year old daughter. Between a very high-energy, demanding job, 2 kids + 1 husband (yes, I only have time for one!) who are active and need my attention, plus taking care of myself at the gym and finding time to see friends, it takes some balance and organization.
One Thursday evening, my husband and I decided to take the kiddos out for a mid-week dinner. A rare occasion, but sometimes between both our jobs and the kids' schedules (karate practice!), we just have to concede that the restaurant will cook a better meal than we will. Midway through my dinner, I look down at my BlackBerry Passport and see that blinking red light. Personally, I'm addicted to the blinking light. It blinks when I have a dentist appointment, it blinks for my daughter's dance lessons, it blinks when my husband is BBM-ing to let me know he can't do the daycare run, and it blinks when I'm out for dinner and my VP needs an urgent document from me.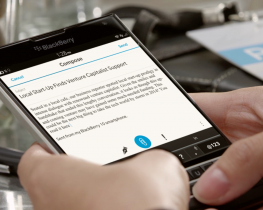 We had a pretty big event coming up on the weekend, and he needed me to create a short biography of one of our guest speakers. I was able to access a Word .doc template from my work perimeter and write up a really quick bio and fire it off to my VP. All this while preventing my 2 year old from climbing on the table and throwing crayons in her brother's plate. (Who needs to know that small detail?? Certainly not my VP.) Anyway, my VP was happy with the quick turn-around, and I got back to my dinner with my family and, of course, my glass of wine.
I truly rely on my BlackBerry Passport to help me multitask my life. Not just for work, but for taking care of the kids and managing my personal schedule. Bless that blinking red light!
Jennifer B.
With 2 active boys, having everything at hand is essential. With my BlackBerry, I can send a message to their after-school program director, check the location of tonight's baseball game, and get a reminder that we need to get a friend's birthday gift, all while waiting for the elevator at work. Combine that with being able to look up how big a polar bear is compared to a grizzly bear ("Mommy, I was just wondering…"), or find a new muffin recipe while waiting at the dentist's office, and I can't imagine a more important tool.
I use my BlackBerry device to make connections I wouldn't have otherwise been able to make. My Dad recently took some pictures of my kids on his farm, and I used NFC to upload them onto my phone and post them to Facebook, sharing them out to people who otherwise would never have seen special pictures he had taken of the kids with a young calf.
More recently, I used BBM to communicate with my 9-year old during the middle of school. On a rare 'BYOD to school' day, he used his iPod Touch to send me a picture of the pizza slice he got for lunch. He wanted to share it because he thought it looked funny.
With my BlackBerry, I feel like I can be there for my kids and still be the colleague and employee I need to be. Emergency doctor visit? No problem, I can be there, but make sure nothing gets left behind at work either.
Tammy R.
I am our household organizer. My BlackBerry works overtime as I schedule pretty much all our lives, using the Calendar and Tasks to sync grocery needs and tournaments. Because I am raising three teenagers and have a husband who works shifts, it's the only way to know who's coming and going and who's going to do what in the household chore bucket. Even when my husband is on the night shift, I kiss him goodnight via BBM. It's keeping our marriage going because we can always communicate. Now if I could only convince my mother to use!
Persis N.
My mum works at the bank and loves to budget. Every year she helps me plan my monthly expenses. Honestly, what better way to keep a track of what bills to pay when than the BlackBerry Calendar app. I've set up recurring events with reminders for mortgage, hydro, gas, internet, phone payments. It keeps me ahead of the game.
Oscar V.
My wife and I use the BlackBerry Calendar app heavily, too. Not necessarily for budgeting, but for birthday reminders, dinner reminders, appointments, meetings. We send each other calendar invites all the time.
I routinely get my children to help me help them. For example, I could do everything for them in the morning – and I have when they were little, but I routinely get them to help me now that they're a bit older with clear expectations about when we need to move through that exit door. It shows them that it's ok to ask for help. I also acknowledge when we're successful, and they are proud when we make it out early. Now that I look back, I also helped in a similar way when I was a kid. For example, I was cooking dinner for everyone by the time I was 10 (obviously with oversight). I guess that's where I get it from.
Tony F.
When I'd get flustered with too much to do, my mom would tell me to "take a breath, make a list, and start chipping away." Maybe that's why I now live in Trello!
Jennifer M.
I find the Stopwatch in BlackBerry 10 really helps to get us out the door faster. I turn it on and we "race" to see who can get ready first before it runs out of time.
I also like to help my 5 year old be independent, so two quick things I did to help foster this are setting up the Phone app in my BlackBerry to have pictures at the top that he can select to call his Dad or Grandparents, and teaching him how to check the Weather app in the morning so he knows which clothes to pick out based on the forecast.
Greg K.
We use the Glympse location feature in BBM. My wife sends out a BBM message to my kids and me asking where we are and when we will be home so she knows when to start supper. Instead of a bunch of detailed replies, we send a Glympse when we are about 30 minutes away. That way she can get an update to location when it is convenient for her.
Laura B.
For all of you busy Moms and Dads out there, you've got to use the BBM group 'List' option for your grocery list. That way, whether you or your husband go grocery shopping, either of you can access the list and check things off as you buy them. Thanks to Jen below for that tip.
Helen F.
I also use a BBM Group List for groceries. It's so easy to quickly add items as they run out in the kitchen, and even to add while my husband is grocery shopping (sometimes driving him crazy!).
***
Got any productivity tips of your own to share? I'd love see them in the comments!