Working wide seems to have wide appeal.
The BlackBerry Passport has gotten love from many quarters. Media reviewers praise its oversized screen, touch-enabled keyboard, its slick unified messaging center in BlackBerry Hub, large selection of BlackBerry 10 and Android apps, and other powerful features.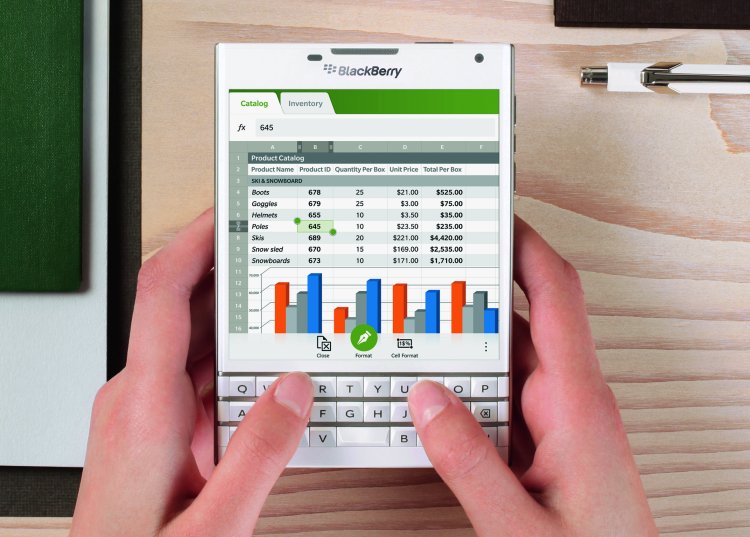 On sale today through May 8th at ShopBlackBerry, the Passport has also garnered near-five-star ratings from buyers posting at their favorite online stores. Design juries are giving it design awards. And plenty of power professionals have shared how happily productive they are with their Passport, including celebrity chef Tyler Florence, this serial tech entrepreneur, IT consultant, real estate agent, senior hospital executive, manufacturing executive, non-profit founder, software engineer, tech journalist, legal administrator, pharmaceutical CEO, software manager, insurance salesman, corporate IT manager and these workers from multiple industries.
One thing we haven't talked about is what the many Passport users who traded in other phones think about the transition. Maybe you're in that situation. Maybe you're considering the switch.
We were genuinely curious, so last month we went and talked to a bunch of professionals that have traded in their Apple iPhones for BlackBerry Passports.
Here are some of the things they told us.
Customer 1: Lawyer
A former BlackBerry Bold user, this lawyer says the Passport's 4.5-inch-square touchscreen lets him read contracts and PowerPoints, edit spreadsheets, and more. "It's hard to overstate the value of seeing information quickly without having to break your train of thought by resizing a document," he said. He also likes the physical keyboard – as do the other lawyers at his firm.
Customer 2: Research scientist
This former BlackBerry Torch user switched to an iPhone before coming back for the Passport, drawn in by positive reviews even though he had an existing contract. He "loves the keyboard," and says his typos have decreased. Though some have criticized the Passport's form factor, this user says he "really enjoys the feel of it" and how it enables him to do work.
Customer 3: University professor
This academic was a longtime BlackBerry user – 15 years – who strayed briefly before returning. Moving his data from a Z10 to a Passport using BlackBerry Link was "a good experience and easy to do." His Passport handles his personal and work usage equally, from reading work documents to books on his Kindle app. The screen, keyboard and BlackBerry Hub are the top three features, says the professor, though he points out that battery life has been even better than the advertised 30-hours, letting him go "days without charging, like my old BlackBerry devices."
Customer 4: Mechanical engineer
The engineer was drawn in by all of the publicity and reviews for the device. Besides the keyboard and wide screen (the iPhone was too narrow), he praises the business applications available for Passport – unsurprising since he uses the Passport 90% for work. As a mechanical engineer, he is fussy about build quality – and the Passport delivers in this regard, he says. His rating? "9 out of 10."
Customer 5: Aspiring investment banker
This 23-year-old traded his iPhone 4S for a Passport, despite admitting he had no prior affection for BlackBerry. But after seeing CEO John Chen preview the Passport last year, he "waited months" until he could buy it. His older brother as well as his mother now all use Passports (his mother has a Red Passport). "Reading PDFs is great" on a Passport, while the call quality of BBM Voice is "very good." Overall, he considers the Passport a "fast and productive" device.
Customer 6: Fortune 500 salesperson
This user owned BlackBerry Curves and Bolds before going iPhone – and returning via the Passport for which "he can't be happier." A physical keyboard devotee, this salesperson also says the BlackBerry 10 OS, especially the unified messaging of BlackBerry Hub, is "outstanding." He also praises BlackBerry Balance, our containerization technology for separating work and personal data, as "the best thing."
Customer 7: IT consultant
This techie has actually worked for Apple but has come back to BlackBerry. Could it be the five different business e-mails and additional personal e-mail he needs to manage on the go with the Hub? Though he continues to use an iPhone and Samsung to better support his consulting clients, he continues to prefer the BlackBerry experience.
Customer 8: Financial technology specialist
This ex-Bold user returned from an iPhone and bought a red model. Why did he return? Because he missed the QWERTY keyboard and was attracted to the Passport's 1400 x 1400 screen. After a two-week adjustment period, he now feels the Passport "is a great device." Another fan of BlackBerry Hub, this user thought "it is a pain going from app to app to keep up on messages" on the iPhone. This user also likes the call clarity and the speakerphone, the sharp screen resolution that lets him work with spreadsheets while on the go.
There were many other comments from other users that I haven't included. But if I had to quickly summarize, it's the unified messaging of the Hub, oversized screen, touch-enabled keyboard, crystal clear speakerphone coupled with a solid feel and design that our power pro users like the most about the BlackBerry Passport.
As part of our spring sale ending Friday May 8th at 11:59 PM PST, the BlackBerry Passport is on sale at Shop BlackBerry. This is a fully-unlocked model that unlocks many hundreds of dollars in savings (or more) over rival on-contract phones, when you consider carrier fees. For instance, you could save $731 over two years choosing a BlackBerry Passport over an HTC One M9, despite the latter's lower upfront on-contract price.
If you switched to a BlackBerry Passport from an iPhone (or Android smartphone), let us know in the comments what you think.