I have this note written to myself on my desk, and glance over at it several times a day: How can we take BBM, used by millions of people every day, all around the world, on BlackBerry, Android, iOS, and Windows Phones – and make it even better?
By listening to our users, and frequently adding new features.
We've been working on a few new things in the BBM labs, and are pleased to share some of it with you today. Over the past few hours, we've started testing the release of our new version of BBM at the BlackBerry Beta Zone.
Here's what's new:
Android Material Design has arrived!
Material design is a set of design guidelines developed by Google. Inspired by paper and ink, it's full of large images, bright colors and most importantly, a consistent interface. If you're using Android 5.0 Lollipop, you've already seen material design in action.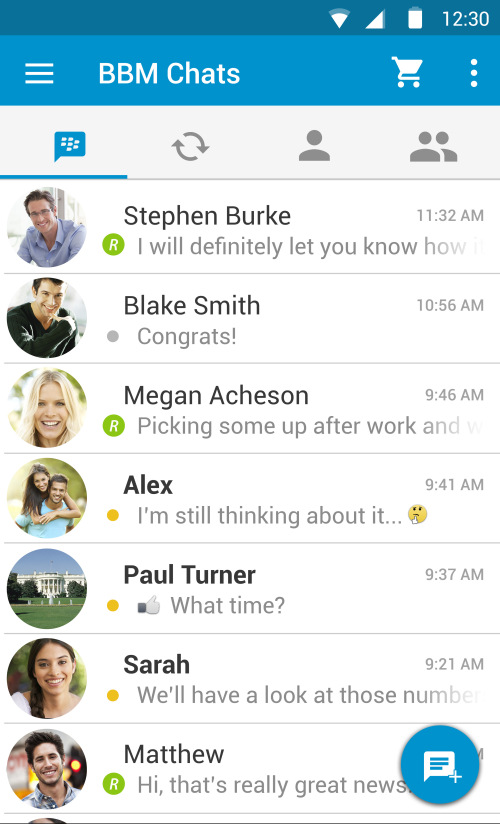 We've redesigned BBM for Android from the ground up, using material design principles as inspiration.
This means a more colorful, more eye-popping, and easier-to-use BBM experience that's brand-new, yet very familiar. Check back to the blog later, to learn more about how BBM uses material design, and the inspiration for our new look and feel.
Private Chats:
In a private chat, your contact's name is hidden, and new message notifications are turned off. Your chat is automatically deleted after a short time, or when you end the private chat.
Edit Message
The perfect complement to message retraction, Replace provides you with the power to edit a sent message.
Publish in Feed:
Share status updates faster, right from your BBM feed.
Remember – this is just a beta, and things might still change. If you're interested in getting early access to the newest version of BBM, sign up for the beta and tell us what you think. What do you like? What don't you like? With your feedback, you'll be part of creating the world's best cross-platform messenger.