Starting today, an update to BBM packed full of new features and improvements is rolling out for BlackBerry 10, Android and iOS.
If you're a BBM user, then you already know that BBM is the best way to confidently share private moments with friends. Sending a timed picture that self-destructs, or retracting a message that was meant for one of your other friends, gives you control and peace of mind.
But what happens if the person you're chatting with takes a screenshot? My coworker Zach made a harmless joke over BBM, pretending that he was going to fake being sick tomorrow. Being a bit of a troublemaker myself, I took a screenshot of his plan. Despite the fact that Zach was joking, and that he sent me a timed message, I can still capture it. And although Zach gets notified that I took the screenshot, I can convince my boss that Zach is up to no good.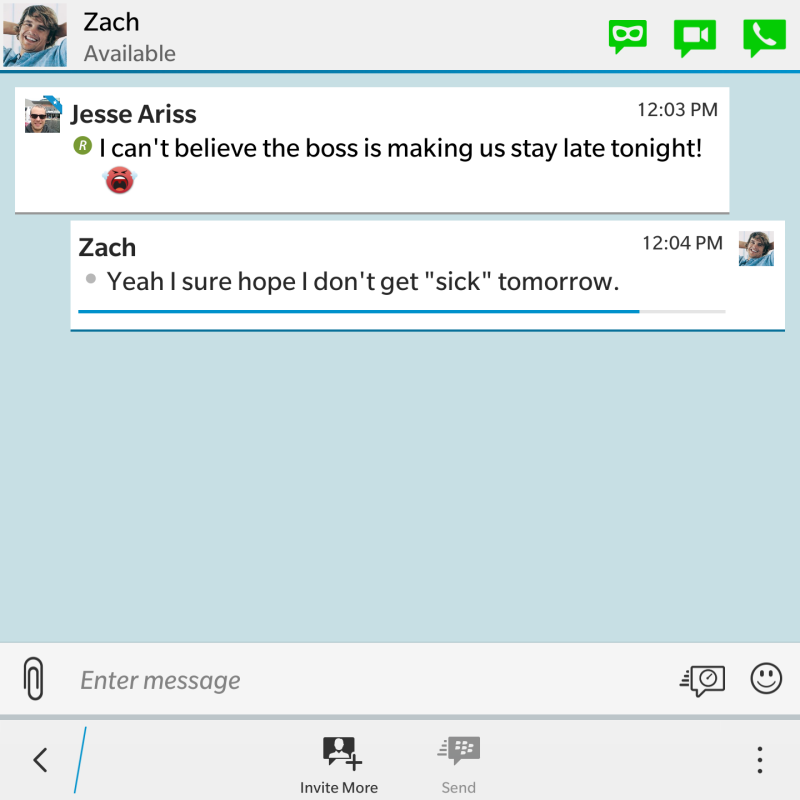 Zach should have used the new Private Chat feature. By starting a private chat he can ensure that his sensitive messages are kept discreet, and that his secret remains a secret.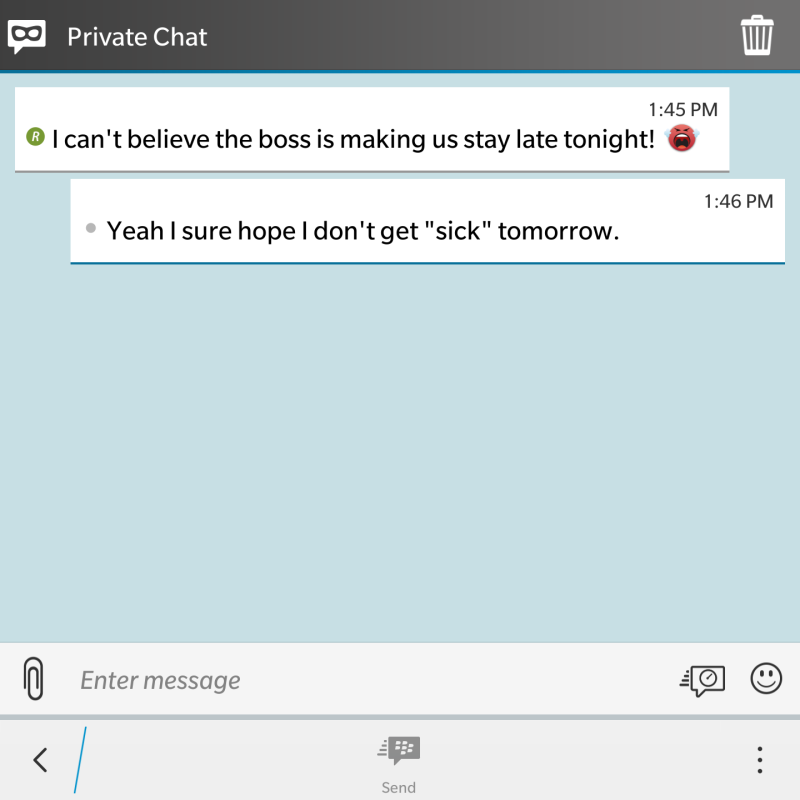 See the difference? There's no names, no profile pictures, and the chat ends automatically after a short period of time. Now the screenshot is useless, because no one knows who said what! It's the closest thing to chatting in person, and I know a few people who are really going to love this new feature.
Private Chat is included in the new Privacy and Control Subscription, which replaces the existing Timed and Retracted Messages Subscription.
Included in the Privacy and Control Subscription, you get:
Private Chat
Timed messages and pictures
Retract messages and pictures
Edit Message (Which is also new to the subscription. Made a mistake? Now you can retract it, change it, and send your message again.)
The Privacy and Control bundle is $0.99 per month, and for me, it's already paid for itself.
Current Timed and Retracted Messages subscribers will be automatically upgraded at no additional cost.
What else is new?
As I mentioned a few weeks ago we've redesigned BBM for Android from the ground up, using material design principles as inspiration.
We've also:
Added a new way to organize your ever-growing sticker collection
Implemented a new "quote message" feature so you can reference previous messages in your chat
Updated the way font sizes are rendered on iOS. iPhone users are going to love that their BBM font size is based on the size selected in system settings.
I'll be back soon to talk a bit more about some of my favorite new features, but in the meantime, update your BBM and start chatting, gossiping, and planning surprise parties with confidence. Don't worry – I won't tell.