The BlackBerry Leap love just keeps coming in. Last week, we heard from this UK cosmetic doctor who runs her practice with her BlackBerry Leap. And who can forget the praise of these customers and reviewers?
Today, I'd like to introduce you to Ricky Martin, 29-year-old CEO of London-based technology recruiting firm, Hyper Recruitment Solutions. UK readers may recognize this biochemist and former professional wrestler from the 2012 UK Apprentice finale – *spoiler* he wins the £250,000 first prize. Martin says he can't manage his growing business without his personal assistant – his BlackBerry Leap.
(BlackBerry's new PRIV secure smartphone powered by Android is also generating a ton of excitement and positive reviews. Learn why Cnet, Mashable, the Wall Street Journal and other major media outlets are praising PRIV, plus all the details on its specs, including its battery, camera, keyboard, and access to Google Play apps. Also, don't miss our posts on how PRIV sets the bar for Android security, where to buy or order your PRIV and how to get started when you have your new PRIV in hand.)
Guest post by Ricky Martin: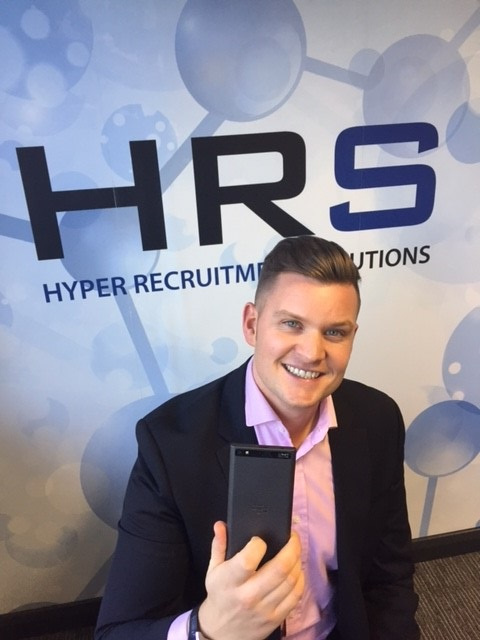 Running my own business, there are never enough hours in the day to get everything done, so I need all the tools I can get to help enhance my productivity and to help get things done quickly and efficiently.
Using the BlackBerry Leap has been a bit like having my very own personal assistant in my pocket – it enables me to work on the go. Working in recruitment, I am regularly away from my desk for meetings, and having an efficient smartphone that means I can keep up to date most definitely takes the strain off.
Since starting the business in 2012, we have rapidly grown to a multi-disciplinary recruitment consultancy with a number of employees. Therefore, it is more essential than ever that I be in constant communication with my team to make sure that Hyper Recruitment Solutions is continually performing and growing.
My day always begins in the same way – I wake up and look at my smart phone. For me, that flashing red light is something I can never resist, so I read any emails I've received overnight, as well as checking my Twitter for latest news and updates. I find the BlackBerry Hub a great feature for keeping on top of emails, social media and messages all in one place as it enables me to read, file and reply more efficiently.
One of the biggest issues I have found with smartphones in recent years is that, the more functionality the device has, the more the battery life suffers – it seems like few phones are built to manage the sheer quantity of apps and functions now available. The BlackBerry Leap however seems to be the exception to this rule. I have been really impressed with its battery life – after a day of emails, meetings, constant phone calls and internet browsing, it is still going strong, which is an a huge advantage for me, as it means I am not having to rush to the nearest power socket to recharge. Therefore meaning I never let my customers down and in turn not let down Hyper Recruitment Solutions' reputation in quality and professionalism.
The Leap, despite not having one of BlackBerry's infamous QWERTY keyboards, does have a really good typing experience. I have been really impressed by the intuitive keyboard, which makes writing emails a seamless task and the next-word suggestions are really accurate, with the device learning my frequently used phrases and words, making me more productive on email than ever.
The Leap is also a really slick device when it comes to the photo and video quality. It has a great HD screen that makes it perfect for watching videos online, taking photos and makes reading documents on the go much clearer and easier too.
Hyper Recruitment Solutions is a specialist talent provider of professionals across the science and technology industries. Supporting such innovative sectors means I do need the technology to keep up to date with these companies, and using this phone gives me just that.
All in all, the Leap has proven to be a really handy tool for me to keep my business moving whilst I am on the go. It has enabled me to be efficient outside of the office and I am keen to keep exploring the many features it offers – when I find the time!
****
The BlackBerry Leap also puts the P in productivity for this law firm founder, serves as a vital communications tool for this executive, is the phone of choice for the Millennial founders of this European digital incubator, and the mobile device for this U.K. entrepreneur. Be sure to also check out these happy BlackBerry Classic users, including a commercial photographer, serial tech founder, financial TV guru and digital marketing agency CEO. You can also read about these satisfied BlackBerry Passport users, such as celebrity chef Tyler Florence and this senior hospital executive,manufacturing executive, non-profit founder and software engineer.
To find out more about the BlackBerry Leap, please visit BlackBerry.com/Leap. If you're already sold, leap over to BlackBerry.com to find where to buy your BlackBerry Leap locally.