Carriers and contracts and charges, OH MY!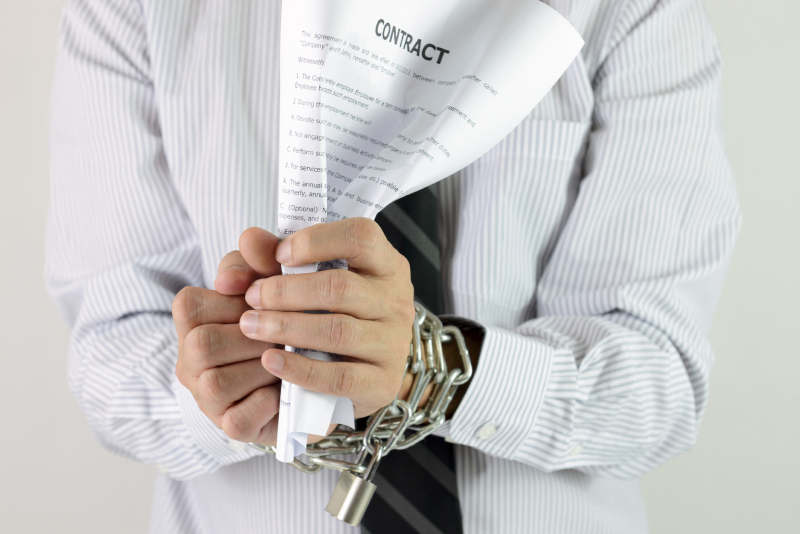 Customer: "I'm looking for a new phone."
Wireless Carrier Salesperson: "Check out these new devices – you can get an upfront discount if you sign a 3-year contract with us."
Customer: "Sounds like the best option. Sign me up."
*Time passes*
Customer: "My needs have changed so I'd like to get a new phone/I'd like to switch carriers."
Salesperson: "Well, as you're under contract and still owe for a portion of your subsidized device, you'll be charged for every month you have left to finish paying it off."
Sound familiar?
In countries such as the U.S. and Canada, many mobile carriers offer brand new devices at a low upfront price – often less than $100 or even free – in exchange for customers signing multi-year contracts.
Sounds great, right? Well, as all of us Canadians know, there's a catch.
Should you wish to purchase a new device, or switch carriers, you still have to pay off the remaining unpaid portion of the device, which often can equal hundreds of dollars (and more than the discounted price you paid at signing). Until recently, Canadian wireless contracts were mostly 3 years long, making it impossible for users to upgrade to newer models or shop around for better deals before the contract's expiry date without paying a hefty fee. Customers also often found it difficult to understand how their contract worked, how their data usage was billed, and what it meant if they upgraded or change options.
The Wireless Code
Put into effect December 2nd, 2013 by the Canadian Radio-television and Telecommunications Commission (CRTC), all Canadian wireless customers now fall under the Wireless Code of Conduct (The Code).
The Code is a regulation that works to protect wireless customers by "making it easier for individual and small business consumers to get information about their contracts with wireless service providers and about their associated rights and responsibilities, establish standards for industry behaviour, and contribute to a more dynamic marketplace".
So, what does all this mean – in layman's terms?
Any Canadian who entered into a three-year wireless contract before June 2nd, 2013 can cancel their contract, without a cancellation fee, after two years. Which happened to be this past Tuesday.
Scotia Capital Inc. analyst Jeff Fan estimated that between 2.2 million and 4 million Canadians were still on three-year terms at the end of 2014. Simply put, in addition to the usual customers reaching their contract's expiry date, there are instantly millions of others now able to upgrade or change devices and switch carriers (hence, the 'double cohort' term used by the Canadian media to describe these groups of users).
(You can read the full Wireless Code here (also available in a simplified version), and also check out the CRTC check list that will help you understand the most important things that The Code does for you. Global News also has a great Q&A and video explaining all you need to know about the new regulations.)
What does this mean for Canadians?
Canadians now have more control over their wireless future, and the carriers know it. That's why they've been busy courting their customers over recent months with new two-year contracts.
The Code also lets Canadian customers unlock their on-contract devices from their carriers after 90 days. That in theory allows them to shop around for better plans and offers, though they would still have to pay a 'penalty' if they try to change carriers any time before the 2-year mark.
The Value of an Unlocked Device
For the greatest freedom and savings, though, customers should consider buying their phone unlocked. An unlocked device allows you to use it on any wireless network around the world. This is a great option for frequent travelers (The Code also caps data roaming charges!), people who like to move from carrier to carrier, or anyone who just doesn't like being tied down.
Since they lack carrier subsidies, unlocked devices admittedly are more expensive upfront. But I ask you this: Have you ever sat down and figured out the math on which option saves you more in the long run?
Don't worry; we have crunched the numbers for you with some sample carriers, doing as much of an apples-to-apples comparison as possible (12:30 ET: figures corrected below):
Example One
32GB BlackBerry Passport via ShopBlackBerry: $699;
Prepaid carrier: $35/month for 100 Canada-wide minutes, unlimited text + 500 MB/month data = $840 for 2 years
32GB Samsung Galaxy S6 on large contract carrier: $249.99 down, plus $80/month for unlimited Canada talk and text and 500MB data
Two-year costs: BlackBerry Passport – $1,539; Samsung Galaxy S6: $2,169.99
Two-year savings with BlackBerry Passport over Galaxy: $630.99 (29%)
Example Two
16GB BlackBerry Classic via ShopBlackBerry: $499

Prepaid carrier: $35/month for 100 Canada-wide minutes, unlimited text + 500 MB/month data = $840 for 2 years

16GB iPhone 6 on large contract carrier: $348.99 down plus $80/month for 2GB data
Two-year costs: BlackBerry Classic – $1,339; iPhone 6 – $2,268.99
Two-year savings with BlackBerry Classic over iPhone 6: $929.99 (41%)
Example Three
16GB BlackBerry Leap via ShopBlackBerry: $349

Prepaid carrier: $35/month for 100 Canada-wide minutes, unlimited text + 500 MB/month data = $840 for 2 years

8GB iPhone 5C on large contract carrier: $0 down plus $90/month = $2,160
Two-year cost of BlackBerry Leap: $1,189;
Two-year savings of BlackBerry Leap over iPhone 5C: $971 (45%)
(Also read this account of a Toronto resident already saving money with his unlocked BlackBerry.)
In short, the first example saves you $630.99, or 29%, buying unlocked. That sort of savings could get you a SECOND UNLOCKED DEVICE. Our second example has an even greater savings of 41% or $929.99. And going with our new entry-level BlackBerry Leap device over an iPhone 5C will save you the most, at $971 over two years.
Going unlocked or locked is a decision every Canadian will need to make after reviewing their wireless needs, what their current carrier is offering, which device they're looking for and what sort of deals are available from all their options.
At the end of the day, one thing is for sure; the new Wireless Code opens up options, including money-saving ones, to the Canadian wireless customer. In particular, an unlocked device purchased directly from a carrier or stores like ShopBlackBerry and Amazon can save you lots of money over two years, without locking you into a 2-year contract.