Those that know me from my CrackBerry days can attest that I'm an app addict – just a bit, mind you. One of the many benefits of my BlackBerry 10 smartphone is its selection of mobile applications, especially today, with the hundreds of thousands of Android apps via the Amazon Appstore (and other sources), BlackBerry World, and even the near-native Web apps for BlackBerry 10's ultra-fast browser. I can barely keep my addiction – I mean, passion – in check.
True app addicts don't just swear by the popular apps, they also pledge allegiance to less-well-known apps. Last month, Reddit members chimed in on the "lesser known apps [they] can't live without". Of their responses, here are some of my personal favorites – all available via Amazon.
(Also read what overall are the 20 favorite Amazon Android apps for BlackBerry users.)
You know a game is going to be a great time when the developer mentions "shouting" and "confusion" as features. Spaceteam is a different type of game where you and up to three friends/colleagues must cooperate to keep your spaceship together as it attempts to outrun a star that's about to go nova. All players have to be connected to the same wi-fi network so that you can bark orders at them (and they at you) as time-critical commands are displayed across each of the player's screens. It's team work at its best, if not its most hectic.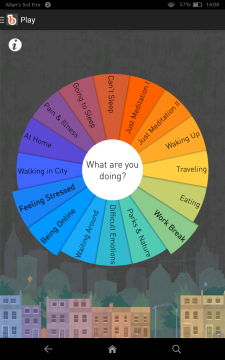 Buddhify is a beautifully designed application that provides more than 11 hours of meditation tracks that you can choose based around a simple concept: What are you doing? A colour wheel contains the options for you to choose from. I can choose 'Feeling stress' and the wheel shifts, expanding on the chosen state to provide different tracks of varying length.
The included media player then gives you basic controls, such as: pause, play, stop and skip ahead/back 15 seconds. A solo mediation timer of 5 minutes, gives you a chance to count down a brief moment of Zen for you and the voices in your head. For me, it does help me get through rough patches in a day.
There's no better feeling of pride and accomplishment than when you make something yourself. For those who want to get their hands dirty, or simply want to complete the phrase "let's make…", check out the Instructables app, which gives users access into the world of DIY. View the creations of other with images and instructions, participate in contests and connect to a community of inventors and "how-to"-ers. Where else can you see solar USB chargers rub elbows with bee houses, automated plant irrigation systems and cinnamon rolls?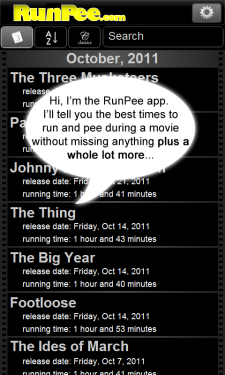 This app is a lifesaver (and a pants-saver) for movie goers with bladder issues or a fondness of giant fountain drinks. For a large variety of popular films, RunPee will inform you the best time to dash to the restroom so you don't miss crucial moments. All subtly, too, as a brief phone vibration is your ticket to bladder relief.
While you're in the lavatory, you can also read a written synopsis of what's currently on screen. Just don't drop your BlackBerry in the toilet while you're reading (also, that's gross). RunPee also helps when you're running late or leaving early, by providing details on the first 5 minutes of the movie and any end credit extras.
This is Quicken for the mobile age. Mint allows you to securely connect to your credit card and bank accounts to help you track your daily transactions. The application goes further by taking these transactions and sorting them into categories to help separate bills, expenses and rent/mortgage payments. Besides sorting, Mint helps you establish budgets to adhere to and alerts to remind you to pay your bills or if you account balance is low. The reporting screen sports robust graphical representations of your spending habits; much easier to decipher than spreadsheets. It's all of your accounts in one location.
With Ankidroid, you can create flashcards using text or images in seconds. You choose when to study, when to view the questions and when to show the correct answer. In-app statistics help you see how well you are doing, based on time, and if cards are new or older. As you answer flashcards, you can instantly choose if you want to see those cards repeated again in 1 minute, 10 minutes or 4 days from now. Perfect for practicing math or studying new languages.
Plex is an amazing way to stream your content: images, movies and shows in a centralized playback solution from the Plex Media Server to a multitude of mobile devices. With the Plex app, that also includes BlackBerry 10 devices. All but gone are the days of family room walls adorned with hundreds of DVD cases – Plex supports nearly any type of multimedia you can throw at it. Keep in mind that you have to actually install the free Plex Media Sever on your PC in order to take complete advantage of the service. Plex even provides trailers and extras related to your existing movie collection.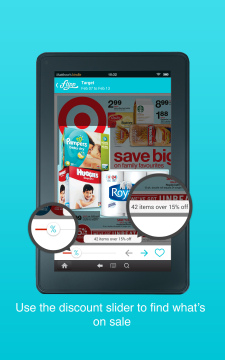 Flipp is by far my favorite way to view local deals that would normally be crammed into my mailbox. Based upon my location, Flipp effortlessly organizes flyers from nearly a dozen categories for me to swipe through. These categories include fashion, baby & kids, automotive and office.
You can tap on items to "clip" them for future reference. One feature that I like is what I call the sale searcher. When viewing the flyer, a bar at the bottom of the screen enables me to create a filter, where Flipp will highlight the items that match the minimum discount that I set.
***
So that's but a few of the hundreds of thousands Android apps from the Amazon Appstore that Reddit users – and me – just can't live without. As I said before, having the Amazon Appstore installed on my BlackBerry 10 smartphone makes it incredible easy to install Android applications – though are a few methods you could attempt. Which applications can you not live without?