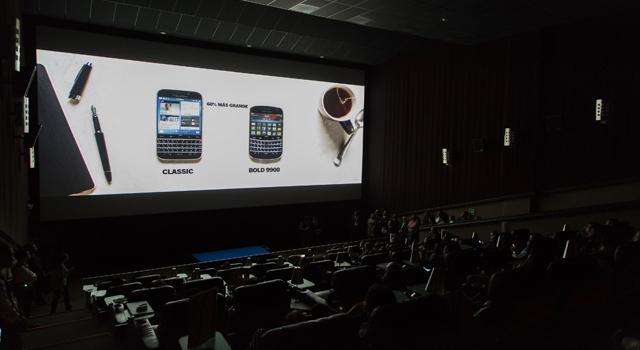 In creating the original Star Wars, George Lucas has said he was inspired by the Flash Gordon serials of his youth. He wanted to update a classic — and the result, released in 1977, has itself become a classic.
BlackBerry Classic has a similar mission. Based on the legendary BlackBerry design that people know and love, the BlackBerry Classic adds the latest hardware and BlackBerry 10 software, creating an icon re-imagined for today's demanding power professional.
BlackBerry Classic continues to launch in markets around the world and on May 21, it was Mexico's turn. Digital releases of the six released Star Wars films, including the 1977 classic, had just been offered for the first time in April. Seeing the parallels, the team in Mexico decided to bring the two icons together.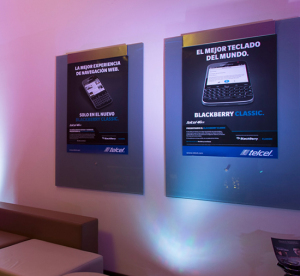 A theater formed the backdrop for the BlackBerry Classic media launch. BlackBerry Classic movie posters lined the walls. Attendees were given the opportunity to try the BlackBerry Classic for themselves at experience stations and learn about the amazing features.  And, as the lights came down, the familiar opening of Star Wars Episode IV came on screen.
Media enjoyed the event — and the BlackBerry Classic (translated from original Spanish):
"Unlike other companies to bet only virtual keyboards, BlackBerry has decided to return to its roots with a Classic model that integrates new features and a QWERTY physical keyboard and combines the trackpad of the BlackBerry Bold 9000 with a square touch screen." – Unocero.com
"… distinctive design is the signature of the company and this Classic is no exception." – Xataka.com
"…combines leading security and award-winning performance of BlackBerry 10 with design and traditional features that fascinate users, such as navigation keys and optical trackpad shortcuts." – PC World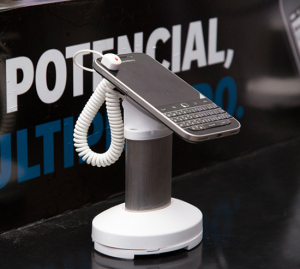 The BlackBerry Classic is for those QWERTY keyboard lovers who want to stick to the speed and accuracy of a physical BlackBerry keyboard — with upgrades. The phone provides a faster browser, a larger screen, longer battery life, and a greater number of applications. It launches in Mexico on Telcel, the number one phone carrier in the country. BlackBerry's newest smartphone will leverage Telcel's 4GLTE network and will be available at Telcel stores.
Of course, Mexico isn't the only place you can buy BlackBerry Classic. It's also available in the U.S., Canada, the UK, France, Germany, Spain, UAE, Australia, Singapore and Hong Kong.