The ACSI is the American Customer Satisfaction Index, an influential survey published by the University of Michigan that surveys more than 70,000 consumers in the U.S. on how happy they are with the products they own.
According to figures released by ACSI today, satisfaction among U.S. BlackBerry customers is growing faster than for any other smartphone brand, up 5% in a single year. That's a continuation of a trend that sees BlackBerry U.S. customer satisfaction up 13% since ACSI began tracking BlackBerry customers in 2012. That total gain is also the largest among all smartphone brands, as you can see below: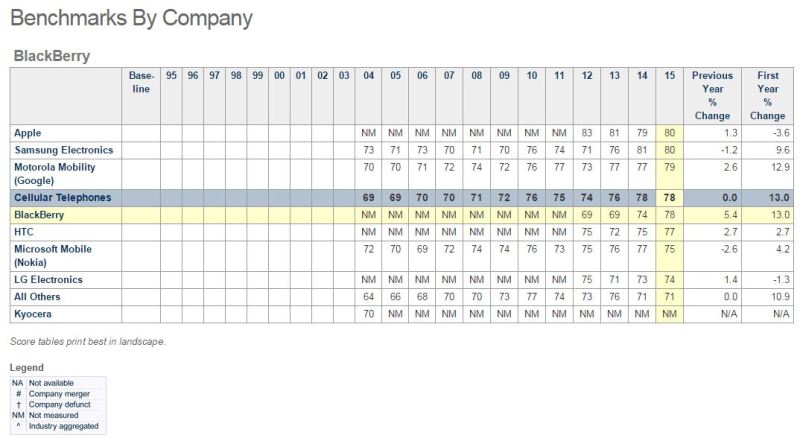 Source: ACSI
Some possible reasons why BlackBerry customer satisfaction is rising: the things at which BlackBerry devices excel are the things with which consumers remain disenchanted.
For instance, consumers rated satisfaction with battery life the lowest among all factors. Well, all BlackBerry, devices perform well, from the BlackBerry Classic (22 hours of mixed usage) and BlackBerry Leap (25 hours) to the category-leading 30-hour rated life for the BlackBerry Passport.
Ease of using phone OS and software was the third least-satisfying factor among consumers, according to ACSI. BlackBerry 10 is built for high productivity. Take the BlackBerry Hub. Readers of Engadget called this unified in-box, which brings together your work and personal e-mail, messaging services and social media channels, the solution to "messaging's 'mission impossible'."
As we go cross-platform, we're taking ease-of-use and productivity with us. Our just-released BBM 2.9 beta for Android was redesigned to conform with Android Material Design guidelines, to provide a "more colorful, more eye-popping and easier-to-use BBM experience," according to my colleague, Jesse Arris.
If you want to hear firsthand from actual BlackBerry users, I suggest you check out our many Q&A interviews with Passport and Classic owners. For BlackBerry Classic users, they include this celebrity photographer, this serial entrepreneur, this financial TV guru and this digital marketing agency CEO, to this Toronto Maple Leafs executive and this high-tech CTO, this retailer/app developer, as well as this club DJ and this fine arts photographer. There are also more than a dozen happy BlackBerry Passport users including celebrity chef Tyler Florence, this IT consultant, high-tech CEO, real estate agent, senior hospital executive, manufacturing executive, non-profit founder, software engineer, tech journalist, legal administrator, pharmaceutical CEO, software manager, insurance salesman, corporate IT manager and these workers from multiple industries.
The BlackBerry Passport is available unlocked to U.S. customers at ShopBlackBerry for $549 (prices vary in different regions), while the Classic is available at ShopBB for $449 and the Leap for just $275.