Over the past few months, we have profiled a number of BlackBerry Passport and BlackBerry Classic users, and based on their stories, it's no surprise that BlackBerry is at the heart of their successes.
UK-based doctor and 2013 The Apprentice UK winner, Leah Totton, has a similar story as she also relies on her BlackBerry-of-choice – the BlackBerry Leap.
Read why she can't live without her BlackBerry Leap in her Guest Post below: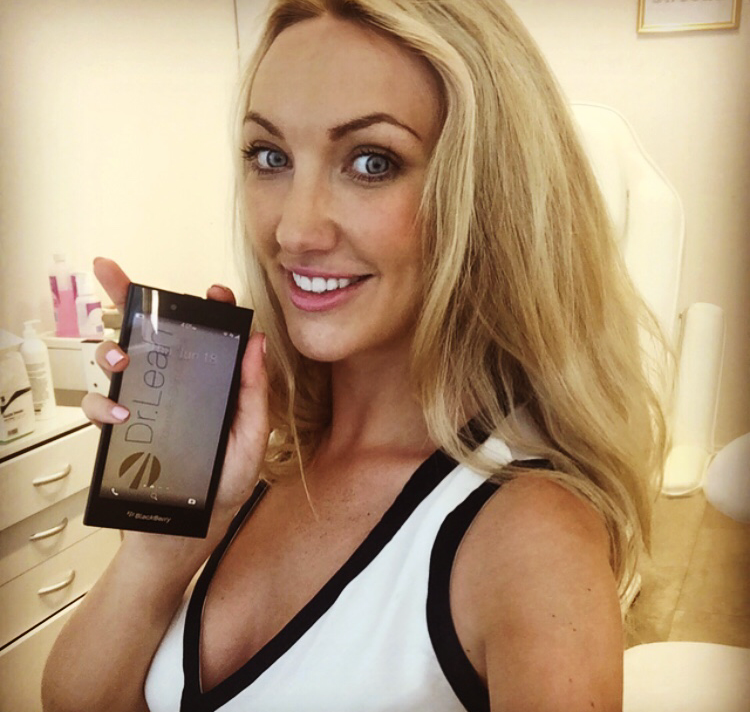 I do not believe that my business would run as smoothly as it does if I did not have a reliable and efficient smartphone. Today, there are so many different devices on offer, all promising things they do not always deliver on. Realistically, I am not bothered about the brand I carry in my hand, I just want a phone that will make my life as easy as possible and that offers the best features for my professional needs.
Since using the new BlackBerry Leap over the past few weeks, I have found it the perfect tool for running my business, Dr Leah Clinics. I can instantly switch between sending important updates and emails to staff and patients, to organising appointments and my calendar for the week ahead. The standout feature that enables me to be proactive and efficient is the BlackBerry Hub – all of my messages, whether a social media update or a meeting planner, are located in one place. It is such a simple, yet hugely beneficial feature, as it means I don't risk missing any messages or letting anything slip, which as both a doctor and a business owner, I cannot afford to do! With the Hub, I know that I can find any message really quickly, instead of having to constantly switch between apps and having hundreds of different conversations on the go.
While the Hub is definitely one of the most useful features I have come across on a phone, there are so many other benefits to the Leap that make it a fantastic device and an essential tool for anyone running a business.
The one downside to a lot of smartphones these days is that typing on a touch screen just isn't as easy, or accurate, as with a keyboard. Obviously BlackBerry is famous for its keyboard and, I have to say, I was a little surprised when I first received the Leap to see that it was in fact touch screen. However, I have to say that, since using the Leap, I've found it to have a really impressive keyboard that is intuitive and intelligent, allowing me to type emails seamlessly.
For me, an average day tends to consist of racing from a client appointment at the clinic in the City of London to a conference, board meeting or a shift at hospital, and I need to be confident that my phone battery will last me through the day – there is nothing worse than getting to the end of a long day and not being able to check my emails on my way home! The BlackBerry Leap battery life is really impressive – 25 hours of on-the-go use, meaning I don't have to compromise my mobile activity for fear of draining my battery, which is a huge bonus for me.
As a doctor running a busy clinic, I need to know that all my emails, notes and information are completely secure and confidential. BlackBerry has always been renowned for its security credentials, and this is paramount for me and my business. Using the BlackBerry Leap, I know that any information on my phone is guaranteed to be safe and secure, unlike with other smartphones that have experienced security breaches in the past – and this is something that, for both my clinic and my profession, just cannot be compromised.
****
Looking to check out the BlackBerry Leap for yourself? Visit BlackBerry.com/Leap…or better yet, take our word for it, and buy one today.
Get an unlocked BlackBerry Leap from ShopBlackBerry, or visit BlackBerry.com/BuyLeap for local availability.