Over the past few months, the BlackBerry Design team has had their well-deserved share of coverage with the many wins including a Best of the Best Red Dot Award, an iF DESIGN AWARD and a GOOD DESIGN award as well as a feature in The Guild Series.
With the recent launch of the Accessory Value Bundles, we wondered about the sort of accessories they use in their day-to-day and which ones they can't live without. (For more information on adding the Accessory Value Bundles to your BlackBerry Classic, Passport or Leap purchases, please visit ShopBlackBerry.com.)
I had the pleasure of meeting up with Alison Phillips, BlackBerry's Managing Director and Head of Industrial Design, to chat about BlackBerry, her accessories and what she can't leave home without.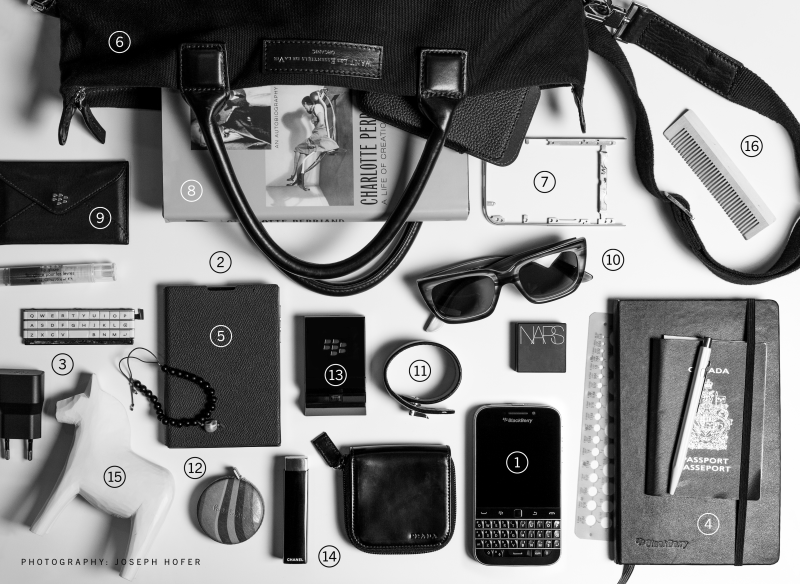 MM: Let's start out with your day-to-day. Which device are you currently using?
AP: I am constantly rotating devices to experience all our products in order to continually improve the design of them. Currently, I am using a Classic (1) (shown with Classic leather pocket) and a Passport (2) externally and testing other product concepts in the office environment.
MM: As a Managing Director, I imagine your days can get pretty busy. If you had to guess, how many emails would you say you get in a day?
AP: Too many! I likely receive in the hundreds in a typical day.
MM: How many calendars do you manage from your Hub?
AP: I manage both a personal and professional profile from Hub.
MM: As you know, the Passport is known for its long battery life, and it sounds like you definitely put yours to the test each day. How long does your battery last you?
AP: I generally need to recharge twice a week.
MM: How many chargers do you have in your house?
AP: We have a few chargers in the house, but I try to charge my device away from my bedroom so I am not tempted to work in the middle of the night. I have a car charger for emergencies, but rarely need it with the battery life our products offer. For overseas travel I use our global charger adaptors depending on my destination (3).
MM: With your busy schedule and active inbox, how do you stay productive throughout your busy schedule?
AP: I am very focused and disciplined during the work day and do my best to stay on top of my inbox between meetings, and I take calls from the car. I make a conscious effort to focus on my kids when I get home from work until the time I put them to bed.
MM: As we're talking accessories, what's your "can't live without" non-tech accessory?
AP: I still like wearing my analog watch!
MM: And your "can't live without" tech accessory?
AP: A BlackBerry, of course.
MM: You mentioned you have a charger specifically for travel. Do you travel for business or pleasure?
AP: Both. The advantage of working for a global company is that you have the opportunity to travel around the world for work which is important in design to understand our diverse users and also to draw inspiration. With BlackBerry, I have travelled across Europe, North America and to Asia. For pleasure, traveling with my husband and twin daughters, both close and far, are some of my most memorable experiences.
MM: Where's your favorite place you've traveled?
AP: For work, I have had the good fortune to collaborate with many luxury brands who make accessories for our devices. Amongst them, I had the opportunity to visit the workshop of Hermes outside Paris where products were handmade with traditional methods.
For personal travel, my husband and I have enjoyed many trips together. Santorini, Greece; Capri, Italy and Sydney, Australia come to mind as favourites. As a family we have been renting a beach house on Cape Cod for several years as a summer vacation, and enjoy it for its natural beauty and laid-back vibe.
MM: What is the first tech thing you pack?
AP: My BlackBerry Passport (2).
MM: How has your Passport changed the way you travel?
AP: Never before could I review drawings on the go without waiting until I was back to my laptop. That speaks to productivity but more importantly freedom.
MM: Do you have a favorite travel app?
AP: I am not known for my sense of direction, so I rely on BlackBerry Maps to compensate for my lack of inner compass.
MM: What is your "can't live without" non-tech accessory while on the road?
AP: A Moleskine notebook (4).
MM: What's your "can't live without" tech accessory?
AP: My BlackBerry Passport Valextra Flip Case (5). (The Valextra Flip Case was included with the Limited Edition Gold and Black BlackBerry Passport).
MM: Any tips for other travelers?
AP: I travel as light as I can, always with a carry-on bag so I don't have to wait or risk delayed baggage.
MM: What a great segue. So tell us, what's in your bag?
AP: My tote bag is from another Canadian brand who makes great products designed for travel, Want Les Essentiels de la Vie (6). The big interior pockets are perfect to carry models, device parts and 3D prints of new product concepts (7). I wish I had more time to read, so when I can I look to be inspired, and the female design pioneer Charlotte Perriand's autobiography did just that (8). I carry my business cards in a leather envelope I designed (9). My sunglasses are classics from Oliver Goldsmith which were designed in 1962 and are still in production (10). I appreciate the simplicity of the wooden comb which is from the Upper House hotel in Hong Kong (16). My leather bracelet is by Valextra (11), the Italian house with whom I have enjoyed collaborating for several years, including developing this special edition BlackBerry Passport calf skin cover (5). Calipers are an essential tool for an industrial designer, but not very TSA friendly, so I carry this Paul Smith measuring tape for emergencies (12). Our charging dock is compact enough for travelling (13). For evenings out, I pack the only lipstick I own – a classic Chanel red (14). Finally, whenever I travel far I always bring home something local for my two daughters; this wooden horse is from Sweden (15).
MM: Thanks so much for taking the time to chat with me, and sharing your bag and accessories with #TeamBlackBerry. As a final thought, do you have any tips for staying productive for people who are always on the go?
AP: My life is not different from other busy working parents managing a career and family. It is a tricky balance. I do my best with the right work tools (like a BlackBerry) and most importantly with the support of great people both at work and home.
Photography: Joseph Hofer