Where were you on August 1, 2005?
Gary Klassen knows where he was. The man who "invented" BBM was sitting at his desk, nervously twirling his thumbs as hundreds of people started downloading and using BlackBerry Messenger version 1.0 for the very first time.
Originally planned to be included as part of the BES 4.1 release, BlackBerry Messenger (which wouldn't be known formally as BBM until 5 years later) got a bit of a head start, as employees began to share the beta internally at Research In Motion (now BlackBerry). As a result, BlackBerry Messenger had a thriving community of users, before it was even released.
Only a handful of people were involved in the first version of BBM, which was originally called QuickMessenger until Jeremy Kettle coined the term BBM – BlackBerry Messenger – during an early meeting.
The name stuck (and was eventually added to the English Collins Dictionary in 2012).
Jonathan Nobles was the first product manager for BBM in 2005. When I told him it was the 10th Anniversary of BBM he could hardly believe it.
"We were experimenting with various instant messaging ideas. We discovered that if we took the existing PIN to PIN solution, and wrapped it in a nice GUI (Graphical user interface), we had a great product".
Gary confirmed this. "PIN to PIN [messaging] always had D's and R's," he said, referring to status updates showing when messages were Delivered and Read by users, "but they weren't on by default". Turning those features on in BBM created a pioneering sense of real-time presence that's now standard for many instant messaging applications.
"BBM was the first form of text communication that was instant, cross-carrier, and mobile, in a time when people were still attached to their PCs," says Klassen, who still invents things as a principal architect at BlackBerry. "With desktop IM's, you could show up as 'online', but you might not be at your computer. BBM was the first to be always with you, and you were truly always 'online'."
The speed with which messages were sent, delivered and read was matched only by the speed at which BBM grew. BlackBerry Messenger was one of the first over-the-air (OTA) apps available for BlackBerry Smartphones.
Low cost + low bandwidth + instant delivery was a recipe for success that continues to this day.
Indeed, BBM has grown incredibly: it's also a social media platform, a medium for advertising, gaming and m-commerce, and the foundation of business-collaboration and highly-secure messaging services.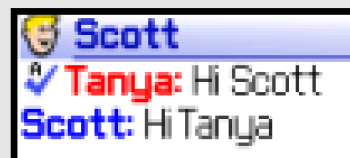 Notice anything different? BBM 1.0 (above) used A's instead of R's (to indicate 'Read') because the designer interpreted the wireframe incorrectly. This was quickly fixed. Our overall user interface has evolved a bit since then, too (below).
At its heart, BBM remains an excellent way to communicate, which is why users remain incredibly loyal.
BBM is celebrating 10 years of connecting people globally and I want to hear your story. Do you remember when you first started using BBM? (Bonus points if you can remember who your first contact was!)